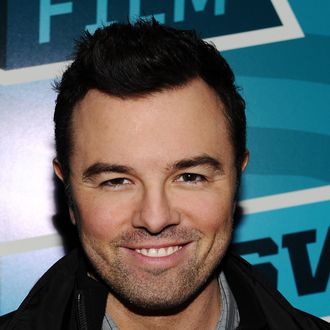 Exit Seth, Enter Ben the Crooner.
Photo: Michael Buckner/Getty Images
Seth MacFarlane recently put in some time at the studio of fellow Fox series and animated rival The Simpsons, where he voice-acted the part of Ben, a married man trawling a hook-up site that Marge mistakes for a place for weird cupcake information. The two hit it off, bonding over Upton Rectory — the Downton Abbey of Springfield — while Seth Ben serenades Marge with a rendition of "The Way You Look Tonight." "For Seth, it completes the Saturday Night Live/Oscar host/Simpsons triple crown that exists only in my head," Simpsons executive producer Al Jean told Entertainment Weekly. Speaking of the Oscars: certain film school students will be very excited to hear that MacFarlane is offering them to chance to gracefully carry an Academy Award to a waiting star on Oscar night. (He's hosting, lest you forget.) All contestants have to do is submit a video to the AMPAS's Facebook page explaining (humbly, of course) how they plan to change the course of cinematic history.