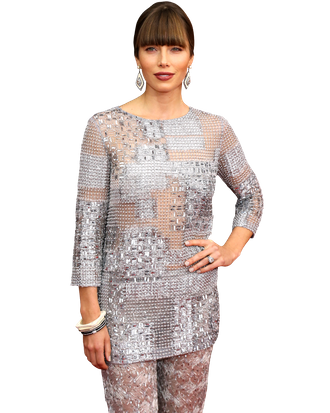 Is there a more consummate love interest in movies than Jessica Biel? The list of leading men to whom Biel has played paramour is as long and shiny as her brown tresses: Bradley Cooper! Colin Farrell! Adam Sandler! Jonathan Taylor Thomas! (Well, all love interests have to get their start somewhere.) This year, Biel has continued to ply her main stock in trade, as she'll next be seen as Gerard Butler's love interest in the new romcom Playing For Keeps, and she graced People magazine's cover two months ago as Justin Timberlake's real-life wedded wife. But is there anything more to Biel than this narrow niche? To find out, we polled industry insiders to ask one simple question: If Jessica Biel were a stock, would you buy, sell, or hold?
Stock History: Biel got her start as a teenager on the Christian family drama 7th Heaven, but the big screen came calling quickly. Beautiful and athletic, she was immediately courted to play the hot girl (Summer Catch, Rules of Attraction), the ass-kicker (Blade: Trinity), or both (Stealth). Since then, Biel's continued to work steadily, though few of her films (Next, Valentine's Day, I Now Pronounce You Chuck and Larry, New Year's Eve) have truly popped aside from the 2006 sleeper hit The Illusionist, which she had to fight to be cast in. The next year, Biel started dating Timberlake, cementing her name-brand celebrity.
Peers: The 30-year-old Biel recalls her pal Jennifer Garner (40) — both are pretty actresses with famous husbands who exude an upbeat-but-determined vibe — but she's not quite in Garner's tier when it comes to the work. She's more likely to be grouped with Jessica Alba (31), who's also been limited to love-interest roles, as well as actresses like Olivia Wilde (28) and hair-tossing action ingenues like Kate Beckinsale (39) and Milla Jovovich (36).
Market Value: Only two of Biel's films have topped $100 million — Valentine's Day and Chuck and Larry — but other, bigger stars did most of the heavy lifting there. Her franchise wannabes like Stealth, The A-Team, and Total Recall all came in under the $80 million take that Biel reached in 2003 for her remake of The Texas Chainsaw Massacre.
What Hollywood Thinks: "She's beautiful and hardy, but she hasn't proven that she's a real actor," says one top talent agent, adding, "Her claim to fame of late is that she married Justin Timberlake. She's not that 'special girl,' like Amy Adams, so she's not on the studio shortlists — unless they're ass-kicking roles."
Indeed, even as a piece of terrifyingly beweaponed cheesecake, Biel has not had an easy time of it. Over the summer, she appeared in Sony's flopped remake of Total Recall, while she nearly landed the female lead opposite Hugh Jackman in X-Men spinoff The Wolverine, which would have certainly been her biggest success yet. Alas, it wasn't to be. "But she's okay; she's buying time," says that agent. "At least she's willing to take a supporting role in a classy movie like Hitchcock. It's not like she's Katie Heigl, who's now attached to star in Untitled Katie Heigl Pilot because she's done [in the movie business]."
Right now, to hear one top producer tell it, Biel is merely a benign marketing element, not the sort of magnet that sells tickets.
"She's a lovely face and gets you some publicity," says this producer. "I mean, Jessica Biel, Jessica Alba, they're all the same: They're pretty faces who've yet to score. But she will get booked on Live! With Kelly and Michael."
A high-level publicist was less enthused. "Personally, I honest-to-God don't know how Jessica Biel is famous," says the rep, who confessed to being somewhat bewildered by Biel's outsized profile given both her relative lack of box office success and choice of roles. "Was it Valentine's Day? Or New Year's Eve?" asks this PR vet about Biel's supporting parts in ensemble piffle. "Dating Justin is a big part of her appeal, but the work does have to speak for itself."
To Biel's credit, she has tried to stretch, taking the lead role in David O. Russell's doomed, unseen political comedy Nailed. All but finished, it was shut down in 2008 due to lack of funds with only a day's worth of shooting left to go. It will likely remain set in amber. Russell, in an interview over the summer, referred to it as "stillbirth," and perhaps that's for the best now: In Nailed, she plays a woman without health insurance who is driven to nymphomania after being shot in the head with a nail gun by a clumsy workman. The film was to have offered trenchant social commentary about the plight of the uninsured, but now, in the age of Obamacare and the elimination of pre-existing conditions, its raison d'être may have collapsed along with its funding.
"Nailed was a [smart] choice," says our PR guru, "She should be picking better projects, but I think she's doing things for the money. I don't think this is a PR problem — it's an agent problem. I mean, doing Total Recall is what Prince of Persia was for Jake Gyllenhaal: Seemed like a good idea at the time."
The Analysis: Jessica Biel will always get work, and if she's content with that, then that's fine … but if there's more to her than playing the love interest, she needs to find a film that can show it off soon. She's proven that she's ambitious, having gone in for some bigger movies — The Notebook and The Dark Knight Rises, amongst others — that might have distinguished her, had she landed them. She has shown a willingness to take a supporting part in films like Hitchcock and Elizabethtown, but neither gave her much to do. And when she's tried an indie movie outside her usual wheelhouse like Home of the Brave, Powder Blue, Nailed, and Easy Virtue, no one sees them. With luck like that, can you blame her for accepting a love interest part every year?
For this reason, reps are mixed on Biel as a stock. "She's beautiful. She's a celebrity," said our first agent. "But would I sign her? She's a hard one for me. I probably would, because our agency needs people who [always] work. But do I think she can go all the way? I don't think so. I don't think she's an 'actor.'"
Our second agent is more circumspect, however, cautioning that "it remains to be seen" if Biel will ultimately blossom. "She's managed to stay relevant," says this second agent, "which is certainly worth something."
The Bottom Line: If we were running Biel's career, we'd try to get her a flashy guest-starring arc on a hot TV drama that would be happy to have her play against type. (Ryan Murphy, have you figured out casting for season three of American Horror Story?) If, in so doing, she can successfully convince casting directors to take her seriously for unusual big-screen roles, then all the better. And if it doesn't work out? Well, Ryan Reynolds will always need someone to woo.
Buy/Sell/Hold: Weak Hold.