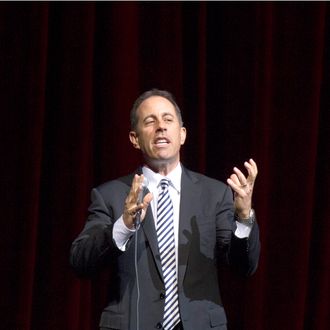 Photo: Brittany Somerset/Corbis
It's Sunday afternoon — your last chance to read all that stuff you meant to read last week before Monday brings a new deluge of things you will want to read. Below, some of our recommendations:
"Jerry Seinfeld Intends to Die Standing Up" by Jonah Weiner (New York Times): Jerry Seinfeld still does stand-up almost every week, and his approach to making jokes has only gotten more obsessive with time.
"Quentin Tarantino on Django Unchained: 'I Cut Their Heads Off. They Grew Another Head, But They Were a Little Traumatized'" by Amos Barshad (Grantland): Are Quentin Tarantino's revenge fantasies actually movies about shame?
"David Chase: 'I got sidetracked' by The Sopranos" by Andrew O'Hehir (Salon): At 67 years old, one of TV's biggest names has become a first-time filmmaker. 
"Mel Brooks on how to play Hitler, and how he almost died making Spaceballs" by Steve Heisler (A.V. Club): The comedy legend says he didn't get into the business to conquer his demons — he just wanted everyone to love him as much as his mom did. 
"Players Club" by Rebecca Lemon (Lapham's Quarterly): Drinking with Shakespeare.
For more in-depth weekend readings, visit our friends at Longreads.