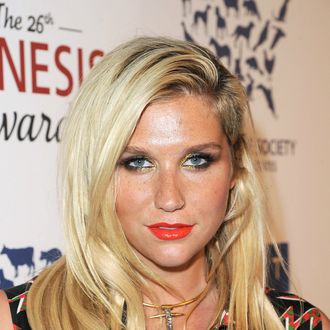 Photo: Jason Merritt/Getty Images
It's Sunday afternoon — your last chance to read all that stuff you meant to read last week before Monday brings a new deluge of things you will want to read. Below, some of our recommendations:
"Ke$ha, Warrior Princess" by Steven Hyden (Grantland): A paean to our dirtiest pop star. 
"2 Good 2 Be 4Gotten: An Oral History of Freaks and Geeks" by Robert Lloyd (Vanity Fair): Relive the short-lived magic with Judd Apatow, Seth Rogen, and James Franco. 
"Does This Writer Deserve the Prize?" by Perry Link (New York Review of Books): Brush up on the ongoing debate over Chinese Communist Party member Mo Yan's Nobel Prize in Literature . 
"Atari Teenage Riot: The Inside Story of Pong and the Video Game Industry's Big Bang" by Chris Stokel-Walker (BuzzFeed): A look at how a "crude table-tennis arcade game" distributed to California pizza parlors led to a business that now out-earns Hollywood. 
"The Hobbit: One Book to Rule Them All" by Jon Michaud (New Yorker): An argument for why The Hobbit is a better book than The Lord of the Rings (no word on whether it will be a better movie, though).
For more in-depth weekend readings, visit our friends at Longreads.