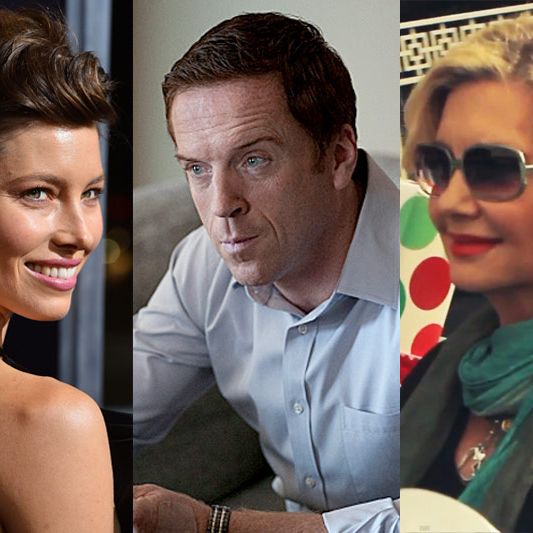 Photo: Frazer Harrison/Getty; Showtime
On the Seventh Day, the Lord rested, and you deserve to as well! Your Vulture editors get it: Maybe you had a busy week of perfecting your biotic explosions in Mass Effect 3 and couldn't read Vulture as scrupulously as you might have. Maybe you found yourself plowing through all the Here Comes Honey Boo-Boo's that had piled up on your TiVo. Or maybe you actually did some work. The point is, you can't be expected to ask and answer all ten of entertainment's Big Questions every week. That's our job.
1. How can I eliminate all the empty holiday calories (and for religious Jews, apostasy) associated with advent calendars while still enjoying a sugar-rush of anticipation?
By partaking daily of our Les Miserables advent calendar, natch! Every day, a new treat to open the appetite … for revolution!
2. There are so many infuriating shows on TV – how do I know which ones are worthy of my simultaneous contempt and viewership?
Your time is precious, and your access to rage-stroke preventing blood thinners needlessly blocked by the FDA and meddling physicians. Vulture gets it, and so we provided you with a review of the year's best in hate-watching.
3. With so much to find unsettling about the Olivia Newton John and Travolta reunion, what should I find most disconcerting?
You'd be forgiven for thinking it was giving a two-syllable word like 'tonight' eight syllables, but survey says … 'Chin hair'!
4. Bill Murray's diverse panoply of richly textured characters leaves me confused. He veers from churlish to amiable and misanthropic to merry. How can I sort it all out?
With our Definitive Bill Murray Role Matrix, of course!
5. Jessica Biel is easy on the eyes, but will she ever transcend this low orbit of Planet Love Interest?
Hard to say, but smart Hollywood insiders we talked to offer interesting opinions about how, why, and if.
6. Why is everyone so mad at Homeland?
Well, here's a few good reasons. (And meanwhile, spare a thought for poor Chris Brody, who doesn't even get to watch his own show!)
7. Knock-knock! / Who's there?
Um, the top ten stand-up specials of the year…
8. Where can I see television show creators popping up in their own series, and what does that mean, man? I mean, what does it really mean?
Stop wondering, and start watching – Matt Zoller Seitz tells all.
9. I need to finish my term paper on Abe Lincoln, but don't have like, time, to read like, actual books. Which movies should I rely on to sound like I wasn't sleeping off a bender for most of the semester?
Ah, youth … Here. Now get streaming, young man!
10. I am throwing a party, and want to sound like I actually know something about cool new music! Can you help?
Yes; these 50 from our Nitsuh Abebe will get you through the night, homes!