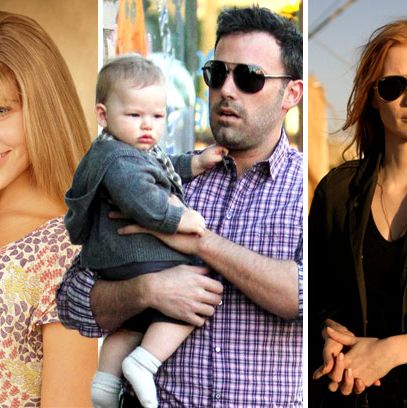 Photo: Disney, Splashnews, Columbia Pictures
Every week, your Vulture staff takes a moment to reflect on the Really Big Questions from the past seven days in entertainment, mulling the meaning of what just happened in the world of showbiz while simultaneously contemplating our own mortality. We're not going to kid you, folks: It's all pretty deep. This week, in addition to freaking out about a small mole on our left arm, we debated the logic of letting Jeff Zucker run another TV network and asked, one more time: Why, Lindsay Lohan? Why? In case you missed these great moments of pop culture dissection and debate, here are ten of the entertainment-related questions that haunted us this week, and the answers which put our minds at ease — for now, at least.
1. Which Boy Meets World alum will participate in the upcoming sequel, which won't, and what does it all mean?
Ben Savage and Danielle Fishel are signed on for Girl Meets World. Rider Strong is not. As for the last question, that's above our pay grade, but we did offer producers our advice for how to ensure this very important effort doesn't, you know, suck.
2. What upcoming Oscar movie features lots of unexpected cameos, including one by a burly Parks and Recreation star?
That would be Zero Dark Thirty, and no, Nick Offerman is not in Kathryn Bigelow's much-anticipated film about the capture of Osama bin Laden. But Chris Pratt is! Vulture caught an early screening of the likely Academy Award magnet, and we filled you in on our first impressions of how we think it will play with Oscar voters here.
3. Which now-legendary indie filmmaker didn't believe it the first time one of his films made the cut at Sundance?
Paul Thomas Anderson, who tracked down Sundance festival director John Cooper to make sure he didn't just dream the news that his 1993 feature Cigarettes & Coffee was headed to Park City. Cooper filled us in on the range of emotions associated with being accepted (or rejected) by the Cannes of the art house world. In other Sundance news, we revealed a slew of 2013's scheduled films here, and even more (including two from James Franco) here.
4. Did CNN really hire the worst network executive ever as its new chief?
No! Ben Silverman will not be running CNN. But someone nearly as despised by Hollywood — Jeff Zucker — did get the job. While he may have helped run NBC into the ground, we argued that he might do better at the all-news network.
5. How did David Morrissey prepare for his role of The Governor on The Walking Dead?
He read a lot of books, including George Orwell's 1984. We caught up with the actor as he was working on the season three finale, and he gave us a pretty convincing explanation for why his character isn't quite as evil as he might seem and revealed why one cast mate calls him and Laurie Holden 90210. If that's not enough Dead for you, we also analyzed the many scowls of Michonne here.
6. How many Britneys does it take to screw in a lightbulb?
Who knows, but there are six Brits in the video for her new duet with will.i.am, "Scream & Shout." We argued the "robot-bitch club theme" kind of works, even if Ms. Spears does adopt a random British accent for much of the song.
7. What's this week's funniest parody of New Girl?
8. What is Ben Affleck's favorite sport?
Doy, soccer. (Not really.) We explored whether or not the Argo director is Hollywood's most confused dad.
9. What's the proper way to get ready for this week's episode of Homeland?
Beside the usual advice — don't eat an hour before airtime, slip on a fresh pair of Depends, remind yourself that Brody's daughter is (slightly) less annoying than the offspring of Jack Bauer — you should watch this amazing Vulture-curated collection of Mandy Patinkin musical performances. And yes, there's a holiday clip.
10. Do I really need to watch that copy of Liz and Dick taking up space on my DVR?
Nope! The LiLo non-comeback was seen by a disappointing 3.5 million viewers, which means plenty of other people decided to skip it. Plus, Vulture watched so you didn't have to, pulling out all the best lines of dialogue from the movie and putting them into a video that runs less than two minutes. Vulture: Always here to help.