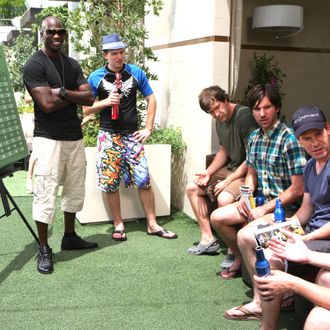 Chad Ochocinco, Paul Scheer, Mark Duplass, Jon Lajoie, Stephen Rannazzisi and Nick Kroll on the season premiere of THE LEAGUE airing Thursday, September 16, 10:30 PM E/P.
Photo: Patrick McElhenney/FX
FX has renewed The League for a fifth season, the network announced today. Tonight marks the two-part season four finale, and new episodes will come back next fall. Perhaps this new season will answer our prayers and include a huge Rafi opus of swarthy grotesqueries, breaking with League convention and taking us far, far inside the twisted world of El Bro-lo El Cuñado.