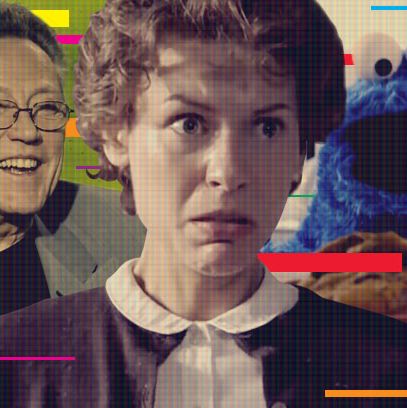 As we at Vulture continue to review the year in culture, there's a lot to talk about. But not to be forgotten are all the viral videos that entertained us in 2012. This year's big winners — as far as your parents are concerned, considering they forwarded you the videos after they saw them on the Today show — are "Gangnam Style," "Call Me Maybe" interpretations, and Felix Baumgartner's planetary plunge. But our list of the top ten viral videos of the year isn't as concerned with pageviews.
Shit White Girls Say to Black Girls
Although the Shit ____ Say meme technically started in 2011, it was just a couple of days after New Year's when Franchesca Ramsey uploaded her own spin to YouTube. "Shit White Girls Say to Black Girls" wasn't just funny — it was a sharp-tongued, painfully accurate account of what casual racism sounds like. The video made you laugh and think, and that's a whole lot of responsibility for one YouTube video. (So please stop calling items "ghetto," okay?)
Young Ryan Gosling Dances
Once upon a time, Ryan Gosling was a tiny person. That's right, before the days of Drive jackets and Crazy, Stupid abs, Ryan Gosling was once a child, just like the rest of us. But unlike you and me, he danced to C+C Music Factory at a Mormon talent show and it was caught on tape and the Internet was never the same again.
Taken, With a Real Dad
Michael Antonucci enlisted his dad, Michael Antonucci, Sr., to take on the role inhabited by the sleek, sexy, almost egregiously heroic Liam Neeson in the Taken franchise. Would Papa Antonucci make the cut? Not likely, but we were more than happy to watch him try.
Christopher Walken Reads Lines From Honey Boo Boo
2012 was the year we all learned that, when placed together, the words "honey" and "boo boo" could make something spectacular, in the form of a beauty pageant contestant from the boonies with a love for "sketti" and gay pigs. So when Screen Junkies had a chance to sit down with Christopher Walken at a junket for Seven Psychopaths, all they had to do was ask him to read lines from Here Comes Honey Boo Boo, and a viral masterpiece was made.
Mr. Wizard's a Dick
Remember Mr. Wizard? Of course you do! Remember how he was a huge dick? Neither did we, until this supercut reminded us that the guy was clearly in the wrong line of work.
Sesame Street's "Share It Maybe"
With "Call Me Maybe" making a grab the song of the year, it's hard to choose from all the song's interpretations (and there were many) as the best. But the most endearing take by far belonged to Cookie Monster, whose spoof was all about cookie-sharing. Somewhere, Carly Rae is beaming.
Jurassic Park Theme Song Melodica Cover
Here's a very simple question: How do you make Jurassic Park look really stupid? Not just stupid, but, like, really stupid? Answer: Replace John Williams's sweeping soundtrack with a melodica. Just one melodica.
"Countdown" (Snuggie Version)
Although Beyoncé's "Countdown" and the Snuggie were cultural moments of yesteryear, one YouTuber was able to shake off the dust from each in 2012, getting a nod from Ms. Knowles herself in the process.
The Claire Danes Cry Face Supercut
Homeland scored the title of Show White People Love to Talk About in 2012, thrusting Carrie Matheson and Nicholas Brody into the spotlight as "the best characters on the best show on television," according to the people behind you at brunch. So there was no better time for the Internet to realize the undocumented trope of Claire Danes's iconic cryface, those big eyes and quivering chin that have haunted us since the days of My So-Called Life. And a supercut was made.
Bone Pugz
We tried really hard to keep this list to videos featuring only humans, but the Internet would not be the Internet without awesome animal videos. And as hard as it was to whittle down this year's crop of choices to just one, we had to go with Bone Pugz, in which pugs recreate Bone Thugs-N-Harmony. And, yes, there are wigs.