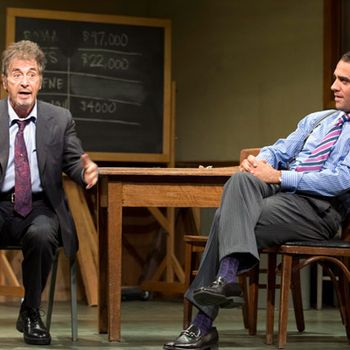 Al Pacino and Bobby Cannavale in
Glengarry Glen Ross.
Photo: Scott Landis
The ticket-scalpers prowling outside the theater call it "the Al Pacino show," and they're not snowing you: Pacino is definitely doing Pacino in Daniel Sullivan's new production of Glengarry Glen Ross. Those who arrive for a hit of the old hoo-wah won't be disappointed, though they'll find the gale-force, blow-dried bombast of yesteryear mostly stilled, retired in favor of more temperate (if still familiar) riffs and melismas in the mid-Pacinoid range. The singsong taunt, the rope-a-dope shambling delivery, the lip-licking, mid-sentence power-pause — all make fine sauces to the language banquet David Mamet laid before us 30 years ago, when his savory, profane near-comedy about small-time real-estate salesmen in extremis debuted on Broadway. (Is it a great play? Yes, I think it is: a throat-cutting grappa aperitif to Death of a Salesman, really.) In the considerably more grave-faced film version, Pacino played alpha-shark Ricky Roma, swimming circles around Jack Lemmon's aging, slipping Shelly Levene. Now Pacino is Levene, a huffing-and-puffing word-cloud concealing a tiny, frightened man, the yammering pantaloon stalling for time. 
Do we buy what he's selling? Well, goodness, it's not a contest. Ha! I kid. Of course, it's a contest, a sales contest as real as the one being waged onstage. As we learned in The Merchant of Venice — also directed by Sullivan — the deflated, recessed Pacino can be far more dramatically powerful than that braying Scent-of-a-Scarfather meme packaged under the brand-name Al Pacino. But be warned: This Glengarry is not an ensemble piece. It's a collection of star soloists — Bobby Cannavale, John C. McGinley, Richard Schiff among them — in merry, toothy competition with one another. McGinley (of Scrubs fame) is especially fierce, funny, and occasionally frightening as Moss. To paraphrase his archrival Roma: Give him some scenery, he'll show you how to chew it. Nobody acts with his canines like McGinley; after three minutes, you feel intimately acquainted with the inside of his mouth. (I mean this as admiration!) At the other end of the food chain, Richard Schiff is a bag-eyed rabbit-in-a-snare as Aaronow, the born victim. David Harbour holds on tight in the show's most technically difficult and thankless role, that of Williamson, the long-suffering, much-abused office manager and sadist-in-training. He's wrong-footed at every turn, as a character and as an actor, and the churning power dynamic sometimes has him falling back on a permanent pout. But his job, as Roma points out, is "being an asshole," and this he manages, with proficiency.

Pacino, in fact, is the least assertive of the bunch. (Not counting Jeremy Shamos, who gives a generous, natural performance as the perfect mark — er, customer — James Lingk.) The show plays like a series of sizzle reels, an effect heightened by Sullivan's front-and-center staging. In short, I'm not sure I believe these men really work together. But I absolutely accept that they work against each other.

And they do work, these gladhanding, backhanding gladiators. Bobby Cannavale gives us a Roma straight from the silk-shirt Italian-stallion playbook, but he interweaves the obvious machismo with dandyish threads and some come-hither eyelash-batting. It's a tenor aria of a performance, like a lot of Cannavale's, but it takes on complexity as it goes. Sullivan has interpreted Roma's respect for Levene as a mentor and elder with more sincerity than most directors (who tend to revel in the script's misanthropy and mute its hot, manly tears of regret). Whether he's doing this to serve the text or play up the torch-passing from Pacino to Cannavale is debatable, and also a little irrelevant. More than the last revival, this Glengarry-the-play feels inseparable from Glengarry-the-pop-culture-milestone.

I'd note that this too-many-emcees-not-enough-mikes phenomenon was a bit of an issue with the last Glengarry revival, a fine 2005 production directed by Joe Mantello and starring Alan Alda (as Levene) and Liev Schreiber (as Roma). That show jelled marvelously over the five months of its run; this limited-time-offer, on the other hand, closes on January 13. The hustlers will tell you to act now or be disappointed, cosmically, fatally, and forever. I say take your time. This product will doubtless come to market again, perhaps even inside the next decade, with new flavors of name-brand testosterone. There's always a market; there's always an appetite; and thus, there's always Glengarry, the big meal that bites back.