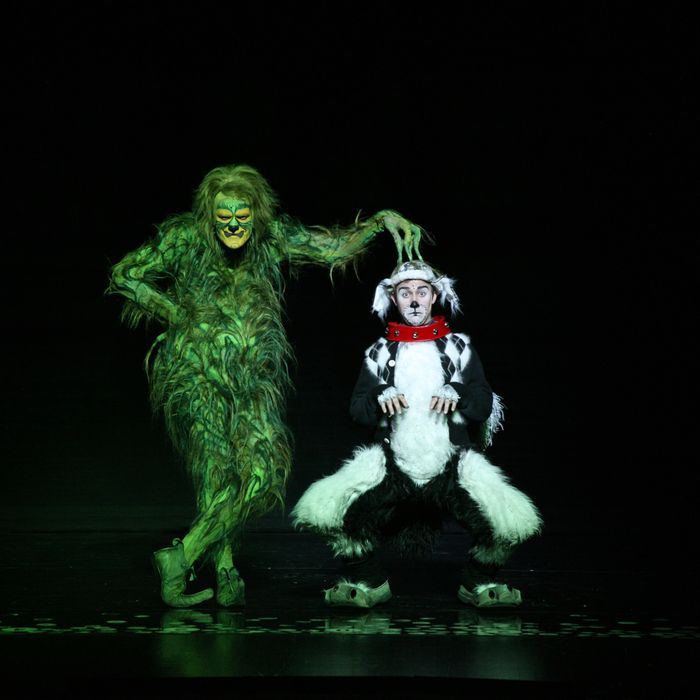 Photo: Paparazzibyappointment.com
Of the holiday pop-up-store musicals on offer, one could do worse than Dr. Seuss' How the Grinch Stole Christmas!, a remount of the slender mini-musical that appeared on Broadway six years ago, directed by Jack O'Brien and starring Patrick Page as he-who-will-not-be-wassailed. The show — which lovingly apes the 1966 Chuck Jones animated TV special wherever it can, and showcases the Albert Hague classic "You're a Mean One, Mr. Grinch" — has been repotted in the appalling Theater at Madison Square Garden, a soul-smothering, actor-muting Chunnel of despair hewn from concrete and sadness by a clinically depressed designer of third-world mausoleums. (It's like being in a 1992 Chrysler LeBaron glove compartment on a Brobdingnagian scale.) Marvel then at Jeff McCarthy, who slips into four quarts of latex and eight bales of matted fur to play the title grump, that chartreuse Scrooge and scourge of Whoville — and still manages, from time to time, to feel like he's in the same room with us.
McCarthy's Grinch is a gene-splice of Paul Lynde and Beetlejuice, though — sorry, backmost rows — what you're probably seeing is a surly green blur. (Heck, I was sitting at a respectable mid-stadium distance, and the kid next to me needed a play-by-play from his mom.) The facial makeup bleaches away some of McCarthy's best comic assets, like that horsey mouth and those close-set ping-pong ball eyes, but he compensates with bouncy body language and bendy vocal work, and receives game assistance in the acrobatics of Gilbert L. Bailey II, who plays the Grinch's loyal mutt Max with Tiggerish gravity-defiance. (Ken Land is Max as an older pooch, narrator of the play.)

Whoville itself is a set of Seussably-sketched cardboard cutouts; this is a "storybook" concept, with line-drawn two-dimensionality as touchstone and little lavished on physical production. (No complaints. Spend nothing or spend everything, says I. It's the in-between stuff that looks dispiriting.) More energy has been poured into the Whos of Whoville, whose Yuletide enthusiasm irritates the lonely, misanthropic Grinch — a hermit who lives on a crag, overlooking the tinsel-happy town — and spurs him into nefarious, party-pooping action. Seuss's pen made these candy-coated gremlins indelibly adorable, but I've always found latter-day, three-dimensional interpretations of Whos a bit terrifying: They're supposed to evoke Christmas ornaments, with their bulbous abdomens and bound-feet shuffles, but the Doctors Without Borders donor in me sees a genetically isolated population of mountain mutants suffering from terrible, inherited thyroid disorders. The exception, of course, is darling little Cindy Lou Who, the only Who to see the loneliness behind the Grinch's evil. She's played ably and sung beautifully by wee Tori Feinstein (who alternates with Abigail Shapiro), and her "Santa for a Day" (a new addition to the score by composer Mel Marvin and lyricist-bookwriter Timothy Mason) is a standout.

This Grinch isn't Grinch-proof: There's a slightly shopworn quality to the showmanship, and the charmlessness of the space (did I mention I rather dislike this space?) does it no favors. But, even at up-to-$150 a ticket, the basic Seussian fable of community spirit over giddy materialism obtains, and McCarthy gives us a Grinch whose heart, we earnestly believe, grows three sizes. Now if he could only shrink the theater two sizes, we'd have a nice, snug fit.   

Dr. Seuss' How the Grinch Stole Christmas! is at the Theater at Madison Square Garden through December 30.