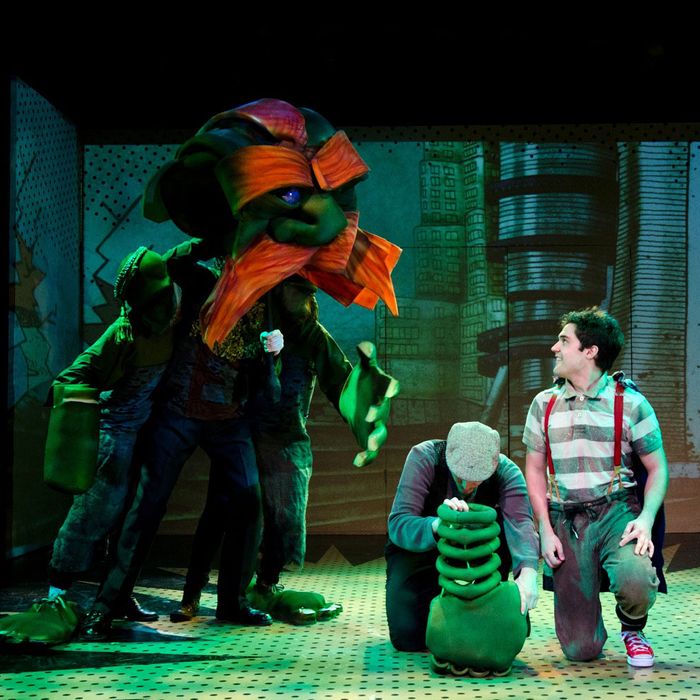 At the New Ohio Theatre,
PS Jones and the Frozen City.
Photo: Jill Steinberg
Cheeky, dorky, delectable comic-book theater is alive and well and living in the artfully underlit corners of New York's off-grid theater-scene. If you're in the mood for super-slo-mo action sequences, brilliant Dumpster-sourced puppetry, splash-panel staging, and all manner of scuffed-twee playfulness, congratulations, your theater season has landed, not with a bang, but with a WHAM!
At the New Ohio, Robert Askins, the manic voice behind Hand to God, is back with another puppet-driven, Podunk-derived genre experiment. PS Jones and the Frozen City — a small, playful work — is a postapocalyptic sci-fi gumbo giddily cribbed from dozens of sources, among them The Hunger Games, Hellboy, The Dark Tower, The Wizard of Oz, and Jefferson Starship. Our hero is Pig Shit Jones (Joe Paulik), an earnest, daydreaming young poop-shoveler from the blighted heartland, whose character Paulik pitches somewhere between Huckleberrys Finn and Hound. (With maybe just a drizzle of Leslie Jordan.) In a fallen world, Pig Shit is called to action by destiny, a ghostly Cowboy (Steven Rishard) and a rambunctious disembodied hand. (This last, like the rest of the puppets in PS Jones, is brilliantly designed and expressively operated by Eric Wright and the Puppet Kitchen.) The destination is the Frozen City, a distant, glittering dystopolis ruled by the vaguely plutocratic Glass Spider (Sofia Jean Gomez): Will Pig Shit save the day? Or destroy the world? Or both?

Hardly matters, really. The story's an old one; the telling is ever-so-Askins. (Here's a typical interjection from the narrator, played at this point by Bobby Moreno, after a particularly over-the-top scene: "That was fucking ridiculous! Oh yeah, he's sitting by a river.") PS Jones, if it's about anything (and it isn't, really), is about a certain exhaustion and impatience with our ever-present Armageddon. Askins's fried-in-motor-oil argot is a perfect vehicle for this sentiment. It's even in his author's note: "Git together and beat it outta tin cans," he advises. "It should look dirty. It should look stole." Director Jose Zayas obliges, but gives the trash-art a sharp-dressed snap. (He's heroically assisted by Jason Simms's snazzy pop-up book of a set and dazzling video projections by Alex Koch and David Tennent.) PS Jones, for all its handsome bits, is a bit of a sow's ear, and shouldn't be mistaken for a major work: This is a bunch of young savants stretching their legs, letting their yawps echo across the canyon. (And not all of those yawps quite make the distance.) It's the theater's equivalent of a fun-ass dollar matinee, and should be enjoyed as such.     
 
Meanwhile! In another part of the city! Actually, in Long Island City at the aptly named Secret Theatre (tucked beneath the 7 trestle and fast becoming the go-to clubhouse for inspired drama nerds and nerdy dramatists), the prolific Adam Szymkowicz and the always-delightful Flux Ensemble present Hearts like Fists, a costumed-hero burlesque that wryly blends the Watchmen and OK Cupid gestalts. You've seen this sort of shoestring genre-spoofery many times before, but Szymkowicz is a wistful wit with a broken-romantic's ear for the big Urban Lonesome. He's well matched with Kelly O'Donnell (director of Flux's similarly ouchy-cute Dog Act) and several coffeehouses-worth of attractive, impressively limber hipsters, including Marnie Schulenberg, Chinaza Uche, and Becky Byers. (The secret weapon: August Schulenberg's manic Doctor X, arch-villain and clingy ex-boyfriend-from-hell.) Again, we're talking about the adorable here, not the particularly profound. Hearts is a cute, wisecracking, chest-thumping Trapper Keeper doodle. Like PS Jones (if not nearly as technically advanced or tonally ambitious), it's a footrace between the sublime and the ridiculous, which ends in a perfectly satisfying tie.   

Hearts Like Fists is playing at the Secret Theatre through December 15; PS Jones and the Frozen City is  at the New Ohio Theatre through December 23.