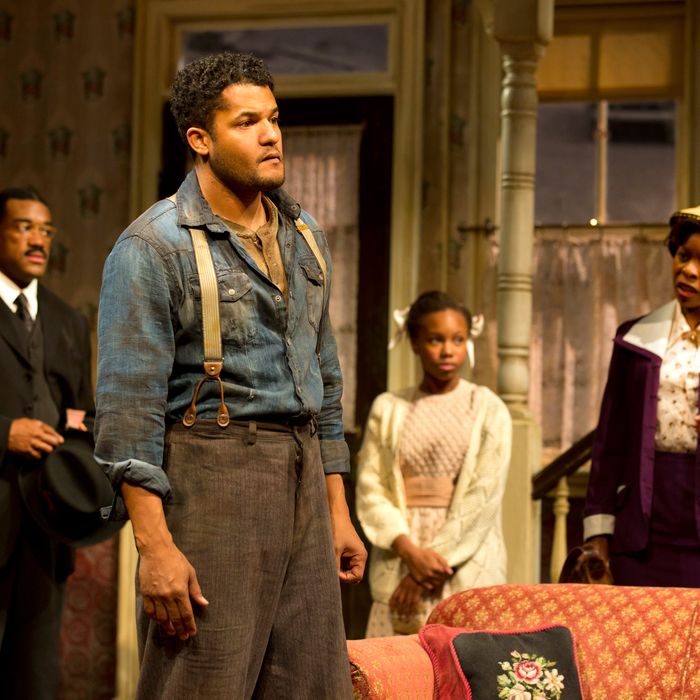 The Piano Lesson
Photo: Joan Marcus
The Piano Lesson
I don't think I've ever seen the multifarious energies of August Wilson's playwrighting — his aching, epic ambitions, his colloquial crowd-pleasing instincts, his expressive setpieces and interior poetry — better concerted, conducted, and focused than in Ruben Santiago-Hudson's joyous revival of The Piano Lesson, the Depression-era entry in Wilson's Pittsburgh Cycle. Featuring unforgettable performances from a flawless cast (special nods to Roslyn Ruff, Brandon J. Dirden, and Chuck Cooper), this rambunctious ghost story about black life at the dawn of the Great Migration — caught between the spectres of Southern slavery and the possibilities and perils of urban life — pulses with magic, ecstasy, pain, and (forgive me) spirit.
We begin with a family split down the middle: Boy Willie Charles (Dirden) has come up from the ancestral South towing a load of watermelons, his girl-crazy himbo pal Lymon (Jason Dirden, perfectly timed) and, it seems, the angry spectre of Sutter, the white landlord Boy Willie may or may not have murdered. Boy Willie and the ghost are after the same thing: an old upright piano, carved with a relief of Boy Willie's slave ancestors. His father stole the piano from the Sutter family, and paid for it with his life. Now Boy Willie hopes to sell the damned thing and buy the land — Sutter's land — that his people once worked in bondage. One small problem: Willie's sister Berniece (Ruff), co-owner of this tainted heirloom, isn't interested in selling. Nor is she interested in playing it. For her, the piano represents an endless cycle of violence; selling it to buy tainted land would be an abomination. And "land" means nothing to her. She's a city woman now, and land is a rube's obsession, a slave's obsession.

Ruff is simply magnificent. She's got the sort of poise that never poses, and she understands (as does Santiago-Hudson) the rules for delivering a Wilson character: the brighter-than-real hues, the folk-poetry of the language, the exhilaration that shouldn't cross into exaggeration or caricature. She is, in every moment, and above all else, an adult. Her unamused composure stands starkly against Boy Willie's impetuous springiness; Dirden displays a touch of Buster Keaton in his physical repertoire. They play quite a duet, accompanied masterfully by James A. Williams, who enlivens Doaker, the Charles' family's patriarch-regent and resident storyteller. Playing grace notes atop it all is the authoritative Chuck Cooper, once again establishing his place among our greatest stage performers: His Wining Boy — itinerant honky-tonk piano player and career drunk — is a great Falstaffian life-force with a tragic afterimage imprinted on every perfectly delivered one-liner. (And that voice! Cooper could bring the whole temple down if he wanted to.) The Piano Lesson opens Wilson's reliquarium and lets the bones breathe. I'd advise you to commune with it. The spirit's willing.   

Through January 13 at Signature Center.

We Are Proud to Present a Presentation About the Herero of Namibia, Formerly Known As Southwest Africa, From the German Sudwestafrika, Between the Years 1884-1915.
The young playwright Jackie Sibblies Drury, in her New York debut, has a playful way of backing into the cardinal modern horrors: tribalism, authenticity-anxiety, irony-infestation. We begin with the sort of meta-theatrical shell that's become a familiar insurance policy, culturewide: A troupe of young, conservatory-trained American actors, led by irreplaceable alt-theater mainstay Quincy Tyler Bernstine, attempt to assemble an evening of devised theater. "Let's try it!" "Can we find it in improv?" They're young, smart, eager, talented, egotistical, silly, self-regarding, self-dramatizing, and well-intentioned: theater-folk, in other words. Three are black, three are white, but at first, this hardly matters: What unites them is the language of Performance, that faintly absurd, quasi-talmudic squabbling you hear emanating from any rehearsal studio — classic, Method-y what's-my-motivation stuff. Easy to lampoon, right? 
But Drury's not finished. She's barely getting started. What these players are trying to "find in improv" is the first genocide of the twentieth century, the attempted extermination of the Herero and Nama peoples of present-day Namibia by the forces of the German colonial government. The Puckish meta-theater is a stalking-horse: These shadows do offend. As the company gets deeper into the weeds — debating, for example, the value of their only primary documentary sources, the letters of German soldiers — cracks start to spider through the ensemble, unanswerable questions of cultural ownership are raised, and mere "play" turns very, very serious. Are these middle-class Yanks up to the gargantuan task of grappling with the Cain-and-Abel roots of lethal, tribal human fear? Can they strip away layers of irony, moral-relativism, exoticism, politics, and theory?  And if they can access the "authenticity" bubbling beneath … is that even a good thing? Will they be able to handle what they find there?

Eric Ting directs this tonally tricky hairpin-turn with such panache and unstuffy inventiveness, he makes it look far easier than it is. The actors do most of their arguing at a long folding table, under flat fluoros; the "finished" scenes blossom under stylized theater lights, with multimedia annotations. (Projections, slideshows, etc. — all of it executed so handily, you don't see the quotation marks.) But in the end, there's nothing between us and the Thing Itself. Drury's the rare playwright who knows when to leave us alone with ourselves. She and Ting make a formidable team. I'm eager to see what they do next. A little scared, too.        

Through Dec 16 at Soho Rep.