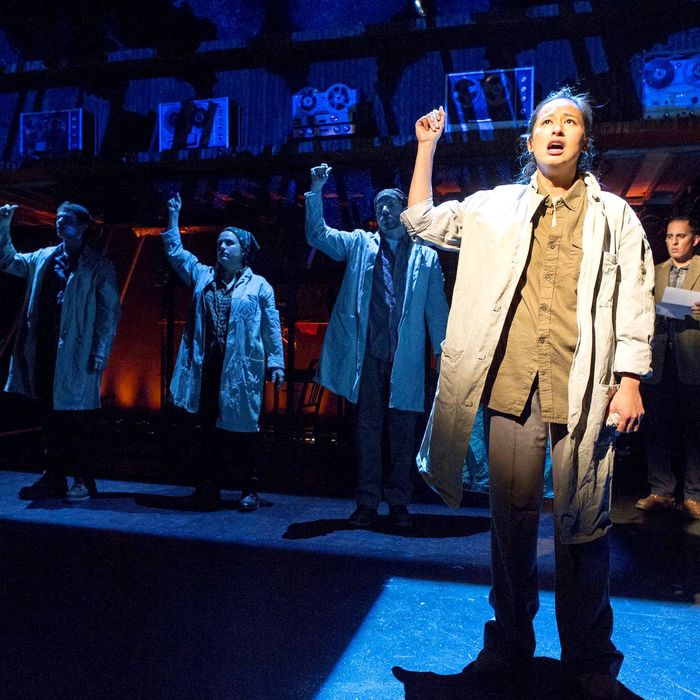 Working (at 59E59 Street Theatres through December 30)

Warning: Since Working opened in the late seventies, you may have noticed a few small changes to the American economy. You'll notice changes to Working, too: After years of trims and revisions (beginning in the immediate wake of the show's '78 flop on Broadway), the docu-musical based on Chicago chronicler Studs Terkel's interviews with ordinary Americans on the job emerges here in streamlined and updated form, thanks to the efforts of original director and co-composer Stephen Schwartz and current director Gordon Greenberg (Jacques Brel …) . Past and present mingle, sometimes harmoniously, sometimes dissonantly: Tales of cubicle life burble beneath the anthems of ironworkers, bleary-eyed brother-truckers complain to subcontinental call centers, the aria of the mason has to compete with stories of fund-raising, food service, prostitution, publicity. ("Neat to be a Newsboy," I regret to inform you, has been laid off, a victim of technology and — one suspects — the Wal-Mart-like footprint of Newsies.)
New songs have been added, too, including a pair of winners by Lin-Manuel Miranda, the Spanish-pop-inflected "Delivery" and the touching "A Very Good Day," a song about caregivers for the extremely old and the extremely young. There are no health-care workers, no engineers or programmers in sight: These aren't the growth sectors we're singing about here. Working, born into one downturn and now resurfacing in the wake of another, has always had an elegiac tinge. It ain't called Winning.

And just like the real economy, the new stuff sits a little uneasily next to the old. But what are you gonna do? Cut James Taylor's "Millwork"? (You'll never win Ohio with that attitude!) Greenberg states up front that Working isn't a snapshot of the present but a codicil to a time capsule. Basically, we're seeing historical bookends: one just before the the Reagan Revolution, one just after its collapse. When the extraordinary Marie-France Arcilla bleats her gorgeous "Millwork," when Joe Cassidy delivers "Fathers and Sons," and Kenita Miller whimpers the now ancient-seeming "Just a Housewife" (a status only the truly privileged can now afford), we travel wistfully through the decades, feeling not-quite-nostalgic. ("The life buried here," Alice Munro once wrote, "is one you have to think twice about regretting.") Beowulf Boritt enhances the effect by studding his Brecht-cage of a set/scaffold with old reel-to-reel tape players that (appear to) play Terkel's original recordings. Alex Lacamoire completes the illusion with cunning small-combo orchestrations that preserve the period feel where necessary, then pivot into more current modes for more current material.

This show is compact, and so is the theater — which means that what works, really works, and what doesn't is instantly and viciously revealed. Luckily, there's little of the latter. Greenberg and choreographer Josh Rhodes make big pictures on tiny postage stamps of real estate. There are some moments of detectable vocal hesitation among the eclectic, elastic cast, but there are far more moments of simple, transcendent honesty. The hilarious, vivacious Donna Lynne Champlin stands out with her performance of the crowd-pleasing waitress's pride-song, "It's An Art." Which, come to think of it, may contain some of the tightest lyrics Schwartz has ever written:

I will have my hand right when I place a glass
Notice how I stand right as customers pass
Serve a demitasse with a gesture so gentle
Or do it again till it's near-Oriental.

Schwartz, the Kanye of seventies Broadway, pulled together an array of dazzlingly disparate talents for the original Working: To unite James Taylor and Mary Rodgers is quite a feat. (And one Schwartz was penalized for by critics of the time. Today, the polyglot approach feels a lot more natural.) Such collective action feels like a dangerous illusion, and I'm sure some folks still feel the same way about Working, with its faintly lefty populism. (It must be noted, liberal-bias watchers: An Ayn Randian hedge fund manager gets his say now, too.) Can this mutt of a show, with its inner-journalism and outer-mummery, ever be more than a high-school dress-up pageant? Is there authenticity here? Put it this way: If the bathos in your Springsteen box set is starting to cloy, here's one chest-swelling paean to the working man you won't feel guilty about loving.    

What Rhymes With America (at the Atlantic Theater Company's Linda Gross Theater through December 30)

Melissa James Gibson (This) delivers a play with a spectacularly awful title and a log line — lonely, half-likable folks adrift in a sere, seriocomic moral universe with only their illusions and obsessions as life rafts — that's all too easy to dismiss as terminal Off Broadway–itis.  But here's the twist: What Rhymes is really quite good, especially with the reliable Daniel Aukin bolstering its substantial wit and undeniable humanity, and keeping its fussier, sillier, more writerly water-treadings under tight control. (Yet, as always, appearing to exercise the lightest of touches: The guy's a pro.) It also benefits from one of the finer casts currently operating on or Off Broadway: the great everyman impersonator Chris Bauer (The Wire) stars as Hank, a sad-sack economist who refuses to let the marriage he broke stay broken. It's beyond quixotic, considering he is, among other things, destitute, a victim of his own wild projections. "It's not that they don't like my research," he explains to his moody, guitar-strumming daughter Marlene (a fabulously unamused Aimee Carrero), "It's that reality hasn't caught up to my predictions, which is the nature, by the way, of Every Single Fucking Useful Theory, but the wheels of appreciation are slow and we live in an Extremely Impatient Age."

Gibson writes fluidly and beautifully for that Impatient Age, slowing down our emotional metabolism for deeper scrutiny while speeding proficiently through her scenes, each a sketchlike contrivance, but none of them sketchy. And she gives actors plenty to chew on. Da'Vine Joy Randolph (Tony-nominated for Ghost) takes a playfully written, potentially extraneous role — Sheryl, Hank's smoke buddy and fellow paid-extra at the Met — and storms the freakin' battlements. Her Lady Macbeth recitation is a bit of a playwright's indulgence, but Randolph takes it to another echelon. And Seana Kofoed, as a careering lost soul who collides with Hank at just the wrong moment, is just birdlike enough to charm, just bitter enough to convince. All these misfits colonize the blanched expanse of Laura Jellinek's set with hope and its opposite: There's some hugging, a little learning, and absolutely no sulking.