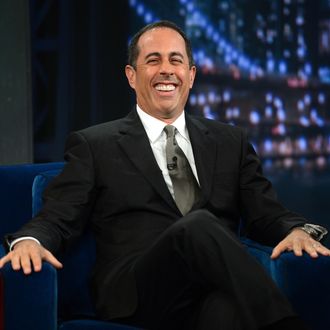 Photo: Jason Kempin/Getty Images
What's the deal with the eight-page New York Times profile of Jerry Seinfeld? Beyond the standard stuff about how Seinfeld still does stand-up very often and like cars a lot, there are plenty of fun facts — eleven to be exact. Here is what we learned:
1. He watches Seinfeld reruns, but only until he appears on screen.
2. He wears Nike Shox.
3. He will do about 90 shows this year, plus about 100 private appearances.
4. He took a couple Scientology classes in 1976.
5. He was flattered, as a Jewish person, when a Florida Nazi rally took DVDs of Seinfeld, "sprayed swastikas on them and threw them through the windows of a synagogue."
6. On the road he wanted to see Argo, so he rented an entire movie theater. He liked it, but thought "the ending was a little Hollywood."
7. He's not really into the Louis C.K. idea of putting out a new hour every year: "This 'new hour' nonsense — I can't do it." He continued: "I wanna see your best work. I'm not interested in your new work." But he doesn't begrudge C.K. for it: "I care about a certain level of detail, but it's personal. He would get bored of it. It's not his way. It's a different sensibility."
8. He doesn't watch sitcoms, but he likes Mad Men and watching The Voice with the whole family.
9. He once said this to a college fan: "I don't watch that much television. I was television."
10. He listened to the Superman theme to amp him up for his first Tonight Show performance.
11. On Tig Notaro and why he never did material on his father dying of cancer in 1985: "It doesn't make me funny. If it makes you funny, that's what you talk about. That bit for Tig Notaro, it decided it wanted to be a bit. The bit is using her to get to the audience, and she's lucky enough to be in the right place at the right time. She's the second baseman in the double play: You've just got to be there to catch it and throw it on. She's a genius for recognizing it and making the move."