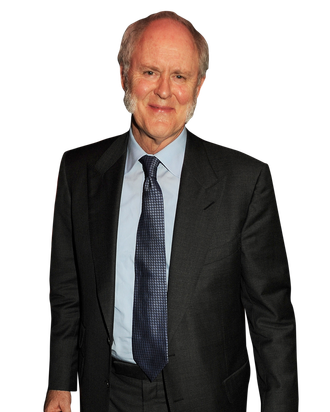 John Lithgow.
Photo: Dave M. Benett/Getty Images
John Lithgow plays Leslie Mann's absentee father in This Is 40, which required him to help shape a character the Judd Apatow way: with lots of improv. ("I was so scared of the work process," Lithgow said. "I didn't know what I was in for!") After going out a week early to watch the rest of the cast on set, Lithgow felt ready to make the leap — and was made to do so quite literally for a scene (which got cut) involving the backyard trampoline. Since recovered, he's spending the holidays in London headlining his latest play, The Magistrate, a production that will be broadcast live in the U.S. come January (for dates and theaters, click here). In between performances, he played phone tag with Vulture so we could chat about lying about your age and brainstorming with Team Apatow.
Hi.
I'm so sorry it's been such a fiasco trying to reach each other! I got the day of the matinee performance wrong, so I was onstage when you were trying to call.
Don't apologize! If there ever was a good excuse for not answering your phone, it's being onstage.
It's funny, because I had a dream last night that my phone went off while I was onstage — and in Victorian costume. [Laughs.]
You know, your play actually has something in common with This Is 40, despite one being a Victorian farce and the other a Judd Apatow comedy. Both feature women lying about their age.
I didn't see that connection until a couple of weeks into the rehearsals. [Chuckles.] The two projects couldn't be more different, and 150 years apart, but some things never change — or only evolve. This farce is based on the fairly ridiculous premise that she lied about her age without thinking about it, and now she has to lie about her son's age, too. He's 19, but everyone thinks he's 14, and the absurdity is that he thinks he's 14, too — just wildly precocious. I'm not a great expert on human behavior, but it seems that women have a greater anxiety about growing older than men do. It's funny, because I think of myself as much younger than I am! I used to think, 67, that's old. And now that I am 67, I don't feel old at all. I feel like a clownish schoolboy. Acting keeps you young even if, yes, my body is beginning to let me down. I'm creaky, and I've had my share of medical crises that come with middle age. But I still feel very youthful in outlook.
What was it like acting with the Apatow family? I understand you had a lot of trampoline time with the kids.
Yes! That was a long sequence that was cut out of the film, probably because it was unnecessary — part of their gradually warming up to me. I was romping around with young Iris on my shoulders, and I practically had a heart attack! It was so strenuous but so charming because something ineffable happens and they begin to connect. They were a little shy with me at first, but it worked out beautifully for the trajectory of the story, to be the aloof and absent granddad that they're getting to know.
How did you adapt to Judd's style of writing and directing?
Judd's scripts are extremely fungible, and he only really knows what he wants after he's seen it, and that can make you nervous. I didn't know who my character was, nor for that matter did Judd. Judd said when I first met with him that he can't write who the character is until he knows who the actor is. The role of the wife's dad was the most problematic, because he is not an automatically funny situation. In fact, it's a bleak and melancholy situation — a man who walked away and was never a part of her life. So there was a lot of trouble finding the funny there. We knew what the redemptive act should be, bonding with the grandchildren, but we didn't know how to get from one place to another, and it was a problem they plopped in my lap. So when we were talking — Judd, Leslie, and me —I said, "Why don't we just improvise?" And Judd gave this huge sigh of relief, like someone had told him, "Whatever you do, don't make John read!" Like the rules were "No auditioning!"
So we talked and we improv'd, and all sorts of things came very readily with Leslie and me. We shared our life experiences, and we spun that into a painful comedy, a lot of agony but also very funny. Half of my role comes from that session. And I was astonished: "Oh! That's how it works!" Paul Rudd took me aside and said, "You're going to have so much fun. You have nothing to worry about. We just sort of experiment until we get it."
Have you kept up with Dexter since your stint as the Trinity Killer?
I've fallen behind. I saw most of season six, up until the last episode, but I need to have a Dexter marathon to catch up. A lot of people have tried to spoil it for me, and I tell them to shut up. [Laughs.] And then they want to riff on how terrifying I am.
What about How I Met Your Mother? You know Barney's now engaged, right? Perhaps you'll be back as his dad for the wedding.
I'm waiting for the wedding invitation. [Chuckles.] You know, I barely knew that show when I got the call for that, and I didn't know what a big deal it would be for Barney to meet his father. But I did my homework and watched the episodes, and it was great! As an actor ages north of 60, he tends to be in more father roles than anything else. It's generational. And it tends to be a relationship that fascinates people, the flawed relationships between parents and kids. It's very good dramatic stuff, all the issues we're trying to work out.
You were at Harvard with Tommy Lee Jones and Terrence Malick. How well did you know them?
I knew Tommy really well. We did five plays together, and we're still good friends. Terry, too, although no one had any notion he would be a filmmaker. We thought he'd be a philosopher and a mathematician. He wasn't into the theater groups at all. Tommy tells a very funny story about when he went to audition for Love Story [for the lead role that was in part inspired by him]: They told him he wasn't right for the part. And he said, "If I'm not, who is?" He managed to get in the movie anyway.
Have you ever had to fight really hard to get a role?
Roberta Muldoon in The World According to Garp. I had to persuade [director] George Roy Hill, because he thought I was too tall, too extreme. Luckily, [casting director] Marion Dougherty was on my side and got me back in for a screen test eight months later, and there was Roberta. Now, of course, when something's very extreme, they come looking for me, be it a transsexual or a serial killer or an alien high commander or The Magistrate.