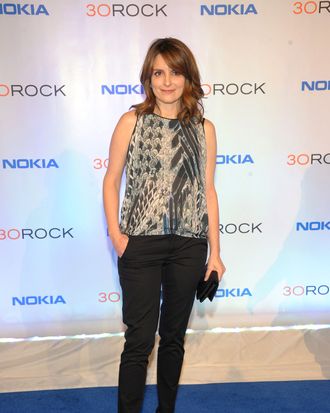 Tina Fey.
Photo: Michael Loccisano/Getty Images
After 30 Rock wrapped its final scene last Wednesday, Tina Fey gave a warm and funny speech to the cast and crew, saying, among other things, that she considers herself a Sliding Doors version of Liz Lemon — that the only real difference between her and her character was that Liz worked with jerks, while she worked with a bunch of great people. "Just when I was saying that, a phone went off," she told us at the wrap party. "I found out later it was Keith [Powell], which kind of makes sense. Kind of sums up my relationship with Keith over the last seven years."
When we asked Jane Krakowski what she thought of the speech, she said, "I've never seen so many people gather for a final scene in my life. It was very touching and fitting to the affection that everyone has for her. Her speech was beautiful, heartfelt, and extremely funny. She just has it, you know?" And, yes, the speech moved Krakowski to tears. "Yesterday was one of the days," she said. "We've known it was coming, but the minute we walked in, everyone was crying. I had so many layers of waterproof mascara on; it was insane."

Fey is in for a lot more insanity before the end of 30 Rock officially arrives: She and Amy Poehler are hosting the Golden Globes, and both are up for Best Performance by an Actress in a Television Comedy. Fey insists they're not duking it out, but she is adamant about one thing: If Julianne Moore wins for her portrayal of Sarah Palin in Game Change, Fey wants her close-up. "I was at the Emmys," she explained, "and I kept saying to my husband, when Julianne's category was coming up, 'I better check my hair. I'm sure they're going to do a reaction shot of me when Julianne wins!' And then, no, nothing! This time, I can demand a reaction shot, right?" Totally.