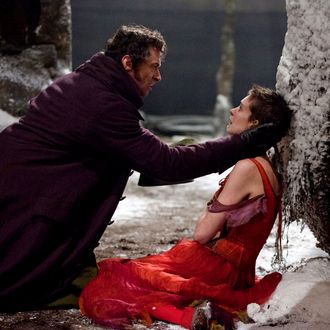 HUGH JACKMAN as Jean Valjean and ANNE HATHAWAY as Fantine in Les Misérables.
Photo: Laurie Sparham/Universal Pictures
Only screenplays produced under Writers Guild of America jurisdiction (or a collective bargaining agreement) and formally submitted for consideration are eligible for the prizes, which means some of this year's leading movies are out of luck. Among them: Django Unchained (from the pen of Quentin Tarantino), Les Misérables (William Nicholson), Amour (Michael Haneke), and Beasts of the Southern Wild (Lucy Alibar and Benh Zeitlin). Look instead for nods to The Master (by Paul Thomas Anderson), Zero Dark Thirty (Mark Boal), and Argo (Chris Terrio). The announcements will be made January 3.