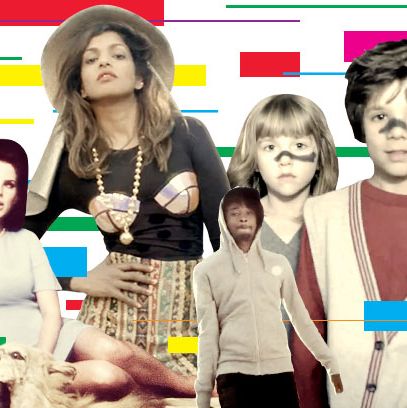 Vulture's Nitsuh Abebe has already picked his favorite albums and songs of the year; the Reader's Choice for Song of the Year will be announced tomorrow. But in the meantime, here are Vulture's top music videos of the year, weighted heavily in favor of cute kids, fast cars, and snazzy clothes. Add your favorites in the comments. 
1. "National Anthem" - Lana Del Rey
It is time to admit a couple LDR-related truths: (1) We all overreacted a little (2) The woman knows how to make a sumptuous video-slash-perfume commercial. "National Anthem" tops "Ride" because Lana dared to cast herself as both Jackie and Marilyn, and because A$AP Rocky looks great in those JFK sweaters. Sweaters trump all.
2. "Grown Up" - Danny Brown
We'll award a late-breaking Honorable Mention to Jessie Ware's "Sweet Talk," but your "Sky's the Limit" Homage Champ is still this tiny child channeling Danny Brown. That playground footwork! The water gun expertise. Has anyone signed this kid yet?
3. "Bad Girls" - MIA
Depending on your opinion of MIA, it is either a shame or totally fitting that her 2012 was reduced to the Middle Finger Seen Round the World. But before that Super Bowl Halftime demonstration, she and Romain Gavras teamed back up for the snazzy Middle Eastern Drift video that was "Bad Girls;" desert nail care will never be the same.
4. "Losing You" - Solange
Sure, Solange already won "Best Dance Moves," but lists aren't always fair. Sometimes very cool and sartorially gifted individuals hog all the top spots.
5. "My Country" - tUnE - yArDs
The song is from 2011, but the clip — featuring a gang of face-painted children from the San Francisco Rock project, a non-profit for music education — is from April. More funding for the arts! And more videos of kids dancing around with cones on their heads.
6. "Oblivion" - Grimes
With all respect to "Genesis" and the Britney-VMAs snake, "Oblivion" has monster-trucks.
7. "Mercy" - Kanye West and G.O.O.D. Music
Still waiting for the blooper reel on this one. "No, Sean, we told you to stand behind that pillar once your verse was over. Follow instructions, please."
8. "Every Single Night" - Fiona Apple
The octopus hat gets all the attention, but respect Fiona's commitment to the lesser creatures of the animal kingdom: turtles, snails, tiny colorful fish. She is an equal-opportunity zookeeper.
9. "HYFR" - Drake
Come for the Happy Adult Drake; stay for the adorable footage of Baby Drake dancing in a vest.
10. "Call Me Maybe" - Justin Bieber and Friends
Traditionally, this would be the spot reserved for "Gangnam Style," the K-pop sensation that took YouTube by storm. But since you are probably too familiar with horse-dancing at this point, we choose instead to highlight the video that launched the song that launched a thousand YouTube parodies this year. There would be no "Call Me Maybe" without the below lip-dub. Thank you, Justin Bieber and friends.