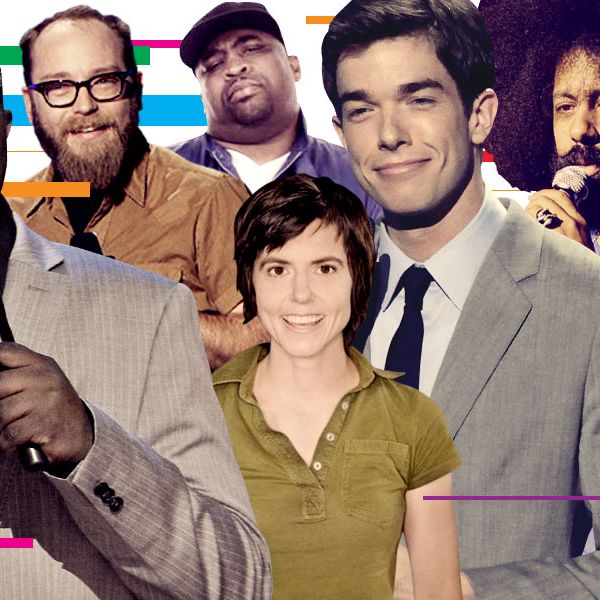 Photo: Getty Images, Comedy Central
1. Tig Notaro, Live
You probably have heard about this set. If so, you know it came days after Tig Notaro was diagnosed with breast cancer and months after she was hospitalized for a different life-threatening illness and her mother died tragically. You might have heard that Louis C.K., who eventually helped distribute the special, said this about it: "In 27 years doing this, I've seen a handful of truly great, masterful stand-up sets. One was Tig Notaro last night at Largo." The response and coverage would be normally called "buzz," if weren't completely justified. Live is nothing short of remarkable. 
This might not be the most purely funny special on here (for that, skip to No. 3 on the list) but it's more than that. Comedy, at its best, states something fundamentally true that was previously unknown or unsaid, and Notaro talks frankly about her illness in a way most never get to hear. With Live, Notaro is able to convey what it's like to be caught off guard by such heavy news and forced to reconcile your life to it immediately.
And for Notaro that also meant reconciling it with her comedy. What made this 30-minute set so unique is that Notaro isn't normally a confessional comedian. She is bone dry and irreverent, so the contrast of style and material is really something special. If Notaro didn't get sick this year and instead released 30 minutes of her normal stand-up, that album would just as likely be on this list, if not topping it. And hopefully we'll get that soon, as she has been given a clean bill of health. However, this year instead of that we got something extraordinary that shows stand-up's power to express one's inner world.
2. Kyle Kinane, Whiskey Icarus
Kyle Kinane is a whimsical curmudgeon. His stories are the flights of fancy of a man with a dark worldview. For example, late in this special he jokes that if someone wants to commit suicide by jumping off a bridge they should have a "Mary Poppins theme" and wear a nice suit and hold an umbrella. It's not new for a stand-up to turn sadness into comedy, but Kinane is rare in how genuine both the darkness and the absurdity feel. He's not a punchline-a-second guy, but his jokes hit harder. It's difficult to be a storytelling comedian, but Kinane's ability to build tension and momentum in a story, while also having jokes throughout, is damn near masterful. It's here that the album version — opposed to the one that aired on Comedy Central — is superior. With additional time, the stories grow more vivid and lived in and, of course, funny.
3. John Mulaney, New In Town
Early in his special, Mulaney makes fun of the movie Home Alone 2: Lost in New York. After a joke, he says: "I know it's a bit stupid to complain about a movie that came out seventeen years ago, but I wasn't a comedian back then." There's something so telling in that. For much of his special, there's a feeling that Mulaney has been burning for years with the need to tell people these observations, whether they're about Home Alone 2, Law & Order, his childhood babysitter's age, or mariachis on the subway. And to his credit, Mulaney is terrific at it and arguably the best pure joke writer working today. There's a reason he's written most of your favorite SNL sketches over the last few years.  
4. Paul F. Tompkins, Laboring Under Delusions
Somewhere between a stand-up special and a one-man show, Laboring Under Delusions finds Tompkins in his rightful place as a raconteur. The special is a series of stories, each framed around the jobs Tompkins has had both in show business and out. So, there are tales of both working at a Betamax rental store — years after the format's relevancy — and of Tom Cruise mocking him at a movie's table read. Like with Whiskey Icarus, the audio version of Delusions, which is almost twice as long as the version that aired on Comedy Central, is much more enjoyable. The stories can breath a bit more and it allows for some classic meandering riffs and digressions, at which Tompkins is the best in the business.
5. Patrice O' Neal, Mr. P
Mr. P was released posthumously, as Patrice O'Neal passed away from a stroke last November, and it shows this lovingly confrontational comedian at the top of his form. The undeniably likeable O'Neal is equal parts relaxed and assured, owning the stage while still feeling inviting. Where often on specials — especially audio ones — crowd work tends to fall flat, here its maybe the best part, as the listener responds to how much fun O'Neal is obviously having. His affable nature allows the comic to kill with material that many wouldn't agree with. He was one of the greats at setting up his point and his universe, so when the jokes came, everyone was at least partially on board. Or, well, mostly everyone, because as O'Neal says in the special, "It's not fun if everybody's laughing."
6. Maria Bamford, Special Special Special
Stand-up is a performative art. At all times it's a back and forth between the comedian and his or her audience. With Special Special Special, the spacey/brilliant Bamford subverts that relationship by having an audience of two: her parents. As an onlooker, sure, you laugh at each joke's punchlines, but the deeper laughs come from the situation's unavoidable awkwardness. Bamford's parents have to laugh at every joke, regardless if it's obviously too weird for their taste or ultimately about them. The end product is singular Maria Bamford: a bit off, a bit sad, a bit hard to describe.
7. Hannibal Buress, Animal Furnace
There's a reason Hannibal Buress seems to be every comedian's favorite young comic: The man can craft a joke. He's often been compared to Mitch Hedberg, in how he coolly draws the absurd out of mundane observations (i.e. if you want to win an argument with a cab driver, you shouldn't slam the door, but rather leave it open). Compared to his first special, Buress has become a livelier performer, allowing him to evoke even bigger laughs from the audience.
8. James Adomian, Low Hangin' Fruit
Those familiar with Adomian, know him as an incredibly impressionist, but Low Hangin' Fruit is not just a run-through of funny voices, there's really solid material in there. His voices (Sheriff of Nottingham, Jesse Ventura, generic beer commercial bro, etc.) are used to fill out an image of a joke and build out his world. Adomian is gay and does a fantastic job being both funny and insightful in how he tackles his own life and how homosexuals are portrayed in the media. His closing chunk about the archetype of the gay villain is able to be both hilarious and expose something that has long been a problem.
9. Reggie Watts, A Live at Central Park
A Live at Central Park proves that Watts is more than that funny-looking guy hunched over his loop and effects pedals, singing funny nonsensical songs — he's a real stand-up. Following in the footsteps of Steve Martin, Watts operates nowhere in the vicinity of the traditional set-up/punchline joke structure, allowing the laughs to come at more unexpected times throughout improvised riffs. He plays with tension, often delaying the payoff of a bit, so the lack of payoff becomes the real joke. He also is funny looking and sings funny nonsensical songs with his effects pedals. 
10. Rory Scovel, The Half Hour
Traditionally, Comedy Central half-hour specials tend to be a bit rigid, because of all that "big break" pressure. Yet, in spite of this, Scovel is incredibly loose, tackling his, at times, manically absurd material in his always spontaneous, laid-back style. The prepared bits — like one about how easy it is to steal grandmothers — are silly and super-funny; however, it all hits harder because of the relaxed feel of the special, in which he routinely breaks the fourth wall. Where many make sure to do their four or five most refined bits in their first special, Scovel gave off the air of someone just trying to amuse himself in the moment. Like with Patrice O'Neal, everything seems funnier when the comedian is also having a blast. It's all about being in the moment as a comedian, whether it's in a twelve-person club or on national television.