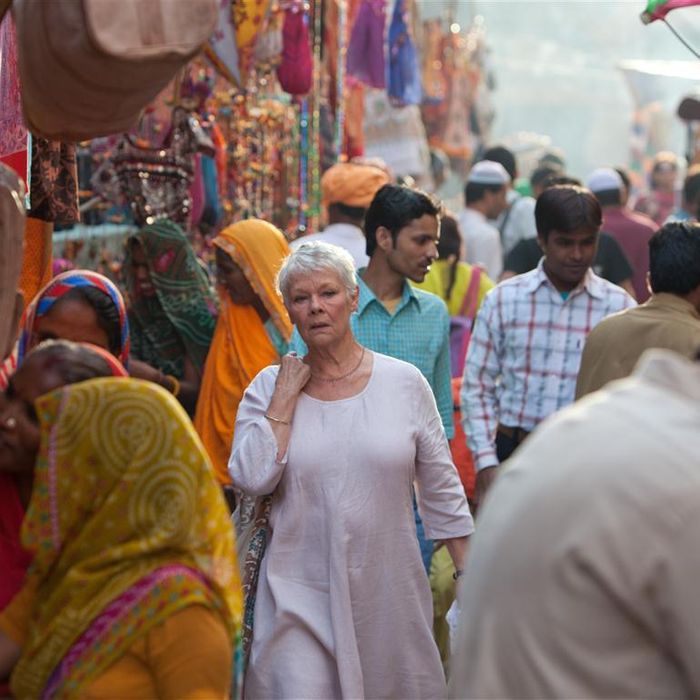 Over the last few weeks, Vulture has spoken to the screenwriters of 2012's most notable movies about the scenes they found most difficult to crack. What pivotal sequences underwent the biggest transformations on their way from script to screen? Today, the enormously self-deprecating screenwriter Ol Parker dissects the ending (SPOILER ALERT!) to his hit film The Best Exotic Marigold Hotel, directed by John Madden and starring Judi Dench, Bill Nighy, and Maggie Smith. He told his story to Kyle Buchanan:
It was all horrible to write! No, seriously, the hardest scene to crack was the last scene, because there were nine different storylines. It's very ironic that the studio now wants a sequel, because if we'd had any idea there would be one, I wouldn't have tried so aggressively to wrap up every fucking loose end.
The whole film was a challenge because there are so many balls to keep in the air, and in the last scene, these storylines all coalesce. You've got to crack on and give each storyline enough time to play itself out properly and not feel unsatisfying, but on the other hand, you can't go on too long.
The hardest part, ironically, is that we had all the cast for four months before shooting, which is quite rare. When you're feeling the weight of casting all these great Dames and Knights … it's fucking terrifying! "Maggie Smith is gonna say these words, so write a better line for fuck's sake!" I didn't do too much rewriting because the great thing about working with really old actors is they can't remember any lines — if I say, "Judi, I'm going to change this bit," then she'll just look at me with horror. But we kept trying, and it's still completely unsatisfying to me. I watch it through my fingers.
There's no part of the film that I feel like I nailed, but the very last bit — and John wrote it, not me — where they meet at the gate and they just talk about how she likes her tea? That's intensely satisfying to me. Both of the actors absolutely loved it. I think I had them talking about something slightly romantic, and John was like, "No, they don't. They don't talk about anything." And I said, "What, they talk about tea?" And he was like, "Yes, they do!"