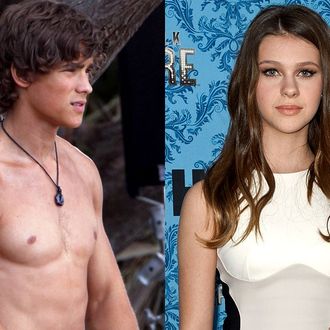 Brenton Thwaites and Nicola Peltz: Unknown but undoubtedly great-looking.
Photo: Corbis, Getty Images
Twitch reports that Michael Bay has chosen his leads for Transformers 4 (Trans4mers?): Brenton Thwaites and Nicola Peltz. Who? Yeah, so they are super unfamous, but remember before Transformers, Megan Fox and Shia LaBeouf were also mostly unknown (save for Even Stevens and Project Greenlight fans). Peltz, who will play Mark Wahlberg's daughter, is best known for her role in The Last Airbender. Thwaites, who will play Peltz's biker boyfriend, hasn't been in much, other than Lifetime's Blue Lagoon reboot, but he is supposed to have a significant role in the upcoming Maleficent. We look forward to watching them get out of the way of fighting giant robots.