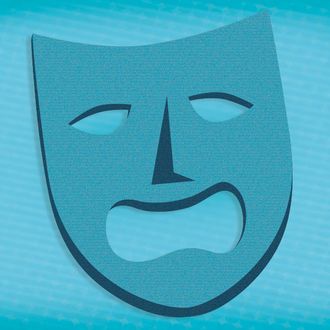 Things work fast in TV. Just a little more than 52 weeks ago, Vulture filled you in on dozens of drama projects percolating at the broadcast networks for the 2012-13 season, eye-twinkles such as a proposed show "about an Upper East Side apartment building where the residents have all literally made deals with the devil," a Las Vegas–set drama about a "cowboy who ended up policing Sin City during the mob era," and a Jerry Bruckheimer hour that took place in the eighties music industry. Barely a year later, the first of those three ideas got made and canceled (666 Park Avenue), the second got made and picked up for a full season (Vegas), and the third, something called Full Nelson, never made it past Fox chief Kevin Reilly's iPad. Despite this perpetually awful return on investment, broadcasters have once again invested millions ordering up pilot scripts for next season based on a single pitch meeting, and over the next few weeks, the writers of said scripts will begin handing in their work. Most of these Final Draft masterpieces will stop right there. For now, though? Possibilities! Once again I've culled through all the development tracking reports, highlighted the concepts that jumped out at me, and broken down the noteworthy trends by cliché category. As always, some caveats: This list is hardly complete, many of the titles listed are temporary, and, once again, don't get your hopes up. I was totally looking forward to the planned reboot of Romancing the Stone I wrote about last fall, but it never made it past the script phase. Dreams die fast in TV, too.
Doctors? Feels Good
Even though it's been around forever, Grey's Anatomy still does very well in the ratings. But with Private Practice ending, and both The Mob Doctor and Emily Owens, M.D. fizzling, Grey's is also the only successful medical drama left on network TV (no offense, Hart of Dixie). That's one reason the nets are putting lots of energy into the genre this development season, with more than a dozen doctor dramas in the hopper. CBS has at least five in the planning stages, including ones about: a husband-wife surgeon team (from former ER showrunner Neal Baer); a hotshot trauma surgeon who opens a family practice (exec producer: Robert De Niro); and an hour about the U.S. surgeon general (fingers crossed for C. Everett Koop jokes!). Over at NBC, former Freaks and Geeks scribes Gabe Sachs and Jeff Judah are behind After Hours, in which a group of military doctors end up working the late shift at a hospital (shades of Trapper John, M.D.). At ABC, the network is trying out concepts as varied as The Red List (loser docs get a second chance by working at a poor hospital), The Heart Speaks (quirky cardiologist gets a second chance), and an untitled hour from writer Sera Gamble (it's about a neurosurgeon who is declared unfit for duty … and is given a second chance working as an overqualified internist).
Stop Us If You've Heard This One Before
This development season's crop of would-be reboots, remakes, and re-imaginings includes a few titles that are actually intriguing. Topping the list is CBS's Beverly Hills Cop small-screen sequel, which is being produced by Shawn Ryan and will actually feature Eddie Murphy in at least the pilot (the show will revolve around Axel Foley's cop son), and possibly future episodes. Over at ABC, one of Heath Ledger's cheesier efforts, A Knight's Tale, is being given a TV twist; we'd be worried, but it's being overseen by Battlestar Galactica genius Ron Moore, so … maybe? Back at CBS, the Eye is also working on a modernized version of The Cisco Kid (in which the Latino legend is now an Afghan war vet teaming up with a fellow Marine to help the helpless) and an update of the sixties Western Have Gun, Will Travel. The CW is considering a revival of the cult BBC drama The Tomorrow People that's being put together by Greg Berlanti (Arrow) and Julie Plec (The Vampire Diaries). And then there's this bit of oddness from NBC: The Peacock has bought a script for a new version of Ironside, the awesome sixties-seventies crime drama in which Raymond Burr played a wheelchair-bound cop. Really! If this works, we can't wait for Cannon 2014 and Quincy 2.0.
In addition to straight-up reboots, the nets also have a number of drama contenders that revolve around well-known characters from films, video games, and, in one case, a theme park ride. No network loves readily identifiable pop culture figures as much as the CW, so it's no shock that the li'l net is developing a new origin take on Wonder Woman (without David E. Kelley, thank Athena) called Amazon. NBC is working on shows that re-tell the stories of Robin Hood and Cyrano De Bergerac, while Fox has asked scribes to fashion a new take on Bonnie and Clyde. The latter network is also working with Adam Sandler's Happy Madison on a version of the EA video game Battlefield: Bad Company that's being written by ex-Alias writer John Eisendrath. And then there's Big Thunder Mountain: Yes, it's a possible ABC show inspired by the Disney ride and no, Johnny Depp is not attached. Much more likely to end up on the air at the Alphabet is S.H.I.E.L.D, the Joss Whedon–produced drama based on Samuel L. Jackson's division in the Avengers universe. (So far, Jackson isn't attached to the project, but Clark Gregg will reprise his role as Agent Coulson, super-spitting in the face of death.)
Finally, Hollywood's recycling program this year also includes a massive number of potential series in which literary staples will be modernized and sexed up. (You can thank CBS's Elementary and ABC's Once Upon a Time for this trend.) There are two versions of Great Expectations underway (at ABC and the CW), a pair of Alice in Wonderland tales (at NBC and the CW) and, yup, two takes on The Legend of Sleepy Hollow (at Fox and … you guessed it, the CW).
Dowager This!
Since Downton Abbey has proven Americans will watch (or at least talk about) period dramas, the broadcast networks are falling all over themselves to find shows where costume design is as least as important as the script. CBS has a new take on Sense and Sensibility, NBC is mulling shows about Cleopatra and George Washington, and the CW has a Game of Thrones–esque hour about Mary, Queen of Scots called Reign. Over at ABC, Charlize Theron is exec producing a Viking-themed actioner called The Clan (not based on the Capital One ads). And then there's The Gilded Age, the just-announced period piece about late 1800s New York that's being produced for NBC by dear Abbey producer Julian Fellowes. The Peacock is also developing an hour with Barry Levinson and Tom Fontana revolving around America's First Dad. Bill Cosby? Nope, George Washington. (Apparently Lincoln is already passé).
Not all of this year's retro-dramas harken back to ancient history: Several contenders set the wayback machine to the seventies. Justified guru Graham Yost has a groovy spy drama called LA Woman in the works at NBC (home to his way-too-shortlived Boomtown). Over at the CW, home to the eighties-set The Carrie Diaries, there's the Mila Kunis–produced Meridian Hills (women's lib comes to a country club) and the Silicon Valley origins story Wired (Twitter's Biz Stone is an exec producer). The eighties get some love, too: Fox has Wildwood, a family dramedy about a smart teen who poses as an adult in order to get a gig at a Reagan-era bar on the Jersey Shore. It's from exec producer Shonda Rhimes.
99.9 Percent Sudsy
Revenge is having a sophomore slump, Nashville is okay-but-low-rated and 666 Park Avenue has had its lease terminated. Translation? There's plenty of room on ABC's lineup for more soaps, and with the other three nets pretty much suds-free, there's lots of room on their lineups for primetime melodrama as well. Let's start with the Alphabet, since it remains TV's best bet for over-the-top acting and out-there storylines. Westside sounds like it might be inspired by SNL's "The Californians": McG is producing this hour about the rich and poor of Venice, California (take the 10 all the way to … ). Gossip Girl amigos Josh Schwartz and Stephanie Savage are producing ABC's untitled Karen Croner soap about a single mom who returns home to live with her family in L.A.'s Laurel Canyon (take Wilshire to Crescent Heights … ). Mr. Fergie, a.k.a. former All My Children Star Josh Duhamel, is lending his soap skills to ABC's Daytime, a backstage look at an afternoon soap opera (do those still exist?). Oh, and ABC's also developing a TV version of New York Magazine's own Sex Diaries, which will undoubtedly be tamer than the original.
Over at Fox, which seems to have been spooked away from straight-ahead soaps since the disastrous launch of Lone Star two years ago, the network might be ready to dip its toes back into the bubble-filled waters. Ever-busy Ryan Murphy is teaming with Apollo 18 writer Brian Miller on Montauk, described as a "family thriller" set in the small town on Long Island, New York. America's Next Top Model creator Ken Mok is trying his hand at scripted drama with the fashion world sudser Scarlatti. And Jimmy Fallon (Jacob's Patience) is one of the exec producers behind Bad Seeds, a potential soap about a small town high school with a dark underbelly (are underbellies ever not dark or seedy?). Fox is also working on a U.S. version of Latin American telenovela Rubi. NBC, meanwhile, has enlisted Gordon Ramsay to guide The Inferno (about the hellish New York City restaurant world) and Becky Hartman Edwards (Parenthood) to write Shiny Happy People, which is a mash-up of The Truman Show, The Hunger Games, and Big Brother. Finally, CBS has an hour with a title Marc Cherry might have thought up: Difficult Women. Cherry's not involved, however; it's from producer Ridley Scott and writer Barbara Hall (Joan of Arcadia).
Get Me a Homeland! Or a Revolution! Or a Homeland Revolution!
The Showtime and NBC dramas have, predictably, spawned a slew of drama contenders brimming with political intrigue, imminent threats, heroic civil servants, or some mixture thereof. Perhaps looking for a companion to Revolution, the Peacock is moving ahead with List of Demands, about an idealistic Secret Service agent who gets caught up in a global crisis on day one. Fox's economically titled Lies is about a CIA shrink whose patient thinks there's a conspiracy afoot (perhaps said patient is named Carrie?). The same network also has an untitled, very of-the-moment hour about a female secret service agent whose adulterous relationship with a senator gets her kicked off the force, but puts her on the trail of Something Much Bigger. And the would-be Fox drama America's Son is a political thriller revolving around the heir to a political dynasty who realizes the death of his JFK-esque dad wasn't an accident.
ABC's Evolve imagines a Los Angeles where the release of a biological weapon results in a quarantine which some (rightfully!) paranoid civilians believe is part of a conspiracy to hide the existence of a new breed of superhumans. ABC has also bought pilot scripts for Hostages (about a heart surgeon whose family is being held by terrorists threatening to kill them unless she "accidentally" kills her patient — the president of the United States!) — and Double Felix (accountant suffers brain trauma from a blast that may have been intended to cover up something darker). Because Last Resort worked out so well, ABC is developing Founding Fathers, which revolves around an Afghanistan war vet who returns to the States to find his foster brother has established a militia and taken control of their small Texas hometown. Finally, we were excited to see that ABC is working on Black Friday until we realized that it's not a Garry Marshall ensemble rom-com about couples who find true love on the busiest shopping day of the year. Instead, it's a thriller about a man who has to protect his loved ones from a giant conspiracy and a looming, highly perilous event (but not, we assume, The Event).
Once Upon a True Walking Clone
With Once Upon a Time and the aforementioned Revolution clicking on broadcast, and shows such as The Walking Dead and True Blood thriving on cable, it's no wonder we were able to count upwards of two dozen drama projects with elements of science fiction, horror, and the supernatural. Among the most interesting (or at least high-profile) ideas are two bearing the imprint of J.J. Abrams: an NBC hour that he's producing with Alfonso Cuaron (about a girl with budding super-powers) and a Fox contender about an android-assisted police force (just don't use the words "robo" and "cop" in the same sentence). Other brand names taking a pass at the not-totally-based-in-reality thing include M. Night Shyamalan (NBC's Signs-like Lost Horizon), Carlton Cuse (a Western-themed supernatural hour for the Peacock called The Sixth Gun) and John Wells (CBS's Lillydale, set in a town of psychics). The CW isn't even hiding its attempt to ape The Hunger Games with projects called The Garden and The Selection, which are exactly what you think they are.
Elsewhere, ABC's got a resurrection-themed hour called The Returned, the spooky-sounding Gothica, and A Kingdom Far Away, in which monsters are real; CBS has a detective drama with a supernatural twist that's set in The Big Easy; and Fox has competing hours with characters related to the gods Athena and  Olympus. Apparently the rights to Zeus were too expensive for network TV?
And Now for Something Completely Random
Some ideas defy categorization, or at least don't merit us giving them their own section. Like, for example, the micro-trend this season of steampunk themes: There are actually three different projects playing off said movement. There's NBC's Edison, in which Young Thomas helps the NYPD solve crimes with his crazy new discoveries. ABC also hopes to electrify its schedule with Gaslight (rival electricity dynasties square off against each other in the steampunk world) and Finn & Sawyer (our heroes are now private eyes in a steampunk New Orleans!). Then there's the odd fact that not one but two ABC drama ideas use the controversial process of tracking as storytelling devices (Dakota and Beneath). And finally, we'll give you one guess which network is home to the following five very high concepts: The Ordained (priest leaves church to become a lawyer); The Centurion (ex-Marine is now a cop whose partner is the angel of his slain comrade); Restless (female detective can talk to murder victims); Murder Bitches (buddy cop drama in which one of the partners is a recovering stroke victim); and Nightcrawler (woman whose genetic disorder makes exposure to sun deadly teams up with disgraced cop to fight crime). If you didn't know they were all in the works at CBS, you're probably one of those cable snobs. Or under the age of 50.