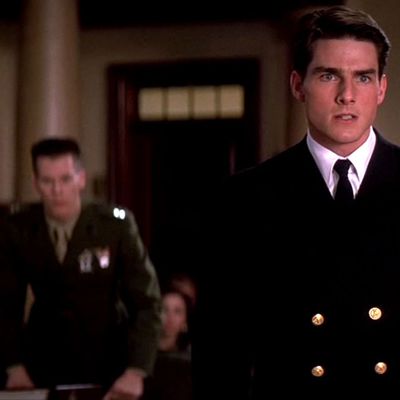 A Few Good Men opened twenty years ago this week, which seemed like a perfect occasion to revisit Aaron Sorkin's first movie. Join us for this trip down memory lane. And tangent lane. And feelings lane. And the Sorkin superhighway.
1. I can't remember the last time I saw this movie from the beginning. I feel like I've seen it dozens of times, but A Few Good Men's status as a cable staple means I've seen chunks of it dozens of times. Start to finish, probably closer to five or six. (I like to re-watch things.) I forgot that the movie actually opens at Guantanamo Bay, and we watch Downey and Dawson bind and gag Santiago.
2. Last night's Scandal had a tiny shout-out to A Few Good Men. Olivia said she was going to need to talk to "Colonel Jessup," which is Jack Nicholson's character.
3. There are only two women with speaking roles in this movie. Demi Moore as Lieutenant Commander Galloway and Aunt Ginny.
4. When the movie came out, Gene Siskel said it was "really refreshing" that Tom Cruise and Demi Moore's characters "do not have a love affair." "[Moore's] character was originally a man, I'm convinced of that," Ebert countered. "And they made it into a woman without rewriting it in any way." I don't think that's true.
5. Has Tom Cruise ever looked better than he looks in Men? He has not.
6. Has Kevin Pollak ever looked more like Bradley Whitford than he looks in Men? Again, no. (Maybe those two can join up on another Aaron Sorkin project down the road.)
7. When we first see Colonel Jessup, he tells a story about Kaffee's father. "This man's dad once made a lot of enemies down in your neck of the woods," he tells Keifer Sutherland's Kendrick. "Jefferson vs. Madison County School District. The folks down there said a little black girl couldn't go to an all-white school; Lionel Kaffee said we'll just see about that." It sounds like a Jed Bartlet speech or a Casey McCall folksy-ism; it's a strange moment because Jessup's telling this casual, inspirational anecdote, but he's obviously so evil from the moment we meet him.
8. Sorkin's style is obvious through the movie, and you can physically spot him around 56 minutes into it, as a lawyer at a bar complaining about the Delaware insurance code. Having re-watched this movie three times for this story, my new wish is that Aaron Sorkin would write a legal procedural. Every episode would have a glorious monologue about justice, but it would be totally reasonable and appropriate considering the venue. More banter about the Delaware insurance code! Less blathering about the tragic state of cable news.
9. There are a few Sorkin hallmarks that make their first appearances in A Few Good Men. Is someone named Danny? Yes. Does someone have a serious complex about disappointing their powerful father? Yes. (Bonus: Is that person a Danny? YES.) Is someone not taken seriously because they appear to be too young to do their job? Yes.
10. Another Sorkin marker would be the names. The guy likes a hard-K sound in last names: Men has Kaffee and Kendrick, American President has Kodak, Sports Night has Casey McCall, West Wing has Cregg, Studio 60 has Killington and Kenwright, and Newsroom has Keefer. Somewhere, a fundamentalist family in search of a TLC show just figured out what they want to name their nine children.
11. Stephen Sondheim says that certain K sounds can feel like little jabs and that the word quick should feel like a key in a lock. That's how the word crystal works in the final courtroom seen in A Few Good Men: