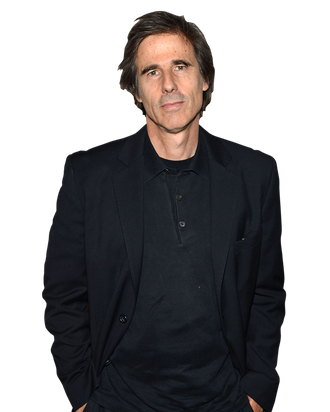 Walter Salles.
Photo: Mike Coppola/Getty Images
Many have tried to adapt Jack Kerouac's epochal Beat classic On the Road into a movie over the years. But Walter Salles is the only director who succeeded. The Brazilian filmmaker (The Motorcycle Diaries, Central Station) has turned making road movies into something of a career endeavor, and his new film, starring Sam Riley, Garrett Hedlund, Kirsten Dunst, and Kristen Stewart, takes Kerouac's freewheeling prose and turns it into a similarly freewheeling movie. But it's also one that expands the novel a bit, incorporating aspects of the real-life figures who inspired the characters. (The characters of Sal Paradise and Dean Moriarty, as many readers know, were based on Kerouac and fellow Beat writer-muse Neal Cassady.) The director spoke to Vulture about his connection to Kerouac's novel, his unorthodox ways of shooting the film, and what it felt like to hold a replica of "the Scroll," the legendary 120-foot, handmade roll of paper on which Kerouac typed out the book, in his hands.
It sounds like On the Road has been a pretty important book for you in your life.
I first read the book when I was entering university in Brazil, and we were living under the very dark ages of a military dictatorship. There was censorship in the press, censorship in all art forms. There was also exile and torture, and the fact that these young men and women in the book were seeking all forms of freedom and were able to redefine the sense of the future, was exactly what we were looking for, but not managing to actually achieve. So these characters became very emblematic to me — but not only for me. My book traveled from hand to hand in the university, to the point that my copy got back to me with notes from 30 different people.

Many people have tried to turn this book into a film over the years. Why do you think you succeeded?
After I made The Motorcycle Diaries, which had also been a project with a long history of attempts, the conversations with American Zoetrope about On the Road emerged. But I was cautious. I felt the only way forward would be to do a documentary in search of a possible film based on On the Road. And off we went, for six years, criss-crossing America, following the paths that Kerouac had taken when he wrote On the Road, meeting the poets of that generation, and interviewing the real-life persons who influenced the characters in the book. And Kerouac biographers and John Sampas at the Kerouac estate gave us a facsimile of "the scroll," and that was the first time that I had actually held it in my hands. And when we laid our hands on the scroll, even the first sentence was different from the version that I had read and loved. The 1957 Penguin edition starts with, I first met Dean not long after my wife and I split up. And the scroll, the original manuscript, which was written here in New York, on 20th Street and Ninth Avenue, started with, I first met Dean not long after my father died. In a way, the scroll is what reignited our desire to do the film.
I was impressed with the naturalism of the performances you got. How did you work with these actors?
Most of the actors in the film have been with us for six years. We started this process — the casting process — really early on. In 2005, when I met Carolyn Cassady and was so impressed by her intelligence and sensitivity, I immediately thought of Kirsten Dunst, who has the same qualities, as the person who could portray her. Kristen Stewart came on early, too: The first time I heard about her was from Alejandro Iñárritu, the director of Babel and 21 Grams. I met with him after he had seen the first cut of Sean Penn's very beautiful Into the Wild. And he was very affected by her performance then, and said that I should really consider this young, emerging actress for Mary Lou. [Laughs.] I met her as soon as I saw Into the Wild, and I was impressed by the in-depth understanding that she had of the book. And she was 17. I discovered the book at 18, and here was this young woman at 17 who could talk in a very personal way about what impressed her in that narrative. It was one of her favorite books. And she also understood that Mary Lou was decades ahead of her time, and what was at stake there. So, from 2006 on she's been linked to this.
Were you ever concerned that as these actors became bigger, especially Kristen Stewart, that that was going to overwhelm people's reception and people's perception of the movie?
My stand in this was always to ask the actor, "Is your passion for this intact?" I asked every single one of them. But I didn't even have to ask. Garrett actually always called me, saying, "Man, I've been offered this, but I'd so much rather be doing On the Road with you. Tell me we're starting."
What is it about road movies that draws you to them? You've become a specialist at this genre.
Well, first it's engrained in my own history because I drifted from latitude to latitude when I was young. My father was a diplomat in part of his life so I lived in several countries from 3 to 14, 15. There was a part of it that I loved, which was getting to understand cultures that I had never thought I would be actually introduced to. But I was also missing the friends I had just made in the city that we were about to leave. And that happened constantly. But also, in the book, you have an idea that is akin to The Motorcycle Diaries: that as you gain distance from your point of origin, you are able to understand better who you are, and eventually who you may want to be.