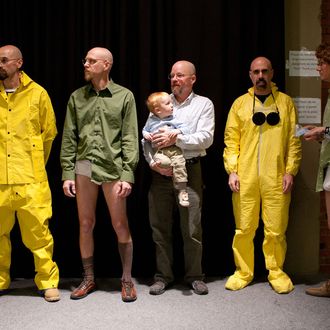 Walter White lookalike contest and taping of The After After Party with Steven Michael Quezada, Aaron Paul and Bryan Cranston at the YDI Albuquerque Wool Warehouse.
Photo: Jakob Schiller
Last week in Albuquerque, dozens of wannabes showed up in costume for a contest hosted by Steven Michael Quezada (who plays Steven Gomez on Breaking Bad) to see who was the most Walter White–y. The contestants were judged by the man himself, Bryan Cranston.