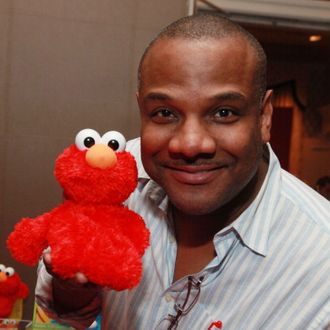 It's been two weeks since Kevin Clash resigned from Sesame Street amid allegations of having sexual relationships with two underaged partners and just over a week since a third accuser surfaced with similar claims. The effects of those accusations have now reached all the way to Hollywood, as Vulture has learned exclusively that Warner Bros. Pictures has cut loose a planned feature film it was developing with the now-infamous Elmo puppeteer.
Clash had secretly been at work on a new character for the studio over this past summer and fall. It would have featured in "a 'Calvin and Hobbes' kind of movie about a kid and his stuffed animal that takes on a life of its own because of the child's imagination," according to a development document shared with Vulture summarizing the untitled project. At the time the sex scandals began to break, it was still unclear whether the Clash project was to be live action or a mix of both live action and animation, but what was certain was that the Clash project would "incorporate puppets," per the document.
Warner Bros. was especially interested in Clash's next creation, and not just because of the nearly $50 million in annual licensing revenue (much of it from Elmo merch) that Sesame Workshop currently enjoys. It was also because "part of the inspiration" for the character in Clash's film project was one that Warner Bros. already owns: Ralph Phillips, a schoolboy with an overactive imagination who appeared in Looney Tunes shorts like Boyhood Daze and From A to Z-Z-Z-Z, the latter of which was nominated for the Oscar for Best Animated Short Film in 1954.
The studio's once-vaunted Looney Tunes stable of characters — both minor, like Ralph, and iconic, like Bugs Bunny and Porky Pig — has been moldering for decades, but has gotten a bit more attention in recent months. In September, Saturday Night Live alumna Jenny Slate was hired to write a Looney Tunes feature.
Warner Bros. had thought enough of the secretive Clash project — at least before the scandals — to have placed several high-profile producers on it over the summer, including Dan Lin, the producer of the studio's Sherlock Holmes franchise, and Roy Lee, the producer with whom Lin is currently making Warner Bros.' latest family-friendly initiative, Lego: The Piece of Resistance, a feature film based on the popular LEGO construction toy line. (Both producers declined to comment on the aborted Clash project.)
It's unclear if Clash plans to take his project elsewhere, or even if he still has entrée into Hollywood: William Morris Endeavor did not return calls seeking to confirm whether or not Clash is still represented by the agency.
But one insider familiar with the project said that with the trio of unresolved allegations hanging over Clash's head, it was unlikely that any outfit in town would be interested.
"After all that stuff happened, the studio was like, 'We're never going to mention this again,'" said our production insider, clearly relieved that the project had not gotten further along. Indeed, had things moved more rapidly with Clash — no script was ever written — Warner Bros. could have wound up with a costly CGI family film that almost surely would have tanked and, what's more, would likely have tarnished the careers of those involved.