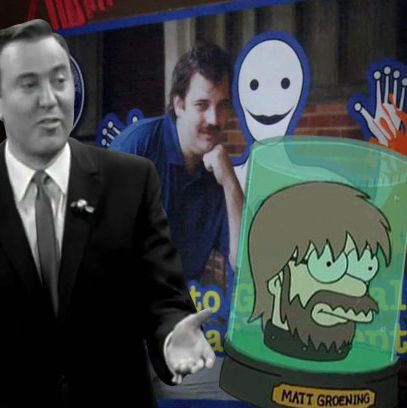 When it came time for someone to be handed the grossest scene in Sons of Anarchy's season finale this Tuesday, the show's creator, Kurt Sutter, stepped into the spotlight: His character, the deranged biker Otto, who has been in prison for three seasons, bit off his own tongue to avoid having to testify in an ongoing racketeering investigation. This moment one-upped another of Sutter's thespian showstoppers, in which Otto masturbated in a prison infirmary bed while biker mama Tara (Maggie Siff) held his head, her wrist scented with the favorite perfume of Otto's murdered wife. That Sutter would cast himself as arguably the most extreme character on an already extreme show is a testament to his perverse sense of humor. But it's also part of a TV tradition. Like film directors before them, showrunners have been known to cast themselves in cameos or recurring roles that seem to tease out themes, answer criticisms, or sum up the show as a whole. Herewith, a list of seven other notable TV auteurs who have popped out of the writers room to step in front of the camera, and what their winking appearance might have meant. (Note: This excludes series in which writers regularly moonlight as actors, such as The Office, and the likes of I Love Lucy and Curb Your Enthusiasm, in which the showrunner or executive producer also plays the main character.)
David Chase, The Sopranos
The creator of HBO's Sopranos appears in the season two episode "Commendatori," in which Tony and his crew visit Italy on business. Hitman Paulie Walnuts (Tony Sirico) visits a waterfront café, reveling in the atmosphere. He glances at a nearby table of men drinking espresso, makes eye contact with one of them (Chase), and says the episode's title, a running gag in this installment. The man just stares. "Buongiorno", Paulie says cheerfully, raising his cup. The man turns away without uttering a syllable, and Paulie is so offended and uncomfortable that he gets up and leaves, a scene that expresses how the Garden State gangsters feel insufficiently Italian in their mother country. It may also be a response to season one complaints by Italian-American anti-defamation activists that Chase was (a) giving Italian-Americans a bad name and (b) was not Italian enough to be making a show about Italian-Americans, since his family's surname was DeCesare until his parents changed it. But it's hard to hang labels on this moment because here, as elsewhere on The Sopranos, Chase doesn't spell things out.
Winnie Holzman, My So-Called Life
The creator and head writer of ABC's My So-Called Life played the recurring role of Cathy Kryzanowski, the guidance counselor who tries to help the heroine's best friend Rayanne (A.J. Langer), and substitute teaches an English class. It's perfect that she'd cast herself as a compassionate but professionally detached authority figure surrounded by young people who were still finding themselves, since that was the position she occupied on the set of a high school drama cast with teen and twentysomething actors. Holzman acted in other shows she produced or helped write, including thirtysomething (as Sherry Eisen) and Once and Again (as Shelley).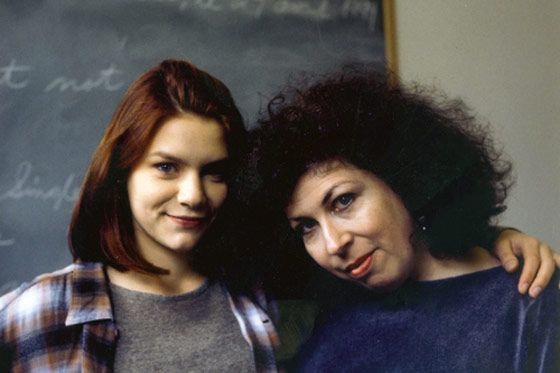 Carl Reiner, The Dick Van Dyke Show
The creator of CBS's The Dick Van Dyke Show also played the star of the fictional The Alan Brady Show, where Van Dyke's Rob Petrie worked as a TV writer. Brady was initially photographed only from the back, but we started to see his face around season four. He was egotistical and hot-tempered, and many jokes were made about his toupee. It's the perfect self-deprecating role for a man running a sitcom that poked fun at the insecurities of showbiz types. Scene-stealing came naturally to Reiner; before transitioning to writing and producing, he performed in Broadway musicals and wrote and acted in Your Show of Shows and other sketch comedy programs.
Ron Moore, Battlestar Galactica
The showrunner of SyFy's acclaimed Battlestar reboot gave himself a cameo in the show's final episode. He plays an anonymous man reading an issue of National Geographic that contains a story about the discovery of the bones of Helo and Athena's child, Hera. Among other things, the moment is a sly comment on the physical realism and sociological detail that Moore brought to the science fiction drama. National Geographic aims to make distant events and foreign cultures accessible to English-speaking Westerners who may not know much about the subjects going in. It's a publication about things that are happening right now, or that happened a long time ago and can be verified. (The clip below is in Spanish, but Moore pops up at 5:38.)
Dan Harmon, Community
The recently ousted creator of NBC's meta-sitcom has a sort-of cameo in the season two episode "For a Few Paintballs More." He's the guy on the Greendale Community College poster that promises, "You're Already Accepted!" Given Community's densely layered pop culture allusions, it's fitting that Harmon would make a cameo that amounts to a DVD Easter egg, posing in a still image that makes him the literal poster boy for the school's low academic expectations.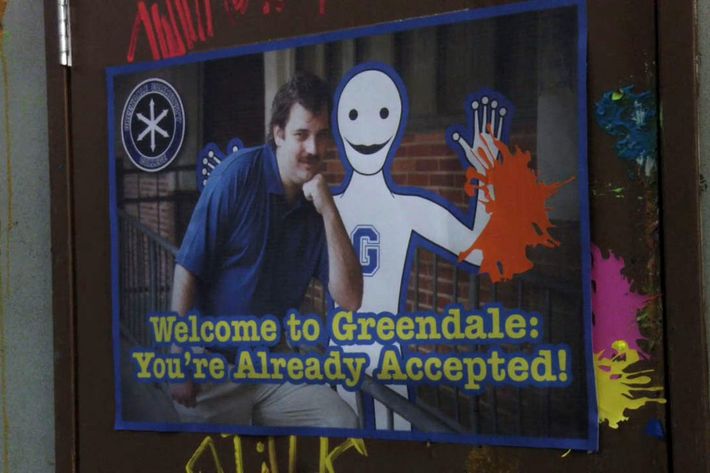 David Simon, The Corner and The Wire
Writer-producer David Simon eased out of daily journalism and into TV writing in the early nineties via NBC's Homicide: Life on the Street, a drama set in Baltimore, where he was a crime reporter for the Baltimore Sun. Simon has cameos in two of his HBO projects; both are connected to his pre-television career. In the six-part miniseries The Corner, based on Simon's book about the effects of drugs on a Baltimore neighborhood, he appears in episode four as a cop. In the second season of The Wire, he's one of the reporters shouting questions at corrupt labor leader Frank Sobotka (Chris Bauer). In the drama's fifth and final season, which is set partly at the Sun, Simon has a cameo as a reporter — presumably the same one yelling at Sobotka.
Matt Groening, The Simpsons and Futurama
Former cartoonist Groening has made many cameos in his series The Simpsons and Futurama, as himself and as caricatures of himself. On The Simpsons, he's been: a courtroom sketch artist in season five's "The Boy Who Knew Too Much"; trapped by Comic Book guy's supervillain the Collector in "Treehouse of Horror X"; and revealed as the puppetmaster manipulating the family in the opening couch gag of season thirteen's "Blame It on Lisa." On Futurama, Groening has made repeated appearances as a severed head in a tank filled with life-preserving fluids. These cameos are Groening's version of cartoonist Al Hirschfeld hiding his daughter Nina's name in his drawings and Alfred Hitchcock making self-conscious yet self-deprecating cameos in his films. Like the shows' other ongoing in-jokes, they turn a pop culture reference into a game that stretches out over decades.