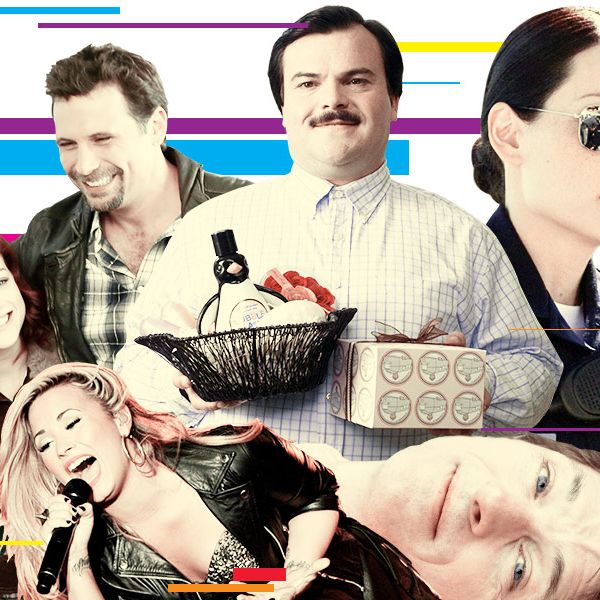 Photo: ABC, Getty, Millennium Ent, Fox Searchlight Pictures, and TNT
No matter how big a pop culture obsessive you are, it's hard to see/hear everything that's good. There are a zillion TV networks at this point, a quadrillion movies old and new stream through the air for the taking, and though the music industry is dying, bands keep on writing songs that number in the skatillions. And so as completist as you try to be, great things still slip through, making you incomplete as a human being. Assuming you feel somewhat empty inside at this time of year with the feeling that you've missed something, Vulture is here to tell you what that void likely is. Read on to learn the shows, movies, and albums from 2012 that never nabbed a large audience but should have. Maybe you're a fan of some of them already, but there's bound to be something in there that it's not too late to take in and then lay claim to being the Most Entertained Man or Woman alive.
TV
Call the Midwife
Who knew we could be this in love with a show that has a recurring motif of enema bags? But here we are. Set in post–World War II London, PBS's Midwife has all the markers of a charming British period drama — but it also has an intense feminist streak and is the rare show that's about women without also being about nastiness and mate-seeking. (Six-episode first season available on Amazon and iTunes)

Southland
It's the anti-procedural cop show, with the rhythms of a character drama and the performances to match. Lucy Liu had a fantastic run this season as an officer back on the force following a severe, on-duty beating, pointing at what Southland does best by blurring the delineation between the good guys and the bad guys. (Old episodes available on Amazon and iTunes; Ten-episode fifth season begins February 2013 on TNT)

Suburgatory
Every week we fall a little more in love with the loopiness of Suburgatory. It wraps its emotional resonance in several layers of spoofs and zingers, so it sometimes comes across as a little detached, or a little unsure about its tone. But that's what we love about the show: its ability to veer from goofy to poignant in a matter of seconds. (Wednesday nights on ABC)

The Pyramid
It somehow seems appropriate that in the same year the world lost Dick Clark, we also got a surprisingly well-executed reboot of one of his most iconic series, The $25,000 Pyramid. Economically retitled The Pyramid, producer Michael Davies wisely decided to change very little from the seventies and eighties versions of the game show, in which "celebrity" players and their partners attempt to give each other clues to guess words in various categories; even the sound effects are the same. Now if only somebody would bring back Card Sharks. (Currently on hiatus; check your local listings for reruns on GSN)
MOVIES
Bernie
Not too long ago, Jack Black was a major movie star. The heat died down after a few bad pictures, which, lucky for us, has freed him up to do smaller, richer movies like Bernie. Reunited with School of Rock director Richard Linklater, Black gives one of his best performances in years as the lovable Bernie, a momentarily violent assistant funeral director turned Shirley MacLaine's companion/servant. He's helped by the support from the perfect Matthew McConaughey (who won a National Board of Review award for his performance), the terrifically terrible MacLaine, and a bunch of highly idiosyncratic older Texans. 
Sound of My Voice
You want cult appeal? This indie thriller, about a secret sect of Valley dwellers worshipping beautiful Brit Marling (who claims to be a time traveler), has got suspense in spades. Instead of Netflixing a whole season of the latest TV drama, get a more concentrated dose of suspense in these 87 minutes.
The Sessions
Though it was a crowd-pleasing hit at Sundance, where some gaga critics were predicting a Best Picture nomination and a Best Actor win, this scrappy little movie has struggled to reach even the $5 million mark since its general release. See it! Yes, the premise is mawkish — handicapped John Hawkes hopes to lose his virginity to Helen Hunt before he dies — but the execution is sensitive, sexy, and even hilarious. 
Your Sister's Sister
Your Sister's Sister is a small movie. For 95 percent of this mumblecore dramedy about a love triangle involving two half-sisters, there are at most three characters mixing about in only one location, a stunning Pacific Northwest cabin. What the film lacks in scale, it makes up with specificity. The movie is triumph of naturalistic characterization by both its writer/director Lynn Shelton and terrific stars (Emily Blunt, Rosemarie DeWitt, and Mark Duplass). It also features maybe the scariest end-of-the-second-act twist of the year.
MUSIC
AlunaGeorge's "You Know You Like It"
Also: "Your Drums, Your Love." It's not too late to get weird with your 2012. 
Demi Lovato's "Give Your Heart a Break"
Let us now pause and honor the unsung pop starlet and reality show genius of 2012: Ms. Demi Lovato. She charmed on the X Factor (by comparison, but still), and she shines on this breezy Top 40 effort. And if you still haven't let "Skyscraper" into your life, well, what are you waiting for?
Hurray for the Riff Raff's Look Out Mama
Hurray for the Riff Raff is probably best known as the band that plays outside the coffee shop on Treme, but they're an accomplished band in their own right. On Look Out Mama, the band expands beyond their folk roots to dabble in a bit of New Orleans soul. It's fun and super-sad — good sitting outside a coffee shop music. 
JoJo's Singles
Much like Robyn and Dawn Richard, pop starlet Jojo has reinvented herself from a one-time pop-crooning cutie pie to a serious contender among boldly progressive aural magicians. With her mixtape, Agape, finally dropping this month, mind-bending singles like "Demonstrate," "We Get By," and "Andre" will hopefully be included alongside equally boundary-pushing tracks.