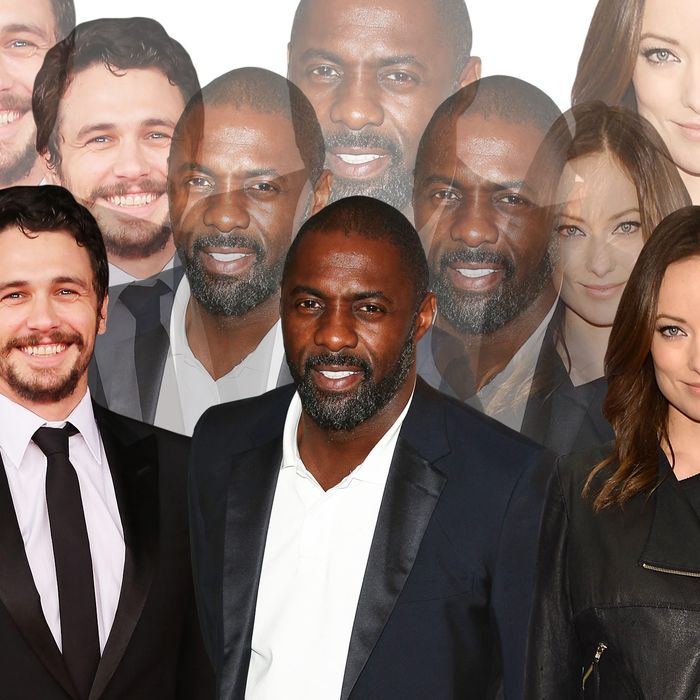 Photo: Ernesto Ruscio/Getty Images (Franco); Tim Whitby/Getty Images (Elba); Dimitrios Kambouris/Getty Images (Wilde)
Every year around this time, Vulture identifies the stars who'll be dominating the next twelve months with the most films set to bow (last time around, we singled out the majorly prolific Channing Tatum as the most likely to get a yearlong career bump). But 2013 … it's different. Something's amiss. Jessica Chastain — the hardest-working woman in showbiz for two years running — is barely working at all, with only the horror film Mama currently dated for a 2013 release! This is what happens when you plan your career around the Mayan calendar, folks. Who will rush in to pick up Chastain's slack, and which faces will become most familiar to us in 2013? Let's see who's got the busiest slate …
The ultraubiquitous:
Chastain may no longer be our list's lodestar, but at least there are two other actors we can count on to never stop working: James Franco and Olivia Wilde. These perennials have moved up to our No. 1 and No. 2 spots, with Franco toplining the Sam Raimi tentpole Oz: The Great and Powerful, Seth Rogen's apocalypse comedy This Is the End, and the Jason Statham beat-em-up Homefront, in addition to a cameo in Lovelace and four other artsy films targeted for a release sometime in 2013: Maladies, Tar, the Sundance-bound Interior. Leather Bar, and the Franco-helmed Child of God. Meanwhile, Wilde will appear in the magic comedy The Incredible Burt Wonderstone and Ron Howard's racing drama Rush in addition to five in-the-can indies eyeing a 2013 bow: Spike Jonze's Her, Paul Haggis's The Third Person, the Joe Swanberg film Drinking Buddies, and Better Living Through Chemistry and The Longest Week opposite Sam Rockwell and Jason Bateman respectively. What, Franco and Wilde couldn't find a single project to do together?
The very busy:
2013 promises to be a big year for the always-busy Robert De Niro, who's cruising toward a potential Best Supporting Actor nod for Silver Linings Playbook. De Niro is set to be seen in two comedies (The Big Wedding, co-starring Diane Keaton, and the old-guys Hangover riff Last Vegas), two action-thrillers (Motel, opposite John Cusack, and Killing Season, with John Travolta), Luc Besson's mafia comedy Malavita, and the Gael Garcia Bernal drama Hands of Stone. Pace yourself, Bobby! He'll potentially be joined in the six-timers club by Kristen Wiig, who promises to make good on her Bridesmaids success with Ben Stiller's The Secret Life of Walter Mitty, the indie Girl Most Likely, and Despicable Me 2, while she's rumored to be joining the December-dated Anchorman: The Legend Continues and has starred in the indies Hateship, Friendship, and the currently filming The Skeleton Twins, both of which are likely to debut at film festivals near the end of the year.
Nearly as busy, with up to five movies each in 2013: Dwayne Johnson (who rocks starring roles in action flicks Snitch, G.I. Joe: Retaliation, Empire State, Pain & Gain, and The Fast and the Furious 6), Idris Elba (who toplines the thriller No Good Deed and the biopic Mandela: Long Walk to Freedom while co-starring in Pacific Rim, Thor: The Dark World, and They Die by Dawn), Steve Carell (who goes high-comedy in The Incredible Burt Wonderstone, Despicable Me 2, and the Anchorman sequel; medium-comedy in The Way, Way Back; and high-drama in Foxcatcher), Benedict Cumberbatch, and Anthony Mackie.
The fairly familiar faces:
Ryan Gosling didn't star in a single released film last year (it only felt that way because of round-the-clock Gos coverage online), but he'll return with a vengeance in 2013 thanks to Gangster Squad, The Place Beyond the Pines, and Only God Forgives, while he's got a Terrence Malick film in the can that could show up somewhere, too. Meanwhile, Hailee Steinfeld hasn't appeared in a movie since her 2010 breakthrough True Grit, but she's got Romeo and Juliet, Ender's Game, Can a Song Save Your Life?, and Hateship, Friendship banked and ready. Other four-film wonders could potentially include Mark Wahlberg, Matt Damon, Bradley Cooper, Mila Kunis, Elizabeth Olsen, Morgan Freeman, and Jason Statham, provided that none of their recently finished movies slip to 2014.
And what about 2012's MVP, Channing Tatum? He's still busy enough to appear on this list, though not prolific enough to top it: He's got the big action vehicle White House Down coming in the summer, as well as noteworthy supporting roles in Steven Soderbergh's Side Effects, G.I. Joe: Retaliation, and the Bennett Miller–directed drama Foxcatcher. You can't miss Chan if he won't go away … but who'd want that, anyway?