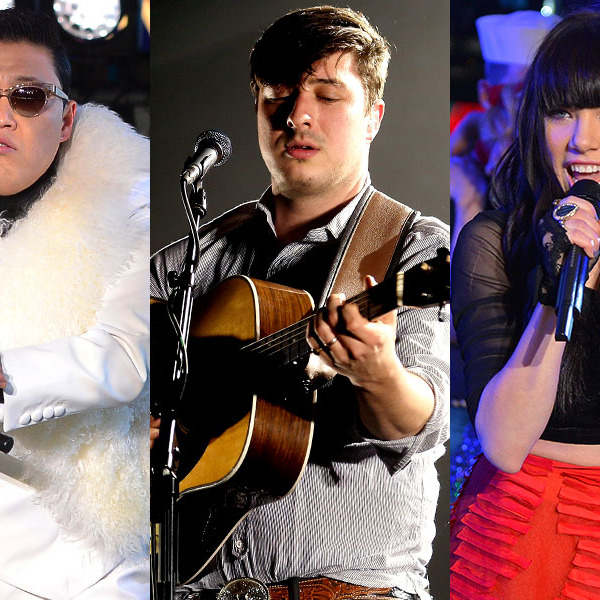 2012 saw plenty of 2011's biggest songs repurposed to give movie trailers some extra dramatic heft or a shot of anachronistic cool. Not a new tactic, but when you've got a Great Gatsby remake set to Jay-Z and Kanye West's "No Church in the Wild," eyebrows tend to raise. Thinking about pop hits and buzz-worthy films day in and day out, we got to wondering which 2012-defining tunes will land on which trailers for the blockbusters of 2013. Here we go.
The Muppets 2 — Carly Rae Jepsen's "Call Me Maybe"
Knowing very little about the next Muppets effort other than that it will star Modern Family's Ty Burrell and maybe Ricky Gervais and definitely not Jason Segel, we can't fathom how they can shoehorn "Call Me Maybe" onto the plot — "Hey, I just met you" along with a shot of Walter, the new Muppet? All we know is "Call Me Maybe" has to end up on some trailer next year, and this is the one with the right fun-loving spirit.
Anchorman: The Legend Continues — Miguel's "Adorn"
Ron Burgundy is nothing if not sexual, golden-voiced, and an all-around kindred spirit with Miguel. At least for the brief comic purposes of a trailer.
Kick-Ass 2 — Frank Ocean's "Super Rich Kids"
That "Bennie and the Jets"-aping piano bump will reel in an elder generation, while the lyrical content — spoiled youths doing whatever they want — will jibe with the film's teens, who are somehow loaded enough to stock up on huge amounts of weaponry. Maybe it will even segue into "Sweet Life" at the end.
Carrie — Fiona Apple's "Daredevil"
Speaking of films starring Chloë Moretz, this Kimberly Peirce–directed remake of the Stephen King novel/Brian de Palma film would just be foolish not to use one of the more dramatically unhinged tunes off The Idler Wheel … Fiona even uses the word chaperone, which is totally a prom-friendly word. That said, we'd also be amenable to the use of "Hot Knife."
G.I. Joe: Retaliation — Kanye West and G.O.O.D. Music's "Clique"
A jam about a bunch of badass buddies for a movie about the same. After the copious amounts of Jay and 'Ye deployed to score trailers in 2012, there's no way the Throne's not popping up at least a few times next year.
World War Z — Tame Impala's "Be Above It"
The first trailer went big on the Inception BRAAAAAMs. The next one should appropriate the anxiety-inducing intro to Tame Impala's excellent Lonerism. More original and indie-er and Zeitgeist-ier and all that.
Iron Man 3 — Flo Rida's "Whistle"
Feasible. That initial look was so bleak, they've got to throw out something more lighthearted eventually. Flo Rida's tissue-thin innuendo fits Tony Stark like a biomechanically engineered glove.
The Hangover Part III — PSY's "Gangnam Style"
Not only feasible but guaranteed, along with a super-corny cut on "AYYYYY, SEXAY LADAY!!" No one needs to insult anyone by pretending this isn't absolutely happening, okay?
Gravity — Ellie Goulding's "Lights"
We don't know a ton about Alfonso Cuarón's next film, but its premise — two astronauts accidentally cast away into space with limited oxygen — seems to fit the sonics and maybe the themes of "Lights." 
Bond 24 — Muse's "Supremacy"
Will the Skyfall follow-up be anywhere close to ready at any point next year? Probably not. But the powers that be will be looking to capitalize on 2012's record-high Bond goodwill, and Muse's soundtrack to a giant swaggering back to claim his territory will do the trick for a teaser.
The Fast and the Furious 6 — Kanye and and G.O.O.D. Music's "Mercy" and/or Nicki Minaj's "Pound the Alarm"
Something tells us deep in our bones that this trailer has already been cut and shipped to theaters. The refrain of "Mercy" was built for a movie about cars and machismo, and the egregious BWAAAAANNN sound that leads into Minaj's nano-robot rave is explicitly designed for some kind of explosive car stunt.
Ender's Game or Pacific Rim or Oblivion — Usher's "Climax"
Usher and Diplo's aching, futuristic collaboration — one that soaringly defined 2012 — is dying to be paired with one of 2013's many dystopian future projects.
Evil Dead — Madonna's "Give Me All Your Luvin'"
Why not? That first trailer was nothing but eye-popping repulsion and terror. (The second one, too, actually.) Bring back at least a smidgen of Bruce Campbell–style camp by slapping a pop song on even a 60-second teaser. Then you can have your scary and serious movie, guys.
The Great Gatsby — Kanye West and G.O.O.D. Music's "Don't Like"
Yes, ol' Gatz made his second trailer appearance just last week, and yes, it was a second consecutive dose of the twenties as scored by "No Church in the Wild." But we're bound to get at least one more look before the film's May 10 release — if Baz Luhrmann really wants to commit to this "West Egg goes hip-hop" thing, he might as well step it up with something harder.
The Hobbit: The Desolation of Smaug or The Hunger Games: Catching Fire — Mumford & Sons' "Babel"
Folksy, triumphant, and heroically commercial … see? You don't even know if we're talking about the movie or the music.
Oz the Great and Powerful — Frank Ocean's "Thinking Bout You"
"A tornado flew around my room" — hello?! You're welcome, Sam Raimi.