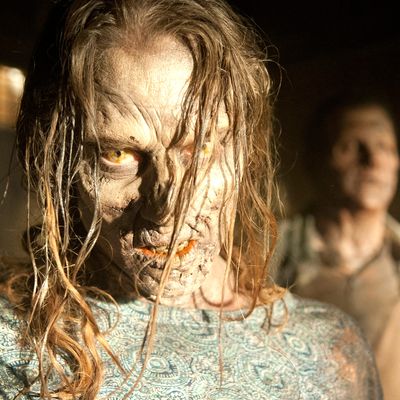 AMC announced on Friday that it had made the unsurprising decision to bring back The Walking Dead for a fourth season. After pleasing fans with this not unexpected news, it then dropped a more surprising announcement: The network was in the market for a new showrunner to replace boss Glen Mazzara, who would be leaving in an "amicable" split after a "difference of opinion about where the show should go moving forward." Wait, what? In its third season, the zombie drama has never been bigger, drawing huge audiences, and not just by cable standards. The show handily and regularly delivered more 18- to 49-year-old adults than its broadcast competition. Moreover, Mazzara is credited with overseeing a massive creative turnaround; critics who complained The Walking Dead's second season had almost ground to a halt in the farmhouse cheered the current season's bloodier, faster pace. So why does it seem like fans just got coal dumped in their Christmas stockings?
It's not clear what precisely went wrong. When Vulture last spoke to Mazzara as he was wrapping up the second half of the season (returning in February), he seemed to be genuinely excited for the future of the show. (His rep told Vulture he is currently "looking for his next endeavor.") This bomb was dropped on a Friday afternoon when most of Hollywood was shutting down for the holidays, conveniently making it possible for all parties to avoid difficult questions, so we are left to sniff the evidence for theories as to what went wrong.
In retrospect, we probably should have seen this coming: AMC waited a good long while to greenlight a fourth season, even when the third debuted with a huge 10.9 million total viewers (and a 5.8 rating in 18-49). Last year, Dead got a third season pickup immediately following its then-record breaking season two premiere (7.3 million total, 3.8 in 18-49) — though that was after they'd already separated from Darabont and installed Mazzara. Perhaps the delay indicates executives were hoping to announce a new deal with Mazzara at the same time as the renewal, only a deal was never reached. (Recently, when Hell on Wheels showrunner John Shiban quit after the show had already been renewed for a third season, AMC backtracked and said the greenlight would be contingent on finding his replacement.)
While the joint statement from AMC and Mazzara cites "creative differences," it likely comes down to money. The network has a history of playing hardball when it comes to dinero. Following tense negotiations between executives and Mad Men creator Matthew Weiner, he eventually got $30 million for three more years in exchange for ceding a little more time in each episode to advertising. If Mazzara thought he deserved more – and The Walking Dead does deliver roughly five times the audience of Men – it's possible AMC didn't want to budge again.
Walking Dead is AMC's most profitable show – and unlike the network's other series, which are owned and produced by outside studios, Dead is entirely theirs. It's the show that pays for all of AMC's other shows. Again, we have no idea if a negotiation breakdown was the real cause for the split, but if Mazzara wanted a piece (or a bigger piece) of the backend, one would think, with this much profit, why not reward the man at the helm of the show when ratings went up from great to dominant? Perhaps executives decided that the show had already survived the exit of original showrunner Frank Darabont, and executive producer Robert Kirkman, who wrote the comic books on which the show is based, is sticking around. Perhaps someone believes Mazzara is not as intrinsic to The Walking Dead as Weiner is to Mad Men. 
Ultimately, Mazzara may not have been in the best bargaining position. When negotiations got contentious between Breaking Bad boss Vince Gilligan and the network, he had the benefit of backing from the show's producer Sony. At one point, the studio threatened to shop Breaking Bad's final run to another network. Because AMC is the studio in the case of The Walking Dead, Mazzara had no such leverage.
But for now this is all educated guesswork. The executives are nestled all snug in their beds, while visions of sugar-plums and/or ad rates dance in their heads, and until they (or someone else) starts leaking details, we can only hypothesize. But if this was a matter of money, it will likely lead to show creators rethinking the cable world, which always laid out the promise that they get to make the show they want to in exchange for taking less money. Now that cable ratings for shows like Walking Dead are rising up to pass broadcast networks on their way down, TV writers might start to question the salary discrepancy between network and cable television.