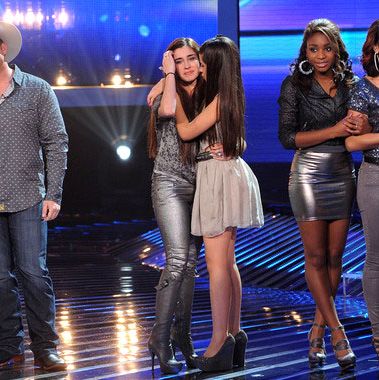 You guys, the finish line is in sight. Tonight, we find out who makes the finals. No sing-offs, no judges' deliberations, just one reveal that could be communicated via text message but will still eat up a full hour. I know this is a thing I harp on a lot, but if Simon Cowell et al are wondering why The X Factor hasn't made an impact among all the singing-show clutter, maybe it's because it's unbearable without the benefit of the fast-forward button. It is glacial. When it is not telling you how important it is, it is giving you long stretches of actual dead air. There is a whole, eight-minute segment in tonight's show that seeks to answer the question: "How does the top four feel about the idea of receiving five million dollars?" Even children know their time is being wasted, and those little morons will watch anything. World's ending soon, SyCo Entertainment. Chop, chop.
We begin with a group number! It's Diddy's "Coming Home," and the top four acquit themselves well enough, though I fear the boys of Emblem3 think they're rappers now. Linkin Park, what have you wrought?
And then there is a very long recap of last night's very long show. In it, we learn that each remaining contestant would like to get the highest number of votes. We are also reminded that nobody got any solid judging last night (or all season, really). Everything was great great great, and if it wasn't, it just wasn't the contestant's best performance, or the arrangement was too fussy, or it was merely a 9.9 out of 10 — no real, honest critique. We also learn that Keaton or Keegan or Keefus or whatever the young kid's name from Emblem3 is dances like a marionette being controlled by a drunk person.
You know what else they never did on this show? Genre nights. The themes, when they bothered to think one up, were so vague they served no purpose, and then suddenly they weren't there at all. Maybe it's not important to know how Emblem3 would have handled show-tune night, or to see Tate take on a big-band standard, but it would have been something. It would have offered the viewer some variation. You could have called it some kind of variety show.
Why am I unloading so many general complaints about The X Factor? Because it is 8:27 by the time anything happens in tonight's episode. But at least what happens is interesting: Fifth Harmony are through to the finals! Everybody goes fucking bananas! Like, in kind of an insulting way! Mario and Khloe keep telling us what a shocker it is, and while it's definitely a surprise, there's no need to be as condescending as the whole show becomes. 5-Harm moved from fourth place to (we must assume) third, and they earned it. Settle down.
Also, here is Britney's face while all of this is going on, on the off chance that you haven't already seen a million GIFs of it on your Tumblr dashboard.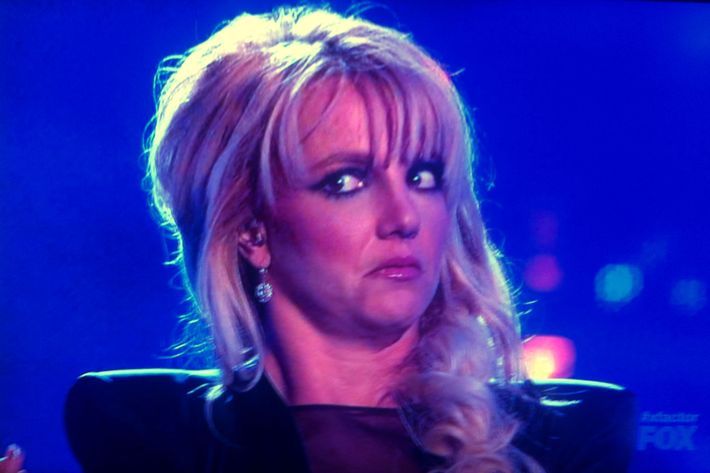 Back from break, Khloe asks Britney why she gave Fifth Element the gas face, and she says: "I thought it was going to go the other way with the groups." It is as though she has inside knowledge that they won't both move forward, or she just misunderstands the way the show works. It's a genuinely strange moment, one that a more confident host dealing with a more stable judge on a more smoothly run show might push a bit further to create some kind of memorable live-television moment. But instead, everyone around her looks confused, nobody does anything about it. We are no closer to solving the riddle of Britney Spears than we were in early September.
And then it's time for a performance from America's hottest new pop star I haven't heard of even once, and I dick around on the Internet for a living: Bridgit Mendler. She is evocative of Cher Lloyd, which evidently is a thing a person can be now. I keep looking at it and waiting for its justification to make itself clear, the way one stares deeply into a Magic Eye picture. I see nothing.
Back to the results. Tate is through! I allow myself to think Carly might actually be in trouble. I also think this manufactured tension might bring on the Britney breakdown that the producers are clearly relishing. But let's all be honest with ourselves: Emblem3 have run their course in this competition, yet are still on their way to becoming an American, weed-scented One Direction. Sublime Babies. 98 General Equivalency Degrees.
Drew knows bad news is on the way, and he asks Jah for some serenity over Mario's shoulder. It is mesmerizing.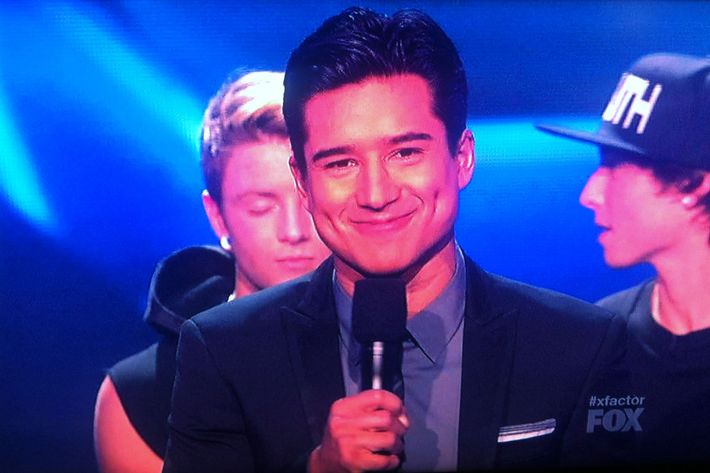 You know what? We've hit our quota of singing-competition shows and then some. I have an idea: Let's do it in reverse. Let's round up ten of our least-essential pop stars, artists who still record once in a while in between fashion shows and side projects, and pit them against each other. Winner gets to continue releasing music. For the rest, it's back to the sitcom or the Vitamin Water or whatever. I'm thinking:
-  Diddy
-  Miley Cyrus
-  Carlos Santana
-  Reba McIntyre
-  50 Cent
-  Bridgit Mendler
-  Toby Keith
-  Toni Braxton
-  Sammy Hagar
… and then let's throw Maroon 5 in there, because Adam Levine seems busy enough, and also because they used to be a halfway decent band and now every song sounds like Satan's girlfriend's ringtone. And seriously: I don't care if this show is three hours a night. I don't care if it's Jerry Penacoli and the older sisters from Honey Boo Boo hosting. I will watch this shit. Get at me, Cowell.
Khloe is backstage with Carly and the Emblem3 boys, and she brings us back into the action like this: "I'm so nervous and I'm not … even … any of these … groups … right now." She turns to Carly and says: "You've said you're nervous and you're holding your stomach, what's going through your head right now?" Translation: "Are you going to vomit, and how would you like me to prepare for that?" She does not vomit. Carly Rose is a stone cold professional.
And then it's time for Bruno Mars to perform. Is it his Jason Mraz-y song? His Ne-Yo-y song? No, it is his Police-y song. Bruno Mars doesn't write songs so much as cite his influences. He makes you a nice mixtape. Bruno Mars is the Pinterest of pop stars.
So Emblem3 and Carly Rose are left. And though they stretch it out forever, they cannot force one drop of tension out of the moment. It is of course Carly Rose who will be in the final. She even handles this like a 38-year-old: gracious, poised, emotional but not too.
Ultimately, Emblem3 had nobody at the wheel to force them to try something new, so they just gave us the same thing over and over again. Even I got bored. It's like President Johnson losing Walter Cronkite's support for the Vietnam War: Once you can no longer hold my interest with shoulders like Drew's, you have surely lost Middle America. Whatever. Goodbye, fellas. Sorry I never figured out whether the older two of you were 17 or 24, which is an important distinction given the thoughts you put in my head. See you and your perfectly triangular naughty-Calvin smiles at the top of the charts in three weeks.
So next week it's the finals, where Fifth Harmony and Carly Rose Sonenclar will split the pop vote, ensuring a victory for Tate Stevens, who is the surest bet to recoup a $5 million investment. The outcome is a foregone conclusion. So is this: It will take four hours to get there.