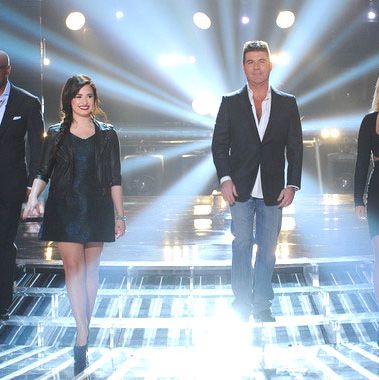 Let me tell you something: Once you have visited the X Factor VIP Tent, it is difficult to come back down to earth. Tonight, I'm watching the show from the comfort of my own sofa, and I could not be more bitter about it. I'm going to have to peel and eat my own baby carrots? I try to get my dog to wear a headset and run frantically back and forth across the living room, but he's not into it. This is bullshit.
Mario Lopez's dimpled face is a fast-acting megadose of Lexapro, as he promises "tonight's top six face an AGONIZING WAIT to find out who'll make it to the semifinals" through a beaming smile. Mario Lopez is made of protein powder, self-bronzer, and the dreams of an innocent toddler.
Let's get to our recap, because the next ten minutes of my life isn't going to waste itself. CeCe shows her vulnerable side backstage, then springs right back to sass: "Simon said I wasn't worth $5 million, and he'd better watch out, because someone else might write the check." It's unlikely in today's economy, CeCe, but I like your style.
Fifth Harmony console each other after their dressing-down at LA's hands, and one of them says the funniest thing I've heard on television all season: "Don't listen to L.A. Reid, because he doesn't know what he's talking about." Magnificent!
Everyone else repeats what we've seen in every recap package: Tate is all aw-shucks and humble and there's his wife; Diamond is vulnerable and hugs her vulnerable mom; we see that black-and-white thing where Emblem3 head-fake the camera and snarl; Carly acts like she doesn't already have a vicious team of agents.
So let's talk about Carly for a second. I kind of can't imagine anyone else winning this show at this point, and at the same time I can't imagine anyone needing to win less. She is a beautiful, well-connected girl with a flawless voice, and now is really the time for her to start a nice long career on Broadway. I also can't imagine what Simon would do with her if she did win. She's already too sophisticated for "Call Me Maybe"–style pop, and too young to sell the sweeping ballads for which her voice is built. How do you solve a problem like Carly Rose Sonenclar? Especially when there's a huge and rabid country audience that's ready to snap up $5 million worth of Tate Stevens music and merch?
Speaking of problems this show has yet to solve, it's time for a live performance by Melanie Amaro. Now, listen: This woman can sang. She really can. But she spent all of last season looking like her dog had just been murdered, she pouted her way through a Super Bowl commercial with Elton John, and … she hasn't been heard from since. Well, tonight she premieres her first single (or her fifth? I honestly couldn't tell you), "Long Distance." It's, you know, fine. Boilerplate pop music. Something you would hear in a Wendy's in France. Performance-wise, she is looser than she's ever been, which is saying … nothing. Mario and Khloe ask how her life has changed since winning last season, and her reply is: "Now I have lots of people who love me." It's sadder than it reads.
It is then time to send the lowest vote-getter home, but not before an obnoxiously long commercial for Sony's X Brand Headphones. Definitely the best X Factor–themed product on the market! (Until the Carly Rose Sonicare toothbrush comes out in early 2013.)
And that lowest-vote-getter, whose final moments on the show are spent watching a very long advertisement for a product that will only make Simon Cowell wealthier, is CECE FREY. Khloe is more discombobulated than CeCe, as she struggles to ask ,"What … what is going on in what are you thinking now?" CeCe replies that she wants her fans to love themselves, because "the more you love yourself, the less you'll need anyone else to." I approve this message! And I'm glad she has such self-love, because Mario calls her "CeFare," and then tries to say it right, and then just gives up and throws to commercial.
I am here to tell you: You deserved better than you got, CeCe. Best of luck to you.
Now we find out who's made it through. Emblem3 are in the semifinals! Carly Rose is in the semifinals! This leaves us with Tate, Diamond, and Fifth Harmony, and it ends the only way it can: Diamond and Fifth Harmony are our bottom two, and will have to sing for survival.
Oh, but first, it's Ke$ha. So here's the deal: Sometimes I think Ke$ha is some kind of genius zillionth-wave feminist and sonic innovator; other times I think Ke$ha is what would happen if the woman who sang "Short Dick Man" updated her studio equipment and read every third word of Camille Paglia's Vamps & Tramps. In the final analysis, her music is pure hedonism and joy the likes of which we haven't seen since 1984-era Van Halen, and I don't remember the New York Times analyzing David Lee Roth's crazy bullshit. I don't know what Ke$ha is and neither do you and neither does she, and we should all stop thinking about it so hard and just dance. May I buy you an energy drink and vodka?
Sing-off time. Fifth Harmony are up first, though Simon drags his feet and hems and haws forever. Sometimes it seems like he's not sure how the show is supposed to go, and I caught him outside having a cigarette during a commercial break last night, so maybe he doesn't. They go with Mariah Carey's "Anytime You Need a Friend," which is a pretty savvy choice, actually. There are plenty of opportunities to defuse L.A.'s criticisms with some simple, effective harmonies, and it's among Mariah's least played-out tracks. Good performance all around.
Britney introduces Diamond as "the girl next door who sings like an angel," and I'd swear she's already said this about someone at least one time. Whatever — her save-me song is LeeAnn Womack's "I Hope You Dance," and it gets the dirgey-ballad treatment. Just this once, I wish she'd kick the beat up. I have been to a gay bar in the last decade; I know this song can be a club banger. But she doesn't. What she does is absolutely kill the song. KILLS IT!
If I were a judge, though, I'd say we've pretty much seen everything Diamond can do. Fifth Harmony have failed to light the stage on fire thus far, but they've steadily improved over the last few weeks, and they could actually surprise us. The judges agree: Simon goes Diamond, of course. Britney goes Fifth Harmony, obviously L.A. votes against Diamond. Demi stalls for eleven minutes, and finally … votes … against Diamond. So that's it for her! She deals with the bad news well. Her immediate reaction is: "I'm thinking of Cher Lloyd right now, because she came in fifth. Maybe next year I'll come back with one of my hit songs and perform it for you guys." That, Diamond White, is the spirit. You tell 'em.
Interestingly, earlier in the show when CeCe got the boot, Demi cried so much CeCe had to prop her up. Britney deals with Diamond by touching her briefly on the back, and then immediately, vigorously Purelling.
Ranking time! There might be surprises, but there probably won't! And there really aren't. Emblem3 are in third place, Carly is in second, and Tate is back in first! Do you think they're regretting letting us in on this part of the process? I kind of do.
Now, if you'll excuse me, I am going to listen to Ke$ha's new album for the twentieth time in a row.