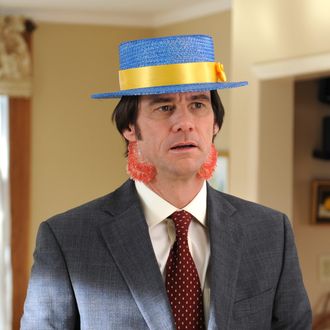 We're still in the denial phase of grieving the loss of 30 Rock. It can't be real! We do not accept this! 30 Rock will air forever, and we're all going to die on the same day at the same time, when the sun eats the Earth.
Until then, though, let's reflect fondly on some unsung heroes of 30 Rock. Not the marquee guest stars — though they are great — but the obscure, tangential, brief characters we came to love.
1. Jim Carrey/Dave Williams ("Leap Day")
As if the invention of Leap Day William weren't special enough, there was the added bonus of an in-universe terrible rom-com, starring Jim Carrey and Andie McDowell.
2. Moonvest
Moonvest — a gnarly homeless guy whom Kenneth maybe kind of believes is CBS president Les Moonves — makes a few appearances over the years, first in "Head and the Hair" but also later in "Up All Night" (as one of the homeless men listening to Joy Behar's monologue about her vagina) and again in "I Do Do" in season four.
3. Pam, the Overly Confident Morbidly Obese Woman
We only get rare glimpses of TGS's sketches, but we saw Pam in "100." Her catchphrase: "I can't sit in a booth!"
4. Bum
Stand-up comedian and 30 Rock writer Hannibal Buress has appeared several times as a homeless guy. He spots Paul and Jenna making out, heckles Liz when she's lecturing sexy-baby Abby in "TGS Hates Women," and suggests a sketch about how the Empire State Building "is controlling us with electricity" in "100."
5. Tomas
Before Will Forte was Paul L'Astname, Jenna's husband and drag impersonator, he had another role: Tomas, attaché to Prince Gerhardt in season one's "Black Tie." Tomas set up Gerhardt and Jenna, and we like to believe that he then left the life of royal servitude behind, all in the hopes of one day wooing the singular Ms. Maroney.
6. The Lifetime Version of C.C.
Jack's girlfriend C.C. (Edie Falco) turns out to be the subject of a Lifetime movie, A Dog Took My Face and Gave Me a Better Face to Change the World: The Celeste Cunningham Story. In "Someone to Love," Kristen Wiig plays Candace Van der Shark, who plays C.C. Layers!
7. Blue Man
Rachel Dratch appears as several different random characters, but it's the excitable Blue Man — who first appears in "Tracy Does Conan" and later resurfaces in "100" — who's our favorite. (You're a close second, cat wrangler.)
8. The Bizarre Sheep
When Jenna becomes the "celebrity face of wool," she has to sit with the wool council to discuss the responsibilities. One member of that council is an actual, difficult-to-impress sheep.
9. Kimiko
James Franco and Liz Lemon made a pretty cute couple, but his heart belonged to Kimiko-tan, his pillow love.
10. Fart Doctor
Fart Doctor is a recurring TGS segment that Liz brags about writing.