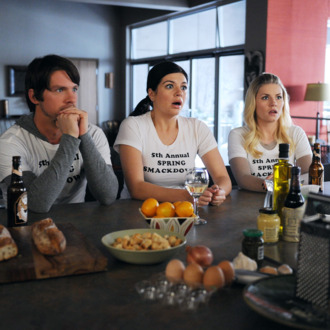 Photo: Mitch Haddad/? 2012 American Broadcasting Companies, Inc. All rights reserved.
It's not a renewal by any stretch, but here's something you might want to know: ABC boss Paul Lee believes Happy Endings and Don't Watch the B—- in Apartment 23 are "watercooler shows." Why then is he burning the show off by airing episodes on both Tuesdays and Sundays at ten, the latter a time period that does not and has never worked for half-hour comedy on broadcast TV? Here's how he put it Thursday morning during the network's TCA session: "We thought this is a really nice place and a cable play to raise awareness of these shows." To be sure, in its return, Happy Endings lost two-thirds of its new Revenge lead-in. Apartment 23 did worse. The story was the same on Tuesday.
The truth is ABC doesn't have any compatible comedy real estate outside of Modern Family. Eventually "every show has to stand on its own," Lee said, which led one reporter to ask the more pointed question: If the ratings remain at the levels they are now — which are not good at all — what will ABC do? "We haven't made any decisions yet, but I can tell you that these are shows that we love," he said. So … on second thought, you should still be worried.