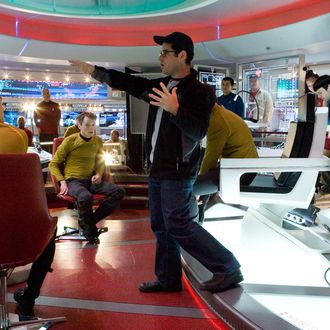 Photo: Zade Rosenthal/Paramount Pictures
The Wrap is reporting that J.J. Abrams will direct the next Star Wars movie. Do note that there has not been a confirmation yet from Disney or Luscasfilm. But if it is true, it will be quite a surprise, as Abrams has said on multiple occasions that he would not be a part of the new Star Wars movies. He told Empire magazine that he "declined any involvement very early" because he would "rather be in the audience not knowing what was coming." He also credited that decision to his "loyalty to Star Trek." Considering the undying rivalry between Star Trek and Star Wars fans, will J.J. Abrams finally be the man who unites the forces?
UPDATE: News was confirmed by a source to The Hollywood Reporter. "It's done deal with J.J.," a source told Deadline.