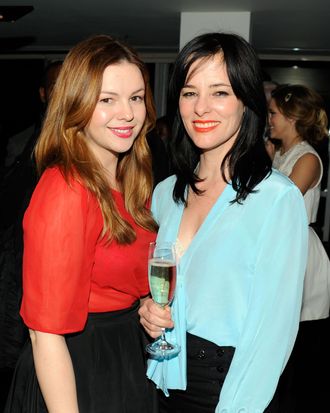 Amber Tamblyn.
Photo: PAUL BRUINOOGE/Patrick McMullan
Any Quentin Tarantino fan worth her salt can tell you that Amber Tamblyn played Daughter of a Son of a Gunfighter in Django Unchained, and her dad, Son of a Gunfighter star Russ Tamblyn, played Son of a Gunfighter. What that same QT-obsessive may not know, though, is how the cameos came about. And so, when Vulture spoke to Tamblyn at a Cinema Society screening of Warm Bodies, we asked her to please explain. "Quentin's a good friend of mine," she said. "And he lost a drinking bet, and the drinking bet was, if I could out-drink him in whiskey, I could play a cameo." Really? "I can out-drink twenty Quentin Tarantino impersonators at the same time with whiskey," she said. "I'm Scottish." No, but for real: How did the cameo come about?
"It was first a friend thing," she explained. "He texted me and said, 'Would you come do a cameo?' And I said yes. And after the fact, I said, 'It would be super cool [to have my father and me play Son of a Gunfighter and Daughter of a Son of a Gunfighter].' And Quentin was like, 'Sold. Done.' So it's sort of like this totally weird thing to happen and a total inside joke." It's also a sweet father-daughter memory. "It's such a cool moment for me to see my name in an old Western style next to my dad's," Tamblyn said. "Even though I didn't really have much of a role, that to me is like a career lifetime moment. Some day, when my dad is gone, I'll look at that and go, 'We were next to each other.'" So you can also add this to your arsenal of Tarantino trivia: He brings families together.