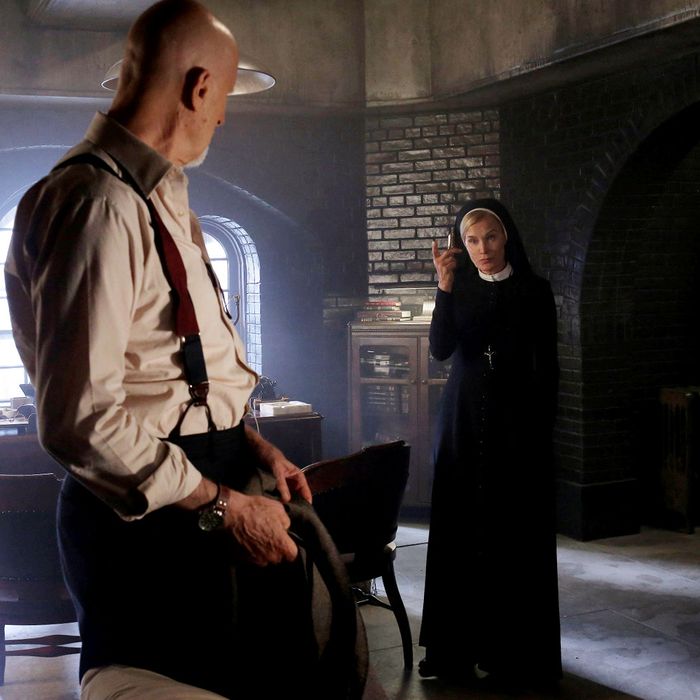 AMERICAN HORROR STORY Nor'easter – Episode 203, Wednesday, October 31, 10:00 pm e/p) – Pictured: (L-R) James Cromwell as Dr. Arthur Arden, Jessica Lange as Sister Jude
Photo: BYRON J COHEN/FX
Let's quote one of the best lines from last night's tearjerker of an American Horror Story finale: "Don't you ever let a man tell you who you are or make you feel like you are less than he is." It comes from Jessica Lange, Ryan Murphy's muse and frequent mouthpiece for his feminist thoughts. That's right, feminist thoughts! Ryan Murphy has feminist thoughts! He told reporters last week that season three of American Horror Story would be "all about female power," hardly a surprise since his entire second season was a commentary on female sexual repression, male aggression, and the Catholic Church, which neatly combines the two. Murphy is obsessed with women — our history, our haters, the injustices done to us, our against-the-odds ambition. (He ended the season with a callback to the first episode, when Jude tells Lana: "The loneliness, the heartbreak, the sacrifice you'll face as a woman with a dream on her own … ") He gets it. And so to celebrate a season well done, here are our favorite female power moments from season two.
Feminist moment: Shelley, Briarcliff's horniest patient, flips out over the word whore. Why was her husband allowed to sleep around without consequence, while her affair with a sailor got her committed to an insane asylum?
Feminist ranking: 7. Shelley is so sex-positive (masturbating since 5!); she doesn't appreciate double standards; and she knows how to work a sailor. But we worry she's selling herself short when she blows the orderlies.
Feminist moment: A priest asks Sister Jude to hand him a prayer book during an exorcism, then tells her to leave the room. It's "no place for a woman."
Feminist ranking: 5. Jude tells him, "I'm stronger than you think" — but then she leaves the room! More than words, Jude.
Feminist moment: Best line of the season, said by the Devil: "It drives you crazy, doesn't it? To be the smartest person in the room with no real power because of that smelly clam between your legs."
Feminist ranking: 8. It does drive us crazy, but we think our clam smells fine, thanks.
Feminist moment: Jude tells the guard that her "goose is cooked," she's going to get fired. He tells her that "men are never going to be okay with a woman taking charge."
Feminist ranking: 4. The guard gets it, but he is so defeatist. If he can't help the situation, he should at least do like the Devil and use dirty words.
Feminist moment: Sister Mary Eunice sings "You Don't Own Me" — at one point to a crucifix on her wall.
Feminist ranking: 10-plus. If you don't feel at least the urge to sing along with her, you are probably in a dependent relationship.
Feminist moment: Lana tries to give herself an abortion. She doesn't want to keep her Bloody Face baby.
Feminist ranking: 2. This gets you thinking about the most important feminist debate of the past 40 years, and how unfair it is that Lana has to resort to wire-hanger tactics. (Pro-choice!) But then she later decides to keep the baby because she's tired of "death." (Pro-life?) But then last night she shot and killed him. (Pro-choice!)
Feminist moment: Sister Jude tells Dr. Arden that she will "always win against the patriarchal male."
Feminist ranking: 6. Ask any gender studies major what word she used most often freshman year, and she'll tell you patriarchy. (Or norms.) But, again, more than words.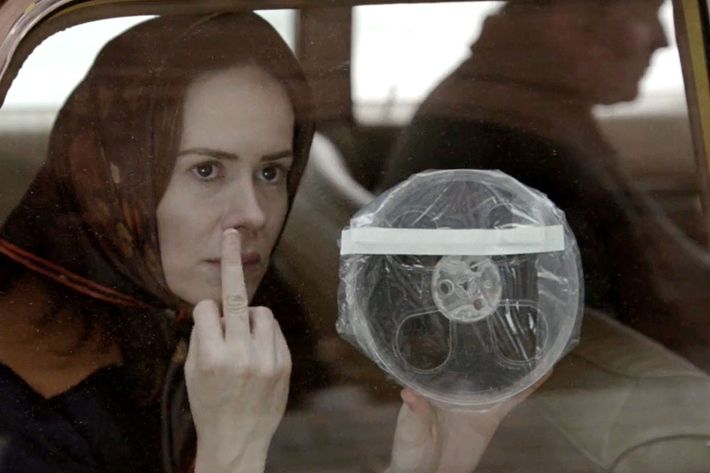 Feminist moment: Lana escapes Briarcliff with evidence that will put Bloody Face away. She gives him the finger while doing so.
Feminist ranking: 10. Some might say she seems too "angry." Give those people the finger.