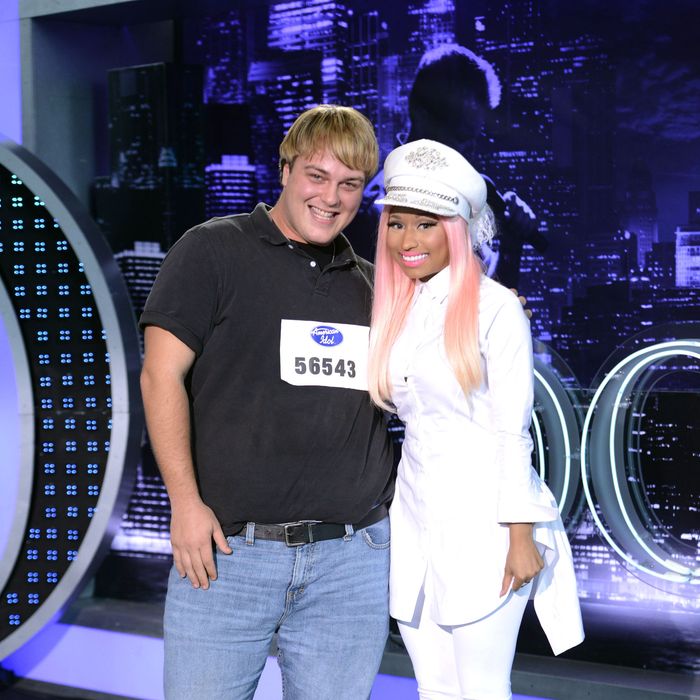 Photo: Michael Becker/FOX
Tonight's auditions come straight from Baton Rouge, Louisiana, home of alligators and tortoises and people who talk in a thick Cajun accent about how much they love Baton Rouge. It's no New Orleans, but it will have to do. The show's intro is set to Passion Pit's "Take a Walk," a joyous-sounding song that, if you listen at all to the lyrics, is about dirt-poor immigrants struggling and failing to get ahead in today's economy. Let's gooooo!
We begin right at the top of the food chain, with Miss Greater Baton Rouge Megan Miller, who was in a car accident three days ago, is supposed to be in the hospital, and is covered in scrapes and scabs that are straight-up disgusting to look at. She does "Something Got a Hold of Me," better known as "The Song That Provides the Hook for 'Levels' and 'Good Feeling,'" and she kills it with the confidence only a Miss Greater Baton Rouge can possess. She uses her crutch as a mike, and it's all very peachy and charming, and she goes through to Hollywood, by way of surgery. Randy says, "It just goes to show: If you can sing, you can sing on crutches." True!
Next up, aptly named Charlie Askew, who is deeply socially awkward. His mother says he suffers from "Charlie Askew Syndrome," with symptoms that include "having a mother who was clearly hoping for an Asperger's diagnosis." He talks to animals, he can't even make eye contact with a camera, he seems set up for the weirdo edit, but GUESS WHAT: He actually has a very nice voice. I think he should run far away from this competition, start a band, and get super into weed like other kids like him, but he is through.
Tonight's I Nominate victim is Maddie Assel, who is abducted from Cafe du Monde after her grandma drops a dime on her. She is either wearing white eye makeup or she fell face-first into beignet sugar — it's hard to say. And while her voice is impressive, it all comes off too sharp for me. Enjoy your brief stay in Hollywood, Maddie. Oh, and the best part is how her grandmother thinks you're supposed to wear a mask: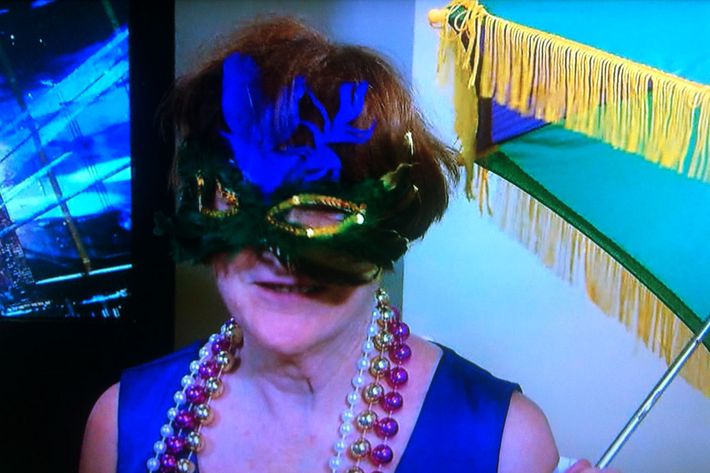 Grandma? Gram-Gram? See the eyeholes? They're supposed to line up with your eyes so that you can see the outside world. You wanna just scooch it over an inch? No? You know what? You're right, Gram. You look great.
Hey, everything's kind of heartwarming and positive so far! Even Nicki and Mariah are only beefing through out-of-context, isolated camera shots. I continue not to buy the feud. I'm actually feeling sort of good about this episode so far, you guys. Maybe the other shoe will never drop.
Oh, CLUNK: Tonight's bad-singer montage is set to the True Blood theme song, except it's "True BAD." Lots of screeching and caterwauling and one odd girl acting like a chicken. "What's going ON here?" says Randy. Randy, you know what's going on here. You're giving screen time to bad improv actors, or raising the hopes of innocent people with the misfortune to lack talent, and then laughing in their faces and cashing an oversize novelty million-dollar check. This is your twelfth time through this. Act like you've been here.
Paul Jolley is a countryish singer whose success confirms that they're pulling for a male Carrie Underwood this year. He is singing for his grandfather, who is no longer with us, and for that he gets the #idolinspire hashtag. That seems a little bit of a reckless hashtagging to me. Grandparents die. They're like pets that way. Also, Paul seems a little, you know, jolly to me, but we'll never know for sure, because this show forces all gay people into the closet. Even Clay Aiken. Even Adam Lambert. Think about that. They didn't think we could digest the idea of Adam Lambert not being heterosexual, even as he wore stiletto heels, mascara, and a The L Word haircut. They do think they can mine endless comedy out of the idea of Ryan Seacrest being gay, because he's kind of a benign eunuch, but any other gay person is either an object of ridicule or presumed straight. It's gross.
Which brings us to Chris Barthel, a chunky, young obvious-gay with bleached hair and a Gap wardrobe. Nicki Minaj nicknames him "Mushroom," which is kind of hilarious and perfect. It's also the first time in the history of this show that a femmy guy has been mocked for something other than his femminess, and I will take progress however I can get it. He sings a very bad Adam Lambert song very badly, and Keith says, "I liked the keys that song was in," to which Randy adds, "The KEYS! More than one key!" Randy has a great sense of humor. Chris is unanimously rejected, and Nicki touches his hair, which sends him into a deep nelly freak-out, and then he is greeted outside by a female friend and Ryan asks, "Is this your girlfriend," because Ryan doesn't comprehend grown-up sexuality. Can we replace Ryan and Randy? Money has insulated them from an understanding of the world.
Have we had a doctor on American Idol yet? Have we had anyone with a non-showbiz career of any kind? Well, we do now: Calvin Peters is in the third year of his residency, and he is known as the Singing Doctor by his patients. He will be known as the Singing Doctor With the Wet Pits by me forever, because dude is sweating through his whole performance of Maxwell's "Wherever Whenever Whatever." But his tone is good enough for the judges, who send him through to Hollywood. I guarantee you that he is at a Target buying T-shirts right this second.
Maxwell, though! What a surprising, inspiring choice! There is actually a lot of good music in tonight's episode: Packages are cut to songs by Lord Huron, the Von Bondies, and the original version of "It's Oh So Quiet." The music supervisor of tonight's episode is nearly as pretentious as I am, and I celebrate it.
And then we get our montage of singers who made it through but who have the bad fortune not to have a tragic backstory. It's forgettable, except for the fact that the last one is named Brandy Hotard. I cannot begin to imagine how excruciating the childhood of a person named Brandy Hotard must have been. She is greeted outside the audition room by a family member with a sign that says "Hotard is going to Hollywood!" Oh, Brandy. You will find that literally millions of hotards have beaten you here. But best of luck.
Hunkyish fireman Dustin Watts brings a Buffy Sainte-Marie level of vibrato to his audition, but it's country, and Keith is there, so he's good to go. The crew follows him back to the firehouse, where he tells his less-hunky fellow firemen the good news. My boyfriend and I are always kind of offended when firemen aren't gorgeous. Like, where do you get off, average-looking firemen? Can you leave the life-saving and uniform-wearing to the handsome, please? Anyway, he ends his package by getting into a fire truck and saying, "I have work to do; I have to go," and then I imagine what it would be like if there were an actual fire, because you know they made him do 25 takes.
(Please forgive the Buffy Sainte-Marie reference. It was just revealed that Red Hot Chili Peppers are headlining Coachella, so I simply have no idea how old anyone is anymore.)
It is only fair that I tell you this: Our final auditioner actually makes me cry a little. Please don't tell anyone. The guy's name is Burnell Taylor, he is from New Orleans but has lived in Baton Rouge since Katrina washed his home away, and he is a charmer and a half. His version of "I Am Here" from The Color Purple is not only flawless, it's not only emotionally direct and stirring, it actually almost makes me want to see the show. He is of course through to Hollywood and then Keith tells him: "Be sure to dress for the occasion." You see, Burnell is in shorts and a filthy I-shirt, largely as a result of all of his possessions being at the bottom of the Gulf of Mexico. It's a tacky way to end the first audition this show has gotten absolutely right in years. I see Burnell going far, and I hope that quote stays with Keith longer than even his regrettable tattoos.
Overall, tonight's episode is much more like it. One-hour episodes are immeasurably more palatable. Much less mockery of the mentally handicapped, just enough biographical information on some engaging young singers. Still too much Randy, but don't let's ask for the moon when we have the stars.