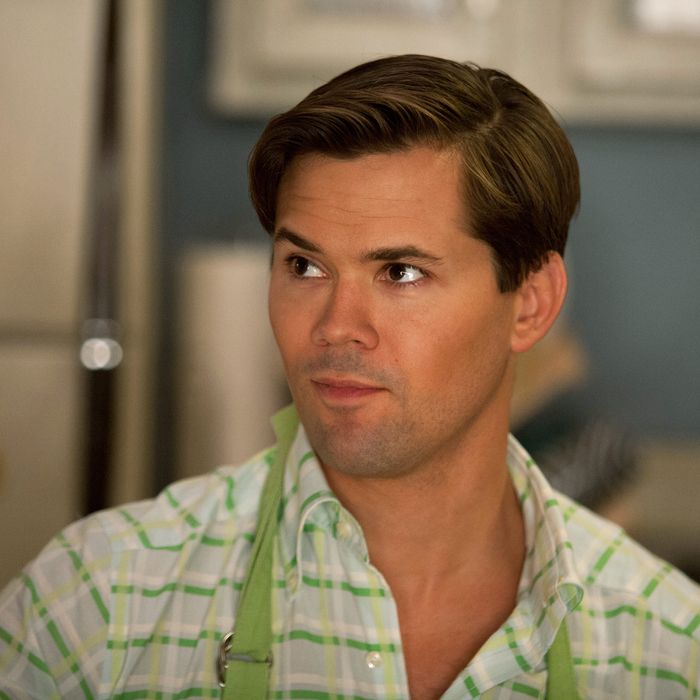 Photo: Jessica Miglio/HBO
On Sunday's Girls, Andrew Rannells's character, Elijah, shared an evening of cocaine, bonding, and more cocaine with Lena Dunham's Hannah. Before things got buzzkilled after Elijah's revelation that he had slept with Marnie, the two euphorically danced and yammered away at a club, constantly reasserting their staunch friends-4-eva-dom. "I watched a lot of Miami Vice as a child, so there's a certain comfort to it," Rannells told Vulture at the Girls premiere party earlier this month. He then revealed that while he did have some sense memory to apply to the scenes ("Yeah, I've done cocaine. I mean, I'm 34, and I live in New York. I moved here in '97"), his more manic state on the show was actually an homage to a famous coke scene from the movies. "You know who it was really modeled after? In my mind — this is not a conversation I had with Lena — but it was Julianne Moore and Heather Graham in Boogie Nights." (The scene in which the two hoover lines while jabbering about pottery classes, GEDs, and whether they can pretend to be mother and daughter.) "That is what I was thinking about. So thank you, Julianne Moore."
Six months after he filmed his wild night with Hannah and her see-through shirt, this writer visited Rannells on the set of his other show, NBC's The New Normal, where he was delivering jokes about men who want to breast-feed for tonight's episode. Such are his two worlds. "It's going to be very strange, the combination of me doing cocaine on Girls and being a dad-in-training here," he mused. But in Normal's scripted situation, he had no firsthand frame of reference for a scene in which his character, Bryan, attempts to coax his boyfriend, David (Justin Bartha), into wearing a vest with plastic nipples for the benefit of their future baby. The men's breast-feeding device is a thing that actually exists, but Rannells has heard that only a handful have sold. "Because who the hell would do that, really?"
With his well-scrubbed, young-samaritan good looks and upbeat charm, Rannells has found a sweet spot in provocative comedies as the lovable narcissist. His breakthrough role in Broadway's The Book of Mormon called for a plucky missionary who, in less endearing hands, could have overstepped into insufferable, and Girls' Elijah is snarky, smug, and impulsive, but he's also fun; you kind of get why Hannah still invited him to be her roommate. However, Rannells said his Normal character, a dad-to-be in a committed relationship, is on a journey to being slightly less self-involved.
Raised Catholic in Omaha, Nebraska, Rannells moved to New York after high school to pursue acting, but a Broadway career proved elusive. He spent his first several years instead doing voice work for a company that dubbed Japanese anime series like Pokemon in English. "There was one show called Fighting Foodons, and I played a character named Fried Ricer," he laughed, "and I kept feeling like, When does it start? When does my life start?" The scene in this week's Girls when Elijah presses Hannah to "leave her fucking mark" rang especially true for him. "I felt that every day. Literally every day," Rannells said. "New York is so great and so hard, and Girls gets that. You're trying to leave your mark, but you're mostly just flailing around."
He was eventually hired into the casts of Hairspray and Jersey Boys, and then South Park's Trey Parker and Matt Stone picked him to play The Book of Mormon's megalomaniac lead. The life-changing role earned him a Tony nomination (alongside co-star Josh Gad) and the attention of Dunham. She wanted him to play her gay ex-boyfriend, a guy no less of an obnoxious fuck-up than any of the other characters on Girls. Rannells was down.
You could say he relishes the uncomfortable laugh. When it came time for Elijah to sleep with Hannah's best friend, Marnie, at the top of this season, he was unafraid and unsurprised. (Though his mother was: He had forgotten to give her a heads up. "My youngest sister watched it with her, and she's like, 'Thanks a lot for that.'") HBO president of programming Mike Lombardo, who is gay, flagged the scene in the script, wondering why an out character would sleep with Marnie, drunk or otherwise. Producers agreed to have Elijah lose his erection instead. "It softened it," Rannells said with a naughty grin. "For me, it was always okay. They're both pretending to be something they're not. He's pretending to be bisexual; she's pretending to be freewheeling and slutty. I think as a young person, you're kind of game for whatever sometimes. You find yourself trying shit out that you wouldn't necessarily, but you do it out of youth and out of confidence and out of curiosity. It wasn't a huge jump for me."
As someone who spent his twenties running around New York City, nothing much on Girls shocks him. And yet it was that very liberal experience that made the decision by an NBC television affiliate in Salt Lake to boycott The New Normal before its fall premiere so alarming. At the time, the only thing known about the show was that it revolved around a gay couple trying to have a baby. "Even though I'm from the Midwest, the majority of my life has been spent on the coasts where being gay wasn't really much of a conversation," Rannells said. "So that was a big smack of reality. Oh yeah, I guess this is a thing for a lot of people." He came out to his family when he was 18 and said by that point "no one was surprised."
The New Normal's first season has been a blend of teary relationship moments, overanxious baby prep, and at least one crazy flamboyant display of affection. For the most part, though, Rannells's grounded performance curbs the broader stereotypes. (At the show's outset, his character, Bryan, was obsessed with skinny jeans and finding a surrogate who looked like Gwyneth Paltrow.) "A lot of it was just my responsibility," Rannells said. "You can choose to read the line like that, or you can choose to make him sound more like a human. You can still get the laugh." Most days, his greatest challenge is keeping a straight face, which he'll have to do later when they were scheduled to film a pro-breast-feeding flash mob set to "Milkshake." Though, out there, it will be a far peppier and clean setup than snorting fake cocaine off a dirty toilet for Girls. "We did that on a set, but the crew outdid themselves making it feel real," he said. "There was a condom on the floor and tampon wrappers. We were both feeling a little nauseous. Oh! And there was a point where Lena licked a line off of the toilet seat. They didn't use it, but that definitely happened. It was gross. But great."
(Additional reporting by Amanda Dobbins.)