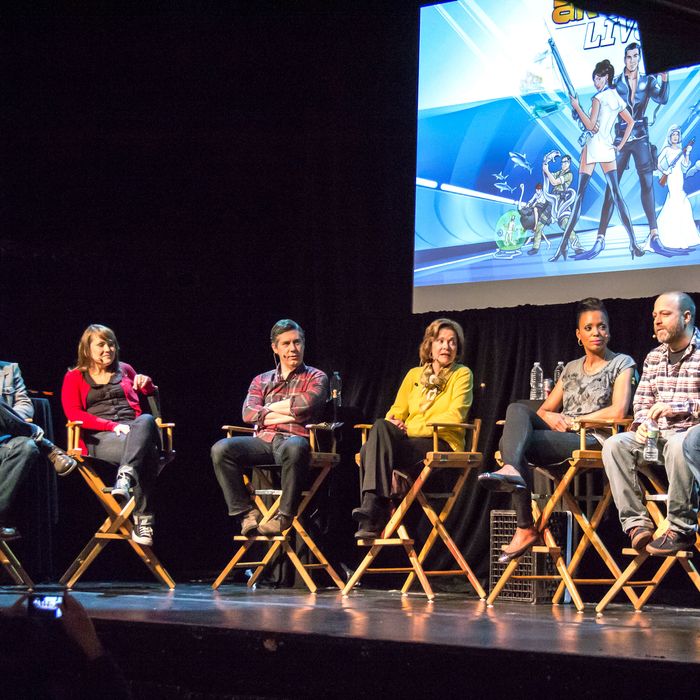 The Archer cast at their live reading
Photo: Steven Smith/FX
"Masturbation. Penis. Vagina. Cunt."
This outburst received overwhelming applause when delivered by Aisha Tyler during "Archer Live," a cast reading (and beyond) of FX's raunchy animated spy spoof held Saturday night at New York's Irving Plaza to promote season four, which starts on Thursday, January 17. It was a personal thrill for this writer, knowing these words were recited for the benefit of his 14- and 12-year-old sons, who were the only kids in the audience.
The performance's centerpiece was allegedly supposed to be the cast acting out scenes from episodes past and future, but most of it was one outrageously foul-mouthed digression after another from cast members H. Jon Benjamin (who voices crass superspy Sterling Archer), Jessica Walter (his mom and boss at ISIS, Malory), Chris Parnell (ISIS's buttoned-up comptroller Cyril), Tyler (Lana Kane), Amber Nash (human-resources gossip Pam), Lucky Yates (the twisted Dr. Krieger), and executive producer Matt Thompson (creator Adam Reed was absent).
Tyler's impromptu snippet of poetry had been inspired by the stars' discussion about the difference between gathering onstage (this was their fourth and final performance in four different cities) and working solo in a sound booth. This led to a string of jokes about masturbating in the booth. Yates leaped to defend the honor of Jessica Walter. "Jessica Walter is too classy for that," he insisted.
"She always masturbates at home," added Benjamin.
"And someone else does it for her," Yates piled on.
"I need to get the number of your masturbator," Tyler said in a faux aside, as Walter laughed helplessly.
The digression finally ended, but moments later, Thompson reminded them that amid the packed house were my two kids, who they had encountered at the intimate preshow press Q&A. So Tyler declared, "Let's get this out of the way," and recited her litany of naughty words, much to my sons' delight. The show itself meets with parental disapproval from my better half, but the boys can't get enough of its ribaldry, much of which seems specifically designed for teenage boys.
At this earlier press event, my sons' presence had inspired some alternately real and mock concern by the cast about what the boys were about to hear (though nothing in the evening would be as raunchy as a typical Archer episode). They began dishing out advice, which led to a round of riffing that derailed the press session. To wit: The rule of "Don't drink" was amended by Benjamin, who added, "Well, drink a little." Parnell recommended high-quality 50-year-old Scotch, which Yates insisted Parnell had at his home, made by "a 100-year-old Scotsman with a 70-year-old peat bog."
(Once their life lessons ended, even the actual tidbits of show news they gave to reporters came with humorous digressions. Malory Archer will marry a man named Ron Cadillac, to be played by Walter's real-life husband Ron Liebman. "But he wasn't invited tonight," she sniffed, before adding, "He had to stay home and walk the dog anyway.")
The main event had an even looser, shambling feel, fitting for Sterling Archer, whose notion of planning always comes down to winging it. "The fans have been very forgiving" about these runaway live shows, Benjamin joked beforehand. (He had quipped to Thompson that the disjointed approach might seem like "a hate letter to our fans.") Indeed, many of the night's highlights were impromptu. When the cast was initially introduced, a Sterling Archer look-alike came out, with Benjamin providing his voice from offstage. Faux Archer then picked a woman from the audience to come up onstage for a kiss, at which point the balding, diminutive Benjamin tapped in to switch places with the coiffed, muscular actor. The woman became so consumed by nervous laughter that she couldn't consummate the kiss; long after she returned to her seat, Benjamin, pretending to still be angry, kept interrupting the show to throw verbal darts her way. 
The cast also had plenty of snark reserved for each other. When Thompson described Archer's archenemy Cyborg Barry, he talked about "walking a fine line because we want the show to be as believable as possible," to which Benjamin sneered, "Really? I did not notice that." (Thompson's preview of season four's underwater finale — an homage to Sealab 2021, the defunct Adult Swim series Thompson wrote with Reed — proved Benjamin's point.)
And halfway through the evening, Thompson revealed an embarrassing truth. At each "Archer Live" event, as Kenny Loggins's "Danger Zone" has blasted (a running joke from the series), the cast has shot Archer shirts from a T-shirt gun. However, on Saturday night, the T-shirts were blanks, the real ones apparently having been accidentally shipped to Irving, Texas, instead of Irving Plaza. "I feel like I'm in a Spinal Tap movie," Tyler ad-libbed. Thompson then promised backstage autographs to all shirt recipients. (Instead of catching his blank shirt, one man earned his by coming onstage and letting Tyler shoot the gun at his private parts.)
Given the digressive nature of the evening, maybe it shouldn't be a surprise that the biggest applause lines of the evening were actually for another show. An audience member asked Jessica Walter whether fans in the street shout quotes at her more from Archer or from Arrested Development, on which she plays Lucille Bluth, the only woman who can make Malory Archer look maternal. Without a doubt, she said, it was Arrested Development, which drew huge cheers from the crowd. Archer also co-stars Arrested guest Judy Greer and has featured appearances by Jeffrey Tambor and David Cross, and Walter's revelation that her Arrested grandson Michael Cera has expressed interest in being on her animated show drew more exultation. "I'd rather have Jason Bateman on … me," Tyler cracked. Finally, Walter confessed that her favorite quote of all was also from her days as Lucille: "I want to cry so badly, but I don't think I can spare the moisture." This brought the house down, though it also brought out some phony jealousy in Benjamin, who declared in his best Sterling Archer voice, "Seriously. Enough about Arrested Development."
Fortunately, as he was signing an autograph for my boys after the show, they resisted the urge to tell him that Arrested Development, with its relentless sexual innuendo, ranks at or near the top of their list of favorite comedies, ahead of his more directly dirty show. But he'd have been pleased to know that, when we got home from Irving Plaza, they insisted on watching back-to-back-to-back episodes of Archer, reveling in every inappropriate line.