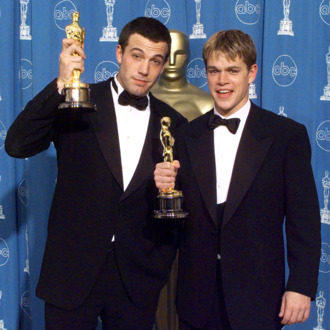 Ben and Matt
Photo: HECTOR MATA/AFP/Getty Images
Good Will Hunting came out fifteen years ago, so it's time to look back at the movie and the movie stars that came out of it (and, in the case of our conversation with Matt Damon and Gus Van Sant, the movie's "Color Me Badd" haircuts). So it's only appropriate that Boston magazine has a fun oral history of the film. Besides rehashing some old stories (Mel Gibson was once attached to direct) and new (Robin Williams improvised the classic final line of the film: "Son of a bitch stole my line"), the piece reminds us that Ben and Matt are still adorable together. 
Affleck, after Damon admits the two of them cried when watching Williams and Stellan Skarsgard act their writing: "We did tear up a little bit. But why is Matt saying this shit? Like, he holds his fucking tongue for 15 years and now because it's Boston magazine, he says he started crying? His career is not over, you know what I mean? He needs people to believe that he's like Jason Bourne or whatever!"
Damon on winning the Oscar: "Ben's still the youngest writer to ever win an Oscar for screenwriting. I'd be the youngest if it weren't for Ben. Fucking asshole."
Get a room, you two.