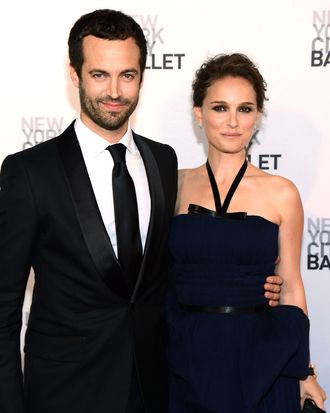 Dancer/actor Benjamin Millepied and actress Natalie Portman attend New York City Ballet's 2012 Spring Gala at David H. Koch Theater, Lincoln Center on May 10, 2012 in New York City.
Photo: Stephen Lovekin/Getty Images
Choreographer, dancer, and Natalie Portman romancer Benjamin Millepied has been named the incoming director of dance at the hugely prestigious Paris Opera Ballet. His tenure will start in September of 2014. Millepied's currently the founder and artistic director for the L.A. Dance Project, and he says that ensemble will continue without him when he moves to Paris. According to the Times, this "comes as a surprise" to ballet insiders, who expected the Paris Opera Ballet to hire from within. Ooooh, ballet scandal! The most elegant, classic, emaciated scandal of them all!