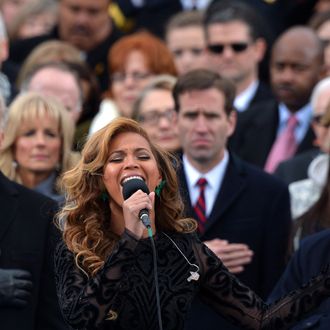 Photo: JEWEL SAMAD/AFP/Getty Images
Let's remember that Whitney Houston's legendary Super Bowl performance also turned out to be prerecorded, but this still hurts: Beyoncé was lip-synching at the inauguration. The London Times reports that Beyoncé decided to go with the studio version "shortly before her performance," and The Washingtonian says the band wasn't even playing the song. Kristin DuBois, a representative for the United States Marine Band, confirmed the former but not the latter, to the New York Post's "Page Six," saying, "All music is pre-recorded for the ceremony because there are so many eventualities and conditions that day. We performed, live, the band. But we received last-minute word that Beyonce was going to use the pre-recorded vocal track. Those were the instructions we were given. We don't know what the reason why." DuBois's statement has apparently gotten the Marine Band in some hot water, because Marine Corps spokesman Capt. Gregory Wolf is now offering the following: "Regarding Ms. Knowles-Carter's vocal performance, no one in the Marine Band is in a position to assess whether it was live or pre-recorded." He also added that the band itself used a pre-recorded track, which directly contradicts DuBois. Who are we supposed to believe? What happened to trust?
Meanwhile, band director Colonel Michael J. Colburn says Beyoncé didn't rehearse with the group until the night before the performance — which possibly explains why she was reluctant to do it live (or maybe indicates that she never intended to sing it live in the first place). If you're wondering: yes, Kelly Clarkson sang live. Further, devastating updates as events warrant.
Update: As we enter day two of Beyoncégate, some Internet theorists are pointing to the following WSJ video as evidence that Beyoncé was in fact singing along. The video is compelling. On the other hand, it does not prove that Beyoncé's live-sung version was the track that was broadcast — and lip-synchers often sing along with a prerecorded track to create a more believable performance. (See: Whitney Houston's National Anthem.) One has to assume that if the live version had in fact been broadcast, Beyoncé would have released a statement yesterday. But see for yourself!
Update No. 2: The White House declines to comment. Also, the White House is making fun of us.
Update No. 3: An unnamed Inauguration official tells CNN that Beyoncé "did not sing live." The decision was made the night before the ceremony.  "Because she didn't have time to rehearse with the Marine Band, she decided to use her recording with the Marine Band. It was all Beyoncé."