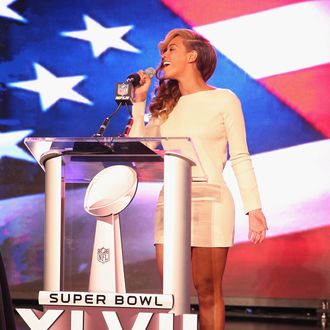 Photo: Christopher Polk/Getty Images
First things first: Beyoncé would like you to know that she can sing the National Anthem live — and so that is why she kicked off today's pre–Super Bowl press conference with an a capella version of the very song that started Beyoncé-gate ten days ago. It was pretty good! But, yeah, the original performance used a backing track. "I am a perfectionist. I practice till my feet bleed," she explained. "I didn't have time to practice with the orchestra. So due to the weather, due to the delay, due to no proper sound check, I did not feel comfortable taking the risk." She then noted that singing along to a backing track is "very common" in the industry (see: Whitney Houston), but that she'll "absolutely" be singing live at the Super Bowl. So look forward to that controversy come Monday.
Other lessons from the press conference:
1. Beyoncé won't confirm the Destiny's Child reunion, or really anything having to do with the Super Bowl, except that she will be singing live.
2. Beyoncé will not confirm that she's performing at the Grammys (but wink wink she's probably performing at the Grammys).
3. Beyoncé's toothbrush is blue and white. Someone really asked that.