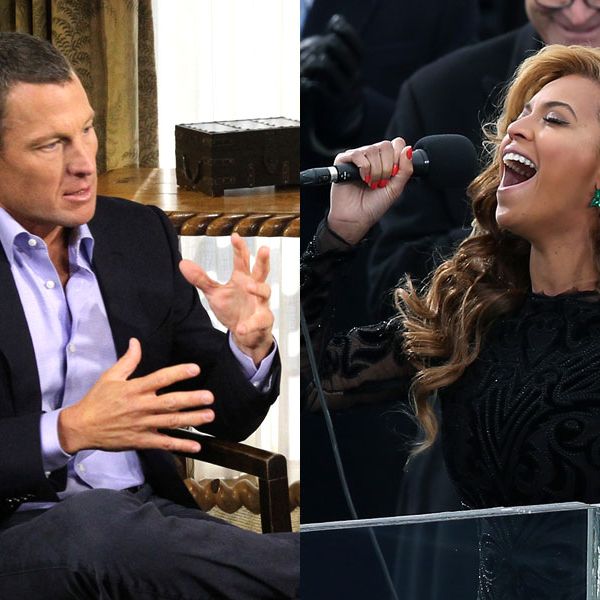 Beyoncé was lip-synching the National Anthem yesterday. Lance Armstrong cheated for most of his career. America is heartbroken. But who let us down more? Queen Bey or Livestrong? An overview of our terrible betrayals:
LANCE: For years pretended that he could beat anyone without performance-enhancing drugs.
BEYONCÉ: Yesterday pretended that she could out-sing everyone without performance-enhancing prerecorded tracks.

LANCE: Trashed reputations of accusers who later proved to be right.
BEYONCÉ: Made people say, "I can't believe my ears!" but implicitly made them believe their ears, and the next day revealed that their ears were actually liars.

LANCE: Took prizes away from the real winners, who — at least some of whom — weren't doping.
BEYONCÉ: Took praise from the real winner, Kelly Clarkson, who actually was singing live.

LANCE: Yellow jerseys are now synonymous with lying and cheating.
BEYONCÉ: Blue Ivy's every cute gurgle will be looked upon as suspect and potentially prerecorded.

LANCE: Pretended to pour heart out to Oprah, but no one was sure what to believe.
BEYONCÉ: Will sing heart out at Super Bowl, and no one will know which notes to believe.

LANCE: Dramatically held up seven fingers. So dramatic at the time, now just painful to remember.
BEYONCÉ: Dramatically ripped out her earpiece. Such a finale at the time, now just someone digging something out of her ear.

LANCE: Had to look up definition of "cheater."
BEYONCÉ: Still the definition of "fierce."
It's a tough call, America. Lance Armstrong tricked us all into caring about bike racing, which is an affront unto itself, while Beyoncé was merely following in Whitney Houston's and Yo-Yo Ma's footsteps. Will we feel better if Bey does some kind of contrition sit-down with Oprah? We will. But even without that, we will learn to forgive her. Without doping, who knows what Lance Armstrong would be? Without yesterday's lip-synching, she's still Beyoncé.