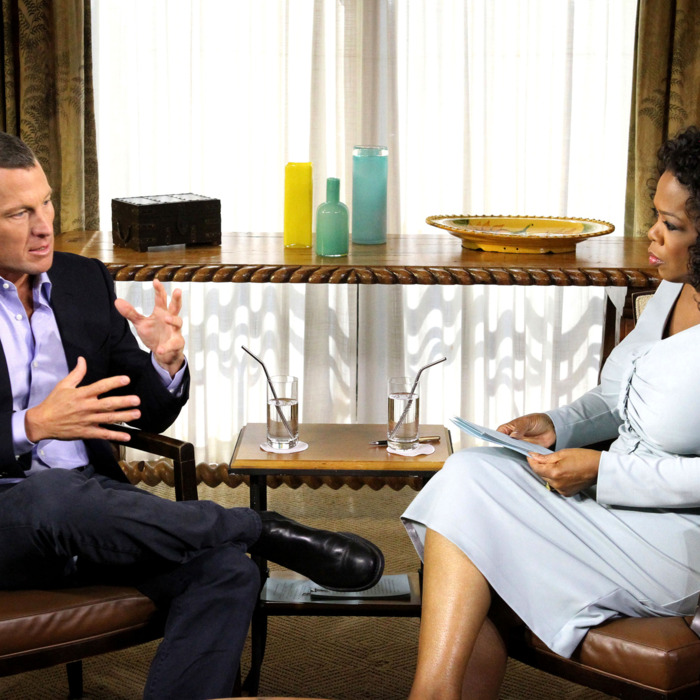 Photo: George Burns/Oprah Winfrey Network/Getty Images
Oprah Winfrey's worldwide exclusive interview with Lance Armstrong debuted to a strong 3.1 million viewers Thursday, giving her OWN channel its second biggest audience in its two-year history. Per Nielsen, the 90-minute confessional averaged  4.2 million when a 10:30 p.m. replay of the conversation is added; actual viewership will likely shoot up even more once DVR playback is factored in. The strong ratings for night one of the two-part chat (the conclusion airs tonight at nine) come less than a year after some in the TV industry were questioning the long-term viability of OWN, which went through an extended, often difficult birthing process and struggled in its early months to live up to enormous expectations. By contrast, the interview and the week of buildup to it have given OWN its biggest burst of positive attention since its launch two years ago this month. Unfortunately, unless Armstrong agrees to be the focus of a special weekly edition of OWN's Iyanla: Fix My Life, the Lance Lift will almost certainly be short-lived. The good news for OWN, however, is that it may have already turned the corner.
For one thing, OWN's ratings were already on the upswing long before Armstrong pedaled onto the scene. Starting last February, the network saw its viewership rise year-to-year every month versus 2011, ending the year up around 30 percent among both all viewers and its target audience of women between the ages of 25 to 54. Admittedly, it was starting from a small base: In 2011, the network had an average prime-time tune-in of around 250,000 viewers. But what's key for OWN is momentum. Not only is the network moving in the right direction, but the pace of recovery is picking up. During the fourth quarter of last year, the network's prime-time audience was up 60 percent from the same quarter a year earlier, doubling its growth for the year as a whole.

While the Armstrong one-on-one was OWN's biggest get to date, in 2012 Winfrey had already reestablished her bona fides as America's leading TV interviewer, snagging sit-downs with a slew of celebs and newsmakers: Whitney Houston's family (the biggest broadcast yet for the net, with 3.5 million viewers), Rihanna, the Kardashians. The chats generated strong ratings, but more important, like the Armstrong interview, they served to educate viewers that OWN still existed while also serving as an invaluable promotional platform for OWN's other shows. The "success" of the Armstrong interview should help Winfrey expand that streak into 2013, proving to future troubled celebs and public figures that OWN can serve the same function that The Oprah Winfrey Show did for so many years — a necessary stop on the road to image recovery. Winfrey has already booked Whitney Houston's mom, Cissy, for a conversation set to air next month on the one-year anniversary of her daughter's death.

Despite the seemingly endless parade of troubled celebs — the Te'o Manti worldwide exclusive is probably coming any day now — OWN can't live off the sins of others alone. It's still in search of a breakout weekly series to keep drawing viewers back season after season, an Amish Mafia or a Real Husbands of Hollywood that can draw 3 to 4 million viewers with any given episode. This could prove difficult, given OWN's mandate for at least somewhat inspirational programming. Iyanla and Welcome to Sweetie Pie's have improved OWN's year-to-year ratings, but they haven't popped in the way other cable reality shows have. The network will keep trying, however, announcing new shows such as Raising Whitley (comic Kym Whitley adopts a baby) and Dogfellas (ex-mobster becomes a dog groomer). Given the randomness of cable reality, it's completely possible that these new series could break out. It's more likely that OWN will gain traction from scripted series, thanks to a new deal with Tyler Perry. His studio is working on a sitcom and a drama that will bow at the end of May. The comedy is called Love Thy Neighbor, and it's set at a diner that OWN says "serves up good food, great laughs (and) valuable life lessons." Maybe Lance Armstrong can stop by the premiere episode for a slice of humble pie.