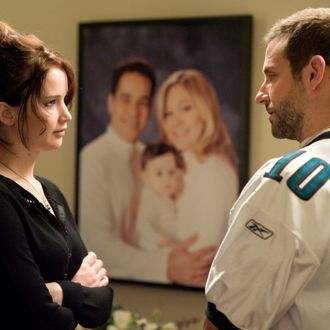 Photo: JOJO WHILDEN/The Weinstein Company.
This Weekend's Winner: Silver Linings Playbook (No. 3 with $10 million) fell just 7 percent compared with last weekend, with the tricky-to-market David O. Russell film finally finding its feet.

This Weekend's Losers: Hansel & Gretel: Witch Hunters (No. 1 with $19 million) disappointed in so many ways, opening to as much as a third less than was forecasted. But FilmDistrict's Jason Statham nose-puncher Parker (No. 5 with $7 million) and Relativity's comedy release Movie 43 (No. 7 with $5 million) made Hansel seem downright cheery by comparison. Sadly, even the critically lauded and Oscar besotted Zero Dark Thirty (No. 4 with $9.8 million) seems to be trending downward, losing almost 40 percent of its audience.
How It All Went Down: "[National Research Group] tracking and the town had Hansel between $25 million and $30 million ," said one former marketing chief, "but audiences felt otherwise." One distribution chief explains why by noting that "H&G appeals mostly towards younger teens, yet it's rated 'R' and so they can't get in. Couple that with the terrible reviews, which might have driven the older crowd [away], and you get disappointment."

Another senior production executive at a rival studio sums it up succinctly, "Bad idea, wrong cast, weak movie that had already been financially written off."

Meanwhile, a more pressing question remains: Silver Linings Playbook and Zero Dark Thirty both have excellent reviews and both have yet to crack $70 million — but while Silver Linings is waxing, the trend line on Zero Dark suggests a film with a less bright future behind it at the box office. Opinions vary as to why such a crackling good thriller is stalling out and unlikely to even reach $100 million domestically, with both its marketing and distribution questioned by several industry heavyweights.

"I think Sony made a terrible, terrible, terrible decision platform releasing Zero Dark Thirty," says one writer-producer. "They couldn't capitalize on all the [torture] controversy — I think it could have done a $35 milion opening if it went wide right out of the gate.  Huge mistake."

"It deserves a better fate," says our first distribution capo, "but ZDT was sold as a pure action experience to most of the country and it is hardly that. Therefore, I think that a lot of people may be coming out feeling 'duped,' if you know what I mean. Middle America doesn't find it so exciting." A second head of distribution at a rival studio pointed to the film's bipolar marketing strategy. "Sony had two campaigns running simultaneously (as Vulture wrote about several weeks ago) — one 'cerebral' and the other straight 'shoot-'em-up' action. That worked to open the film but not to sustain the run."