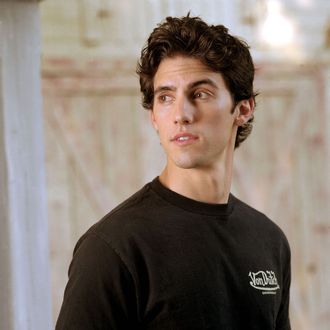 Every episode of Bunheads feels like a tribute concert to Gilmore Girls — in a good way. Kelly Bishop will always sort of be Emily Gilmore, and even though Fanny is less uptight and more prone to dancing, there's a very similar energy to the characters. And the crossover extends way beyond that: This week's episode of Bunheads featured Liza Weil, better known as GG's Paris. And she's just the latest Stars Hollow resident to appear in Paradise: Kirk, Gypsy, Mitchum, Digger, TJ, and Zach have all appeared, too, not as the exact same characters, but usually not as someone much different. But Bunheads shouldn't stop there! We want to see these Gilmore Girls cast members appear next.
1. Keiko Agena (Lane)
When Agena popped up on Scandal earlier this season, all of our Lane affection suddenly resurfaced. She could play a rival dance instructor, or maybe some kind of traveling ballet-supply saleswoman who breezes into town and dazzles everyone.
2. Sebastian Bach (Gil)
Paradise already has a mellow, beachy vibe, and someone like Gil would fit in just fine. What if one of the dance classes were accompanied by electric guitar instead of piano?
3. Milo Ventimiglia (Jess)
Sasha's new emo boyfriend is the watered-down Jess already. Might as well go back to the source of all things broody and ultimately heartbreaking!
4. Carole King (Sophie)
Shouldn't Carole King and Fanny be best friends from ages ago? Yes, they should.
5. Danny Strong (Doyle)
Just because he has a pile of Emmys doesn't mean he couldn't resurface on Bunheads. Surely Paradise has some kind of newspaper he could be the editor of.
6. Liz Torres (Miss Patty)
Honestly, we thought Miss Patty had already appeared. But she has not! This is a travesty.
7. Sally Struthers (Babette)
Again, really thought she was already on.
8. Scott Cohen (Max Medina)
Sutton Foster's Michelle has already been romanced by one of Lorelai's former suitors (Chris Eigeman). Why not another?
9. Jon Hamm (Peyton Sanders)
Or another? (Yes, Jon Hamm was on one episode of Gilmore Girls, as a guy Lorelai meets at an auction who turns out to be a herb.)
10. Mädchen Amick (Sherry)
Michelle needs more friends. Mädchen Amick could be one such friend!