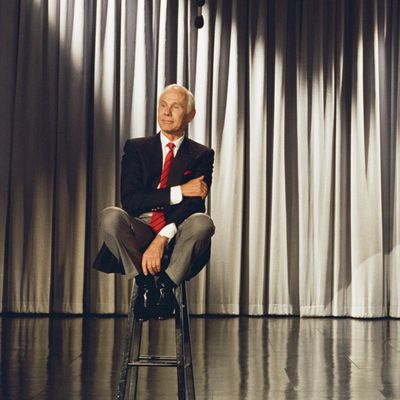 The final episode of
The Tonight Show Starring Johnny Carson,
1992.
Photo: NBC/Getty Images
The Paley Center for Media, which has locations in both New York and LA, dedicates itself to the preservation of television and radio history. Inside their vast archives of more than 120,000 television shows, commercials, and radio programs, there are thousands of important and funny programs waiting to be rediscovered by comedy nerds like you and me. Each week, this column will highlight a new gem waiting for you at the Paley Library to quietly laugh at. (Seriously, it's a library, so keep it down.)
"All we've got are tonight and tomorrow and I'm gone. Boy, I haven't used that line since World War II…"
Johnny Carson hosted The Tonight Show for thirty years. Think about that. From 1962 to 1992, Johnny was there. Entire generations were born and grew up with the same man hosting the late night show, and this was back when there were only three channels. He was a fixture, an icon, and for many, an idol. So, as you might imagine, as his last few shows drew near it generated quiet a bit of press. In his final show, which aired on May 22, 1992, he talks about having done hundreds of interviews about the show ending, claiming "the Soviet Union's end didn't get this much publicity." Today we look at the final two episodes of The Tonight Show with Johnny Carson and its legacy and impact on television in general.
The last two episodes of Johnny's show both aired in the same, familiar time slot of 11:35-12:35, but in many ways they couldn't be more different from one another. The second to last episode, which aired on May 21, 1992, was almost exactly like any other episode of The Tonight Show, if you ignore all the finale talk. Johnny came out, did a monologue, talked to his guests, had a musical performance and then said goodnight. The last episode of the show, however is guest-less. It's just Johnny, an audience, his sidekick Ed McMahon and his bandleader Doc Severinsen, some clips, but mostly it's a long-time TV show host talking to his viewers at home as he seems to realize on the air that a major chapter of his life is ending.
Today it's that second to last episode that is probably better remembered: The Simpsons and The Larry Sanders Show finale both parodied it. It has one of the most iconic moments in all of television history in it, that of Bette Midler sitting on Johnny's desk, singing (a parody of "You Made Me Love You," rewritten to be about Johnny with jokes like: "Watched your hair turn from dark to white. / And when I can't sleep / I count your wives at night."), as Carson looks on, delighted, resting his head against his fist, his arm propped up on his desk. I'm not even going to put a picture of it in here because I bet you're already picturing it.
Earlier in the episode Johnny shows a clip that he says they weren't originally going to show, and hadn't shown in over seven years, but they received so much mail requesting it, they felt they had to. I include it here just in case you haven't already seen this piece of TV history.
The final moment of the second-to-last show also belongs in those same hallowed halls of TV history. In it, Bette Midler sings one last song to Johnny: an old standard named "One More for My Baby (And One More for the Road)." Throughout, Johnny looks genuinely touched and she ends the song by running over and putting a laurel over Carson's neck, she has to run backstage, clearly about to burst into tears.
The very last episode of The Tonight Show with Johnny Carson begins with a cold open, which I imagine must have been pretty jarring to long time viewers of the show who were used to the loud brassy tune of "Johnny's Theme." In it, Johnny speaks directly to the viewer at home, reminiscing on his many years as host, beginning with his very first episode. No video exists of the first ten years of Johnny's Tonight Show, though the audio does, and we get to hear Johnny's first words as host of the show: "Ladies and gentlemen, thank you. This is an emotional thing for me because I've known about this show for a long time. I've been interviewed by newspapers and magazines maybe a hundred times over the last 9 months. You get kind of charged up, I don't want to be maudlin about it; I only have one feeling knowing that so many people are watching… I want my nana."
Following this, Johnny steps out from behind the curtain to riotous applause, pulls a stool over and then sits in the spot where he usually performs his monologue. The audience, which is comprised solely of family and friends of the cast and crew, cheers and applauds Johnny for a full minute, with a few of Arsenio Hall's Dog Pound whoops thrown in as well. Carson explains that the evening's show isn't "a performance show. It's a little bit quieter." In fact, Johnny doesn't even really show clips in the traditional sense. Instead, the episode feels more like a scrapbook than a best of.
Johnny talks with the audience for a bit about how momentous an occasion it's been, then throws to a package of clips, not necessarily highlighting favorite moments, but instead showing a few seconds from many of the notable names who have appeared on the show. Most of them whiz by, but among the many famous faces we see Richard Nixon (who actually jokes around with Johnny), Robert Kennedy, Groucho, Tiny Tim, Ed Sullivan, Mel Brooks (who enters from the curtain and then keeps walking past), Old Jimmy Stewart, Bette Davis, Madonna, Letterman, and Bob Hope. A similar package is shown for musical guests the show has hosted which include an amazing roster as well: Judy Garland, Louie Armstrong, Benny Goodman, Ella Fitzgerald, Bette Midler, Sammy Davis Jr., Frank Sinatra, Jackson Five, and Roy Orbison.
Particularly with the list of musicians, I was struck by two thoughts: the first was how diverse the list was. Those aren't all just Top 40 wonders. There's jazz, American Songbook, rock and roll, Broadway, and all sorts of genres mixed in there in a variety that is no longer seen on late night TV. Secondly, I was struck by the fact that all of these legendary musicians appeared on the show. A clip of Ella would show up and I would think "oh, yeah. She was alive then, I guess. Of course she would have done the show." This happened several times, and I felt exponentially more stupid each time I had that reaction.
Johnny, Ed, and Doc say a few words from the desk, a short behind-the-scenes video is shown, showing how the show is produced, and then we get to the final moments of the farewell. Johnny returns to his stool and begins speaking, already with tears glistening in his eyes: "And so it has come to this. I am one of the lucky people in the world; I found something I always wanted to do, and I have enjoyed every single minute of it. I want to thank the gentlemen who've shared this stage with me for thirty years, Mr. Ed McMahon, Mr. Doc Severinsen, and you people watching. I can only tell you that it has been an honor and a privilege to come into your homes all these years and entertain you…" And then, just barely holding it together, "I bid you a very heartfelt good night." The cameras cut to Johnny's family in the crowd, back to Johnny, and then the credits roll over a photograph of (appropriately enough) a sunset, as photographed by Johnny's late son, Rick.
Part of the reason that I think these episodes are so fondly remembered is the fact that they humanized Carson more than the public would have ever seen. He had always been the wry joke-teller, but to see him with such sincerity and sadness cast him in a different life. Johnny was a notoriously private man and he worked hard to stay out of the public eye, even when his multiple divorces and the untimely death of his son Richard in 1991 wouldn't allow him to. The fact that Johnny only made four television appearances in his thirteen years of post-Tonight Show life serves as evidence of this fact. In his final episode as he sits on his stool, addressing the audience one last time, he gives hope that he may one day return if he finds something he wants to do, but I believe he knows he's saying goodbye to his audience for good in one of the most poignant moments in television history.
Ramsey Ess is a freelance writer for television, the head writer of his website, a podcaster and a guy on Twitter.